Workwear for Working Women
Taylor Johnston, a Little Compton-based gardener, also runs Gamine, a Tiverton clothing company featuring her own line of durable denim and sustainable knitwear
Legendary New York Times fashion photographer Bill Cunningham was doing what he did best when he fired the shutter of his 35mm camera to capture a candid shot of Taylor Johnston at Boston's Isabella Stewart Gardner Museum almost a decade ago.
She wasn't donning a designer gown or perusing the exhibits with perfect coiffed hair, but rather, the horticulturist had dirt lodged under her fingernails and her outfit was chosen not for fashion but function that day, a necessity as she was installing nasturtium vines in the museum's lauded courtyard, upholding a century-old springtime tradition there.
Neither photographer nor nurserywoman could have known that in that instant, Cunningham deeply influenced the trajectory of Johnston's life — just as visiting the museum as a child changed his own life, introducing him to a world of art and beauty he hadn't imagined — and birthed an unexpected friendship between the two.
"We were two freaks; different mediums, but we saw each other and we were like, 'All right,'" explains Johnston, who lives in Little Compton. "I just adored him, and I think that his punkish attitude and life and his razor-sharp knowledge about things that he was interested in totally blew me away and left a real lasting impression."
The two became friends, even pen pals, and Cunningham inadvertently imparted his decades of accrued wisdom, which Johnston absorbed at every opportunity. While she loved her work in the gardens and greenhouses, she didn't so much love the ill-fitting nature of her clothing. When Cunningham snapped that photo in fact, she described her ensemble that day as "whatever tattered Little Orphan Annie outfit I had on at the time."
She wore men's work pants because heavy duty women's workwear was hard to find, and the scarce pieces she did try, failed to comply with the manual labor she was doing daily.
"I was asking people that I knew who worked in fashion, 'how can I get in touch with these companies?'" recalls Johnston. "And they're like, 'Don't ever bother." Many major workwear companies didn't even offer a women's line, and Johnston found what little women's workwear was available to be nothing more than an afterthought.
So, she got to work.
It was Cunningham who first introduced Johnston to the idea of wearing a uniform — not a literal uniform, but wearing pieces consistently true to who you are, she says. The photographer was well known for his signature traditional blue French workman's jacket, noting its durability and roomy pockets, and Johnston liked the idea of practicality.
Clothing "should allow you to do your best work," she says. Plus, having a well-tailored workwear wardrobe, one in which pieces are created with functionality in mind, along with consideration of who is wearing them, would give her "one less thing to think about, to be honest."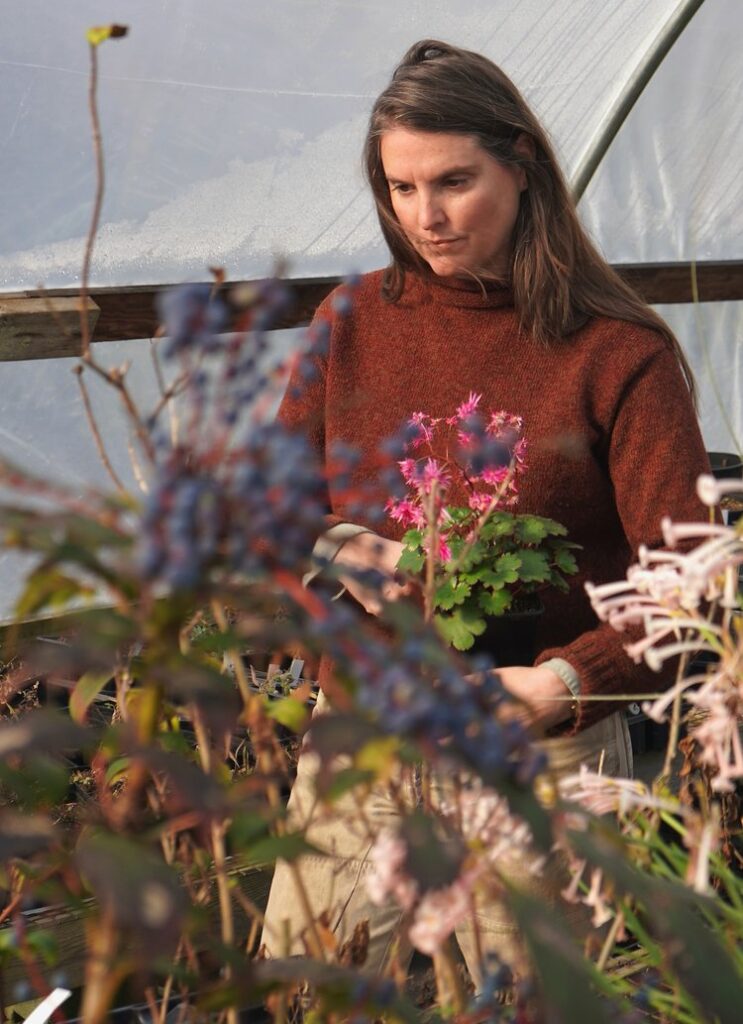 Growing a new approach to work clothes
Over the course of two years, she learned all she could about sourcing sustainable textiles, production, patterns, mills and domestic manufacturing, all the while continuing her work at the museum. Gamine Workwear launched in 2014, its name reflecting the clothing line's purpose.
"I love the way this French word describes a woman with a boyish charm — it's feminine and masculine at the same time, and kind of hard to put your finger on a strict definition," explains Johnston. "This feels important when thinking about work clothing in the 21st century."
Durable denim became Gamine's cornerstone, and archival inspired dungarees, cut for women's bodies, its mainstay. In other words: true, authentic, American-made, cotton blue jeans.
After leaving the Isabella Stewart Gardner Museum, Johnston stayed in horticulture while working for the New York Botanical Garden, but it was the pull of Little Compton, where she had sourced plants for the museum, that felt most like home to her.
Six years ago, she moved from Manhattan to the bucolic coastal community and, along with her partner and collaborator, began working at a new nursery called Issima. At the same time, Gamine also grew organically and deliberately.
"All the clothing grew out of working in the garden every day," she explains, and it's where pieces are put to the test.
Made in small-town America
Gamine's seamstresses, who used to make Levi's and Carhartt pre-NAFTA, work on World War II-era sewing machines and produce dungarees in a small-town factory in Tennessee. The patternmaker has been making jeans for more than 40 years.
Johnston also sources from places like Vidalia Mills, a "farm-to-yarn" denim mill in Louisiana that produces certified sustainable American cotton. Each roll of denim produced there can be traced straight back to the American farm it was grown on.
More recently, Gamine introduced sweaters knit at the nearby Fall River Knitting Mill, with organic cotton thermals, smocks, work shorts, and a coverall and bibs created in collaboration with the chief archivist at century-old legacy workwear makers, Dickies.
A personal touch
Just before the pandemic struck, Johnston prepared to open the doors of a retail store at Tiverton's Four Corners. Those plans were derailed, albeit with a silver lining: she shifted to an appointment model, allowing customers and potential customers to make an appointment time to shop.
"We decided to kind of roll with that for a little while as people enjoyed having our full attention and getting into the nitty gritty of being fit for a really special pair of jeans," explains Johnston. "It just suits my 'Peterman catalog' way of communicating perfectly."
For many women, that "nitty gritty" has led to lightbulb moments, and understanding more about clothing, fabric quality, fit and tailoring, and why the number on a size tag shouldn't determine one's self-worth.
"What I love about that is when people come in here, and if they put a piece on and it's maybe not the best thing for their body type, we have this awesome conversation about shopping for pieces that make sense for their bodies," explains Johnston. "It's not that their bodies are wrong, or that they're too big or too small. It's like, 'No, this pattern is cut in a way that just doesn't make sense for you. And that's fine…' It's like an old-school way of talking about clothes."
Located in the old mud room of the historic Davenport House, the shop is small and rustic, with shelves of folded denim lining one wall and a farm table covered with knit sweaters in hues of rust and chartreuse, where the centerpiece is a large vase full of dried flowers — a sign of Johnston's other interest, and the intersection of her two design worlds.
When customers walk in, they might also notice a distinctly blue, slightly worn workman's shirt hanging on the wall — it belonged to Cunningham, who died in 2016. The photo he took of Johnston at the museum ran in his beloved "On The Street" photo-essay column in spring 2015, where he mused: "Fashion and nature reflect each other's beauty. In early April, the young woman installing the nasturtium vines at the Isabella Stewart Gardner Museum in Boston wore a nasturtium-colored hat. Suddenly there was an explosion of color on clothes."
Being a clothing designer with a shop and nurseywoman simultaneously, Johnston concedes, is a "very strange dual business situation," and yet, the two professions share commonalities. Both need to be carefully cultivated, require a ridiculous level of patience, and there's a constant ebb and flow of challenges that arise far beyond anyone's control.
"I ask myself this question every year: Am I filling a void that wouldn't otherwise exist if I weren't around?" says Johnston. "And I still think the answer is yes."