East Bay Getaway
Whether you're headed to Bristol and Warren for an afternoon or an overnight, there's plenty to explore this season, from weekend walkabouts to scenic bike rides, breweries, record stores and intimate music venues.
Newport residents can be forgiven for asking why they should consider the East Bay towns of Bristol and Warren for a "staycation." Like Newport, these two Rhode Island coastal communities are best known for their nautical nature and rich Colonial-era history. Sure, you might want a quick getaway that's close to home — but how much like home do you need it to be?
I found part of the answer on a weeknight stroll in downtown Bristol, taken shortly after checking into the Bradford Dimond Norris House, a four-room B&B in a historic home that, set next door to the Linden Place mansion, could not have been any more convenient for a time-limited exploration of a town best known for its annual Fourth of July celebration.
On a cool August evening, I walked no more than 30 steps to the door of the Bristol Oyster Bar on Hope Street, where I immediately snared an outdoor table with no reservation and feasted on a bowl of mussels from North Kingstown's Salt Water Farms.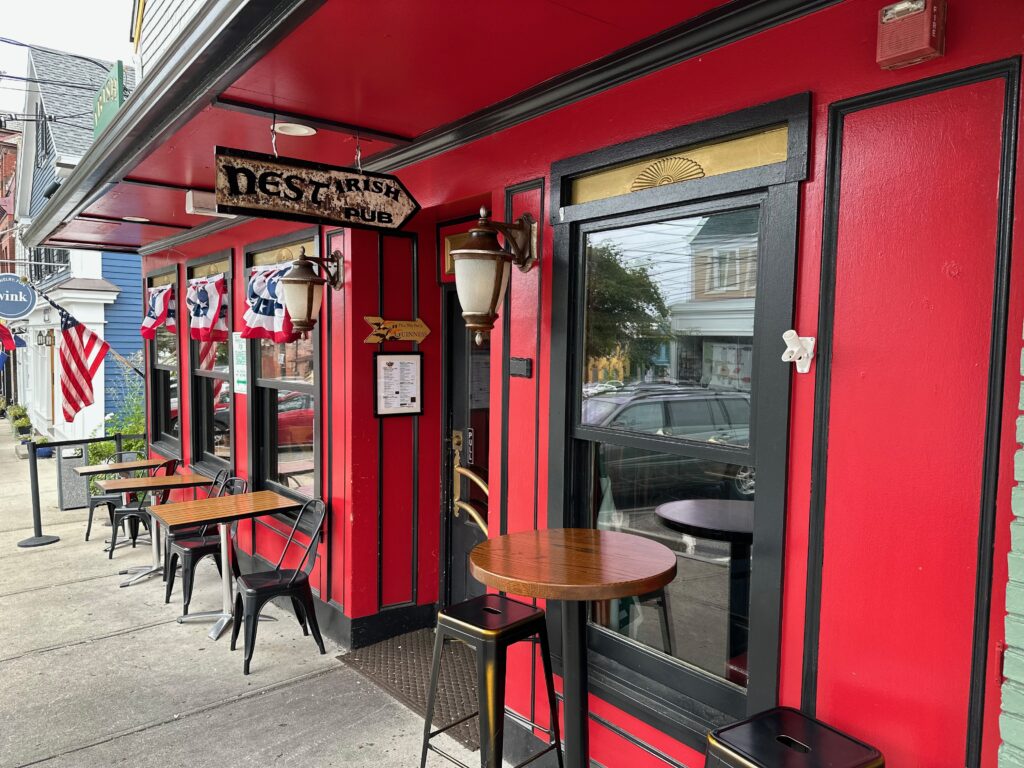 Properly sated on shellfish and toast dipped in the accompanying garlic butter sauce with tasty bits of local chorizo and roasted baby tomatoes, I took an after dinner stroll that firmly established one of Bristol's big small-town charms: quiet. From Independence Park to the boardwalk behind the Bristol Harbor Inn, up side streets to the Unity Park mill complex, past local Portuguese restaurants and the town common, peace prevailed. I could literally hear crickets in the middle of town, and walkers — many trailing leashed dogs — outnumbered cars by a wide margin.
That's not to say that Bristol is dead at night: as we peered into the window of The Nest, an intimate Irish
bar that opened on State Street in March, owner Eddie Woods popped out of the door and invited us inside, where an impromptu session of Irish fiddle songs was taking shape.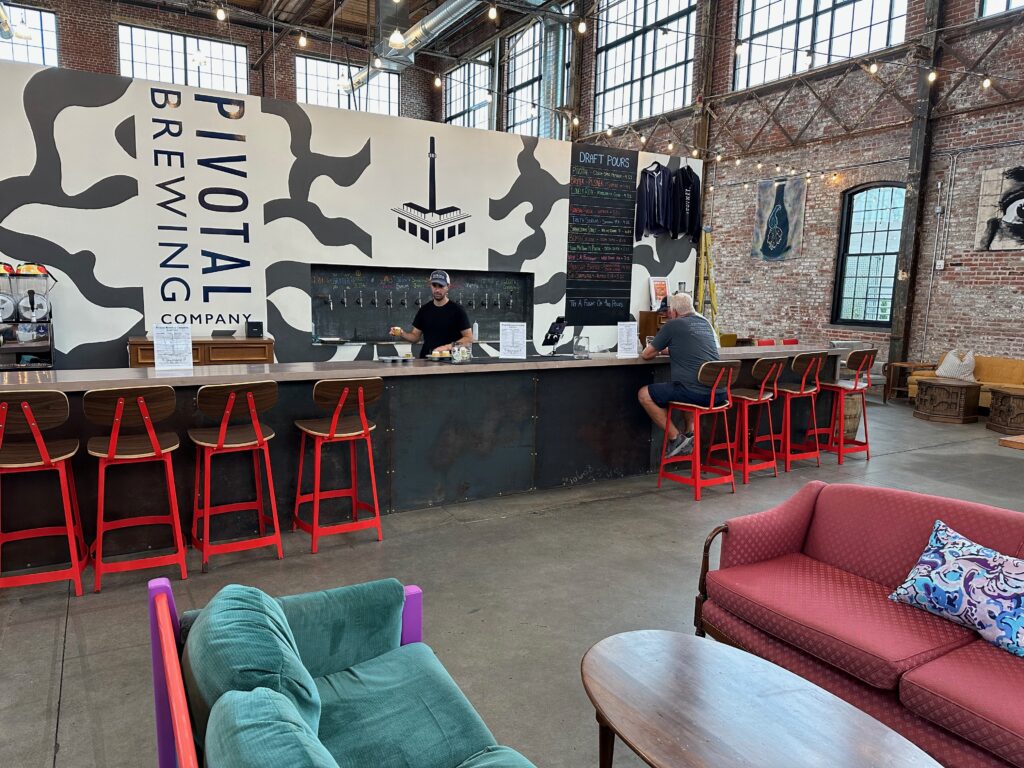 Unity Park, a former rubber factory dating to 1865, is a hub of activity all to itself: A former mill building
with 45-foot ceilings is now home to Pivotal Brewing, which serves about a dozen varieties of IPAs, lagers,
stouts, and a "Margarita gose" called Little Rita that would pair perfectly with takeout from the nearby Don Patron Mexican Grill and Cantina. The big, vibrantly decorated brewhouse also hosts a regular schedule of fun events, notably "Pawdi Gras," a pup-friendly Mardi Gras celebration that reflects
the owners' New Orleans roots.
An Old Fashioned cocktail I ordered at Bristol Oyster Bar was made with O'Brien and Brough rye, distilled in another Unity Park building just behind the brewery. Other redbrick buildings house Basil & Bunny, a plant-based eatery, and the Borealis Coffee Co., serving small-batch roasts by the cup or bag. Garage doors roll up in good weather to let the breeze in and the heat from the ovens out at Brick Pizza Co., where toppings range from plain cheese to crab rangoons, and pizzas are paired with a creative
cocktail list, including an espresso martini made with coffee syrup from Bristol's Delekta Pharmacy — the same stuff used to make Delekta's famous "cabinet" ice cream drinks.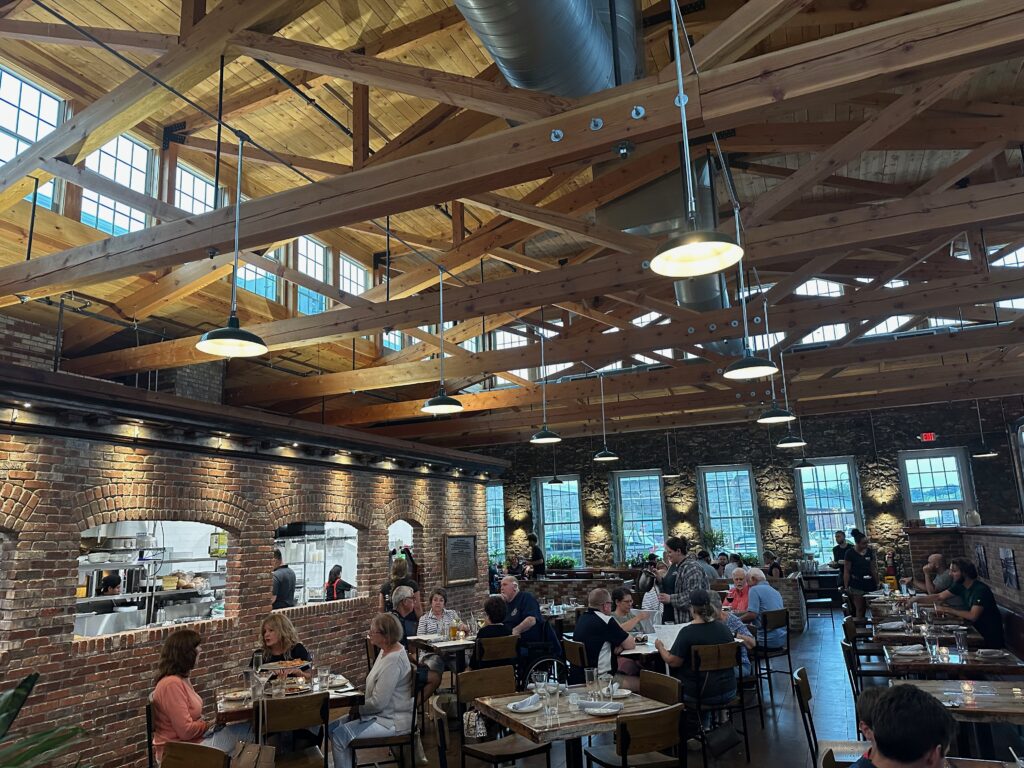 Linden Place is a beautiful mansion with a dark past: built in Federal style in 1810, it was largely financed with profits from the Triangle Trade garnered by the DeWolf family. Tours cover everything from slavery to
the mansion's role in the filming of "The Great Gatsby." A walk on the grounds will take you to the Bristol Art Museum, whose galleries include a small permanent collection plus rotating exhibitions of everything from miniatures to fiber art.
Bristol and Warren are often lumped together, but even a brief stay reveals subtle differences: Bristol is
more sedate — some might say conservative — while Warren has a wild side. You'll encounter the latter in places like the colorful Imagine Gifts store, with its candy shop and three-plus stories of eclectic merchandise; the Galactic Theatre, which packs crowds in for live music on its pint-sized stage (and shows silent movies the rest of the time); and Rhody Roots, which in addition to serving gluten-free and vegan
dishes is a gathering place for the local LGBTQ community.
The best time to browse Warren shops like Ink Fish Books, the Made in Warren artists' collaborative, and the Space Cadets vintage store may be during the Warren Walkabout, scheduled for Oct. 8, 15, 22, and 29 (all Sundays). By that point, the new In Your Ear record store in the former Second Story Theater building
on Child Street should be fully grooving. The shop's longtime location on Main Street remains a bin-divers paradise, but the expansive new space features the best of In Your Ear's collection of music on
vinyl paired with a beautiful cocktail bar, with plans well underway for a 180-seat performance space set to host live music, theater, and cinema.
Spending a night or two in Bristol and Warren is truly a 2-for-1 staycation. The two towns are just 10 minutes apart by car and perhaps a 25-minute pedal on the East Bay Bike Path, which starts in
Bristol and runs through Warren on its 14.5-mile journey north to Providence's India Point Park.
We'd recommend the bike, not just for the exercise but because it also gives you the option to day trip for a pedal around Prudence Island, accessible via ferry from downtown Bristol. The East Bay Bike Path also has a spur trail leading to the Audubon Nature Center and Aquarium and the 28-acre Claire D. McIntosh Wildlife Refuge. The off-road bike path also cuts through Colt State Park, which has additional miles of paved bike routes leading through 464 acres of forest, manicured lawns, historic buildings, beaches, playing fields, and arched stone bridges.