The Vineyard Garden
Newport Vineyards planted its first garden crops three years ago, and now a variety of fresh herbs and produce are among the offerings served to visitors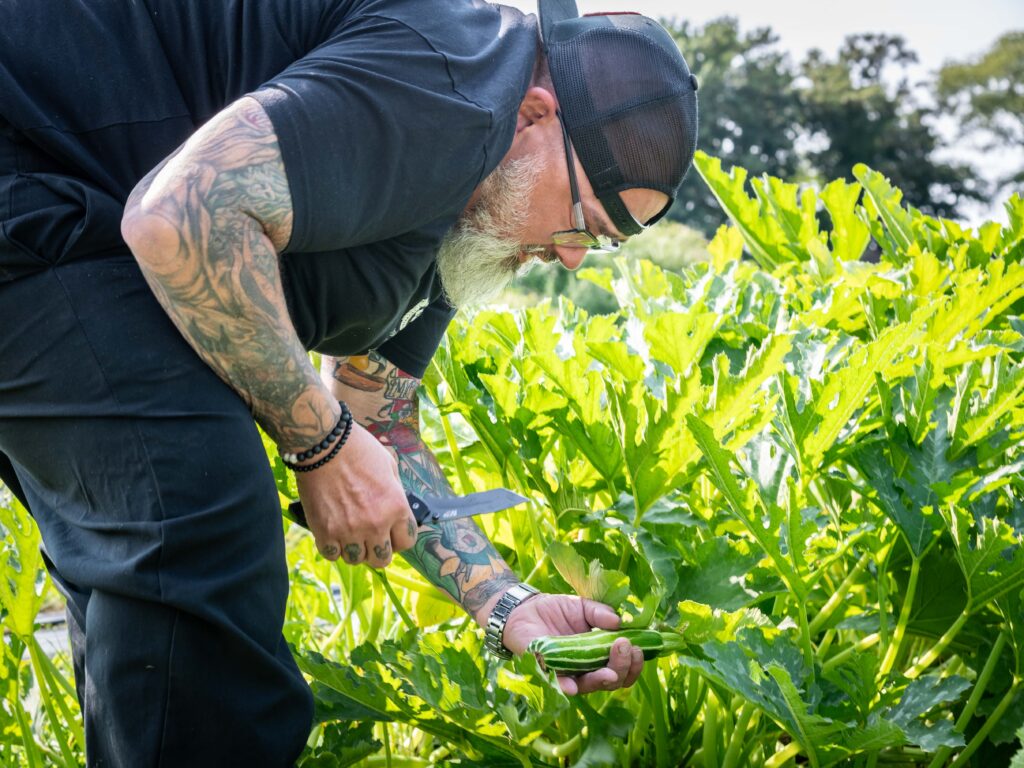 A farmer walks amongst rows of plump, sun-ripened pumpkins sprouting from curly green vines, stalks of monmouth Swiss chard, and creamsicle-hued butternut squash hiding beneath canopies of veiny leaves in the early morning hours. The picture-perfect acre or so of autumnal vegetables feels like a moment stolen out of a Hallmark movie, when the unlikeliest of souls fall in love in a small New England town amidst a backdrop of vibrant fall foliage.
But these crops have a different destiny: they're headed to the chopping block of Chef Andy Teixeira.

Directly from farm to table
Farming has been in the Nunes family since 1917, when Francisco Nunes acquired a parcel for planting on iddletown's Wyatt Road. The first vines were planted there nearly 70 years later, and in 1995, Nunes's grandsons, John and Paul, founded Newport Vineyards, acquiring more acreage through the years.
The most recent addition, secured in 2018, is idyllically nestled between two existing vineyards: Nunes Farm and Perry Farm. The plot of mineral-rich soil, previously tilled for potatoes and later used as a cattle farm, offered the perfect opportunity to plant more vines, including the recently planted Pinot Noir and Sauvignon Blanc, in addition to what was soon dubbed, "The Vineyard Garden."
Last winter, the Nunes purchased neighboring Chaves Gardens, which included greenhouses now flourishing with herbs including parsley, thyme, rosemary, tarragon, oregano, mint, cilantro, lemon thyme and at least eight kinds of mint, among others. In sum, Newport Vineyard owns over 100 acres of preserved historic farmland.
"I don't know any chefs that have that kind of ability to just go, 'Hey, let's grow this so we can play with it,'" says Teixeira with a contagious giddiness. The chef oversees the entire culinary operation at Newport Vineyards, which includes Taproot Brewing Co.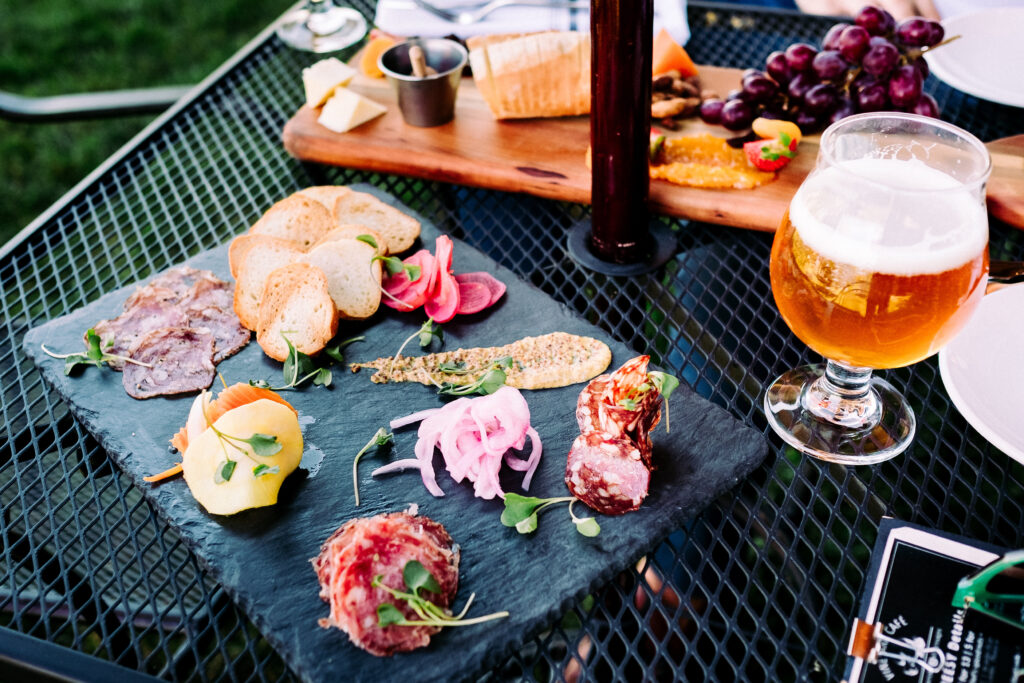 The East Main Road compound offers several dining experiences including a daily farm-to-table menu served inside the brewery space, at Overlook (the upstairs former Brix dining room), or outside on the terrace and covered porch. This time of year, visitors will also find walk-up beverage and food stations by the ripening vines featuring a cookout menu Teixeira has crafted — still all farm-to-table — including meats sourced locally from neighboring Cloverbud Ranch and Blackbird Farm in Smithfield. Much of the seafood served comes through Point Judith, while house-made desserts, spearheaded by pastry chef Colleen Mulry, also tap into the spoils of The Vineyard Garden, such as the zucchini in the zucchini cake served with lemon cream and local blueberries.
"The garden adds to the total visitor experience," says John Nunes. "Guests can enjoy produce that was picked by Chef Andy that morning while enjoying their meal with our estate grown wine and beer. Fresh ingredients make such a difference to each dish. We even grow watermelon for our late summer sour beer as well as hundreds of pounds of pumpkins that go into our super popular Wicked Squashed Pumpkin Ale."
The garden's inaugural planting in 2020 included kohlrabi, peas, beets, onions, artichoke, celery, celeriac, cucumber, zucchini, summer squash, peppers, melons, broccoli, cauliflower, kale and cabbage. Today, there's even more, including nearly 500 tomato plants of assorted varieties, all overseen by garden manager Caleb Veltry, who couldn't be a better match for Teixeira's menu planning.
"He's a great addition because he's a former chef, so he's thinking differently than a farmer," explains Teixeira.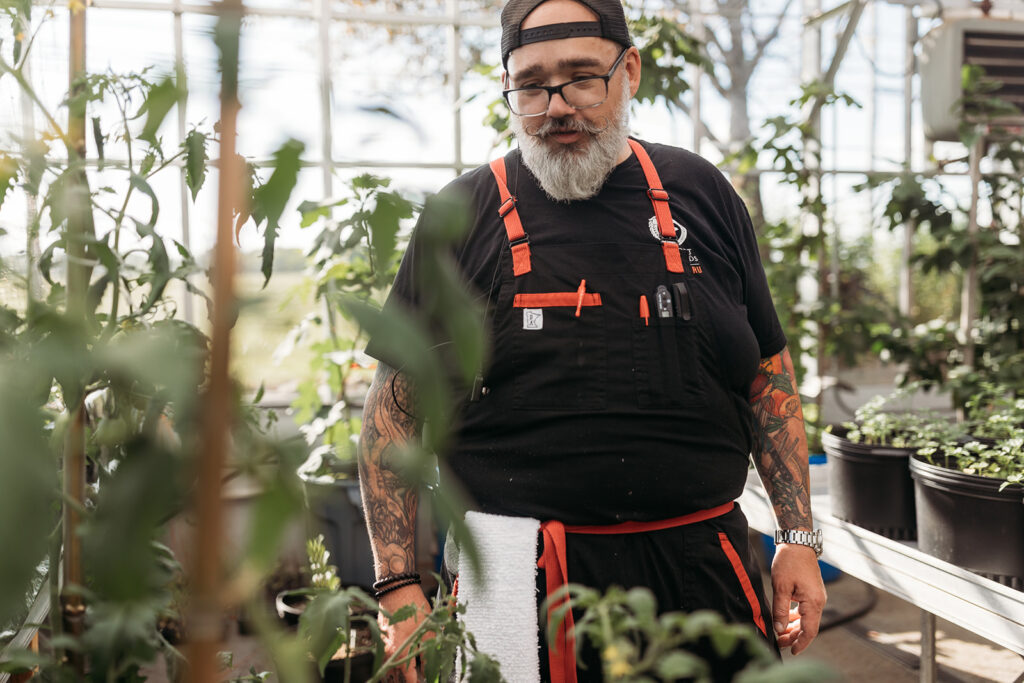 Growing together
For Veltry, the role allows him to merge past and present. A chef for more than 15 years at a private golf club, Veltry was on the cusp of trading cooking for full-time growing. He'd done everything but signed the dotted line on the purchase of a mushroom farm when the pandemic hit, so he was forced to abandon what he had worked so hard to reach. When he learned Newport Vineyards was growing their farm program, however, he saw an opportunity he couldn't pass up.
"It was just getting off the ground, and you also had a blank slate to work with," says Veltry. Soon, chef and gardener were communicating almost daily, exploring ways to best tend to existing crops and researching others that they aspired to grow. This past winter, the two went to a grower's conference to find what other farmers were growing in the region — learning what worked, what didn't, and what they needed to make The Vineyard Gardens thrive even more. They purchased equipment, drilled a well, and installed an irrigation system, and this season, are experiencing the fruits (and vegetables) of their
labor.
"We planted half as much zucchini and summer squash as we did last year, and we're producing twice as much because we learned," Teixeira says. "We learned how to be more efficient. We learned how to handle the weeds. We've learned how to organically do this, the right way, and you know? I haven't bought summer squash or zucchini from anybody."
The Vineyard Garden gives Teixeira the carte blanche to explore new flavors as well.
A longtime friendship with a chef in Puerto Rico inspired Teixeira to have Veltry plant culantro, an aromatic herb commonly grown in the Caribbean and Central America that is also known as saw tooth or saw leaf coriander. While its flavor profile has some similarities to its more widely known cousin, cilantro, it is more potent, possessing a mildly citrusy flavor, and is often used in stews, marinades and slow-cooked meals.
"I don't know anyone that grows it and I love to use it. I have a lot of Latin influence in my food," explains the chef. "So, I ordered two packets of seeds and handed them to Caleb with a printout of how to grow them, and he's like, 'Alright, let's try it!'"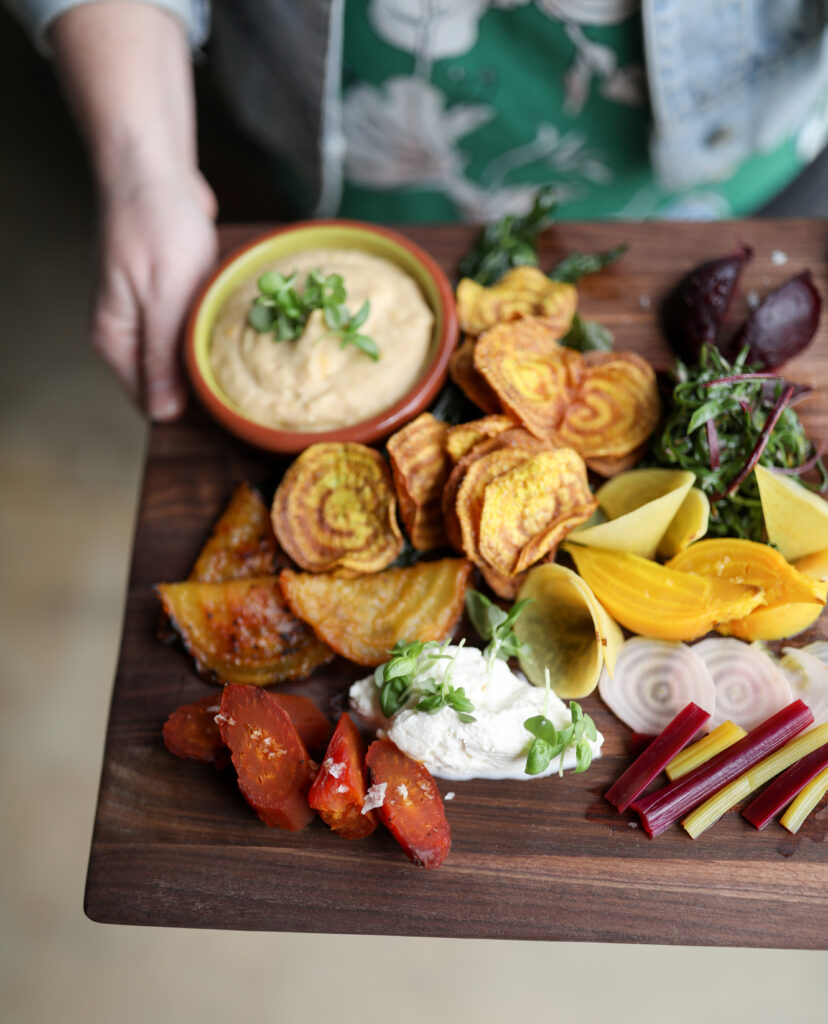 Finding more roots
While Teixeira's talent is best known behind the line, where he says he's been since he was a child, as he's one in a long line of chefs in his family, his passion for gardening has grown steadily, especially over the past decade. Like many, he and his wife started with just a few tomato plants, then slowly expanded.
But it was on a trip to Portugal in 2019 when the line between cooking and growing blurred.
"I saw where my family came from and realized that they were farmers too. It all clicked," he says. "Working here as a farm-driven chef, meeting the farmers, going out to farms — my team would always go out and help a farm so that we could understand how much work goes into the produce they bring us — I just fell in love. It was like me being in the kitchen and me being in the dirt, with both it's like I'm doing what I always should have been doing."
Though farm-to-table has long been their practice, the outfit is also now farm-to-tap. An entire 100-foot-long greenhouse is home to nearly 20 varieties of hop plants for Taproot Brewing Co. "This is the first year, and hops are almost like asparagus, where you will not really be in full production until your third year," says Veltry.
For John Nunes, who also serves as brewmaster, it's an exciting addition, and one that reinforces his family's century-old legacy. Says Nunes, "Andy and Caleb's vision of growing on-site ingredients for dining and beer use align perfectly with our values of always honoring Aquidneck Island agriculture."