"We're a museum without walls"
With "Games, Gamblers & Cartomancers," Art&Newport brings contemporary art to The Vernon House this summer and fall, plus a new Nick Benson exhibit at Belmont Chapel
Images courtesy of Art&Newport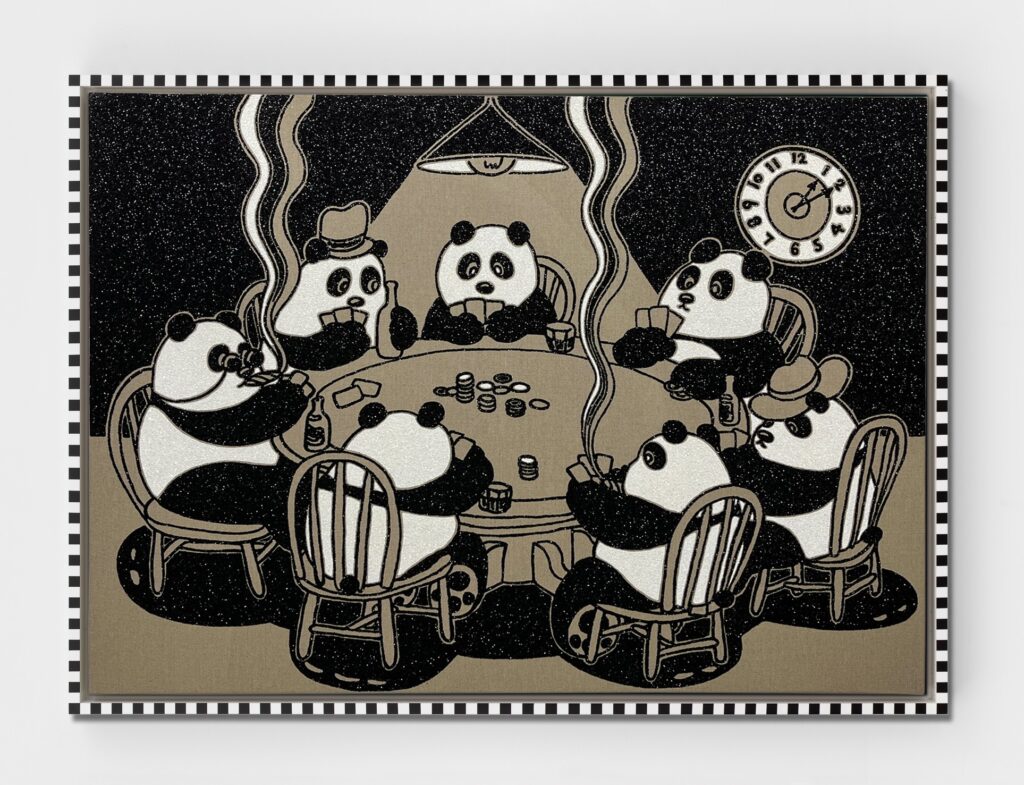 The Vernon House sits quietly on he corner of Clarke and Mary streets in Newport. A historic home with several plaques, it's perhaps not an obvious choice for a contemporary art exhibit. Which is, to those involved with Art&Newport, precisely what makes it an ideal space to host this summer's annual show: "Games, Gamblers & Cartomancers: The New Cardsharps."
When the works for this exhibit are hung throughout the house, they will bein spirit with some of the 18th Century's most notable names: Comte de Rochambeau, George Washington and the Marquis de Lafayette, who all passed through the same halls.
Vernon House served as the headquarters for Rochambeau during the American Revolution, when he was Commander-in-Chief of the French forces. There, he met with both Washington and Lafayette.
Until recently, the home, which was built in 1758 and is now under the purview of the Newport Restoration Foundation, was a private residence. Edith McBean, a board member of both NRF and Art&Newport, immediately recognized the home's potential for an art exhibition, and reached out to Dodie Kazanjian, Art&Newport's founder, curator and visionary.
"It is our most beautiful house," says McBean, who notes that for the exhibit "we decided to leave it rough — no curtains, no furniture." This, she said, was sure to win Kazanjian over: "The rougher things are, the more she loves them."
Kazanjian thinks of her summer exhibits as collaborations with the buildings and locations themselves, in addition to the artists, and especially loves to bring people into spaces they might not have visited. In the case of Vernon House, this will be the first time it's open to the public.
"We can open the door in that way," says Kazanjian, bringing attention to the structures and their history, which in turn lends a thought-provoking backdrop to the works on display.
Kazanjian grew up in Newport (her Armenian family arrived to the city around 1880, and ran an import/export business, and Kazanjian says she gets her eye for detail from her father and grandfather) and attended Salve Regina University.
After graduating, she headed to New York City, where she took a job with Vogue magazine that was short-lived. In the late 1980s, she returned to the publication, and has continued writing for it ever since, with new articles — often profiling contemporary artists — published frequently.
Her work with artists for Vogue in part inspired Gallery Met, an art space where she has hosted shows at The Metropolitan Opera in Manhattan, and the nature of that work has in turn nurtured Art&Newport — as with many things in life, everything is interconnected.
These endeavors, Kazanjian says, are "different ways of playing with artists… who you become friends with over a lifetime."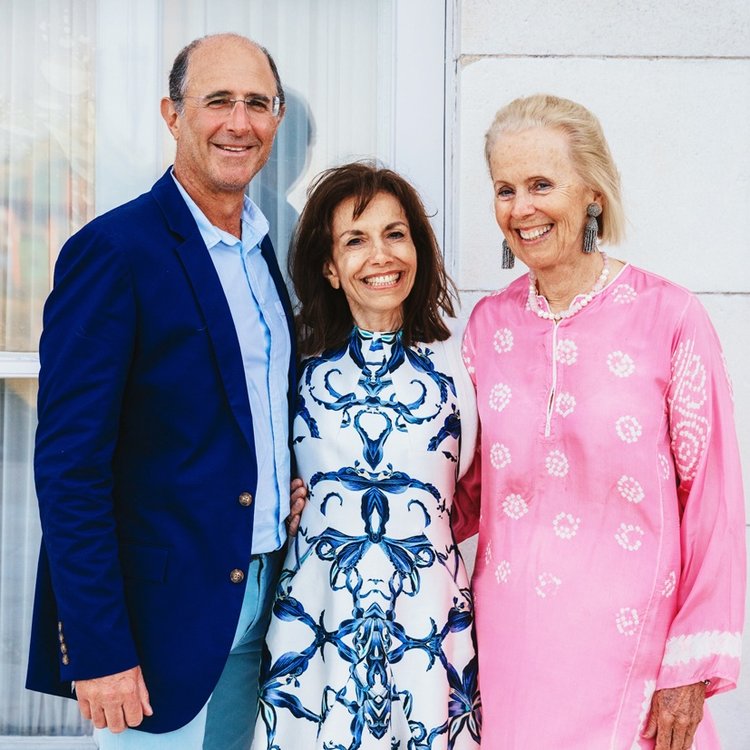 A visit from Sister Therese
Art&Newport was formally established in 2017, although the idea for an arts organization started in the late1990s, when Kazanjian received a visit from Salve's Sister Therese, who asked her how she could give back to her alma mater and home city.
"I thought: What am I rich in?" recalls Kazanjian. The answer, she realized, is friendships with artists, whose works she loves to showcase and champion.
"Dodie brings the greatest people together," says Shara Hughes, one of the artists featured this summer. "She really has a great eye — for not just art, but great people in art."
Hughes first met Kazanjian in early 2016, and the two quickly became friends and collaborators. "She's come to my home, I've been to her home," she says, with many dinner gatherings and art projects in between.
She showed her work during Art&Newport's inaugural summer in 2017, with her installation "Pleasure House" displayed in the octagonal "folly" on the grounds of the Redwood Library and Athenaeum, and again the following summer, when "Sun Salutations" was on display at The Newport Art Museum. Hughes and her fiancé, Austin Eddy, will both exhibit work this summer.
The Newport shows, she says, "feel more intimate," and most everyone is connected through a shared appreciation for Kazanjian.
"If we all love Dodie," says Hughes, "then we have something in common."
A summer of pleasure
The inaugural Art&Newport summer shows also featured George Condo and the exhibit "Newport Sexx Festival" which was inspired in part by Newport's famous Jazz Festival.
The late George Wein, Kazanjian says, has long been a guide and beacon. His music festivals "made Newport international," she says, and are now part of the city's ecosystem.
The second summer featured "Ex Libres" and artist Ed Ruscha, who was commissioned to commemorate the gift of author and New Yorker staff writer Calvin Tomkins' art book collection to the Redwood Library (Tomkins is also Kazanjian's husband and longtime partner).
Last year's show, "Pictus Porrectus: Reconsidering the Full Length Portrait," was displayed at the Isaac Bell House on Bellevue Avenue and explored portraiture from a contemporary perspective. For that show, Kazanjian collaborated with Alison Gingeras, a dear friend, who has returned as co-curator this summer.
The idea for "Games, Gamblers & Cartomancers" originated with card games — and the history of card players being the subjects of artists, among them Cézanne and Caravaggio.
Featured artists include Tina Barney, Cecily Brown, Francesco Clemente, Elizabeth Colomba, John Currin, Austin Eddy, Hadi Falapishi, Shara Hughes, Rashid Johnson, Sanya Kantarovsky, Karen Kilimnik, Sean Landers, Tala Madani, Rob Pruitt, Walter Robinson, Katja Seib and Katie Stout.
The show will also mark the U.S. premiere of Francesco Clemente's entire "Tarot Card" cycle, which Kazanjian calls the "spine of the show," and which will feature gouache works for all 78 cards in Clemente's deck, which will line the walls of the first-floor hallway and stairwell, spiraling up into the second floor.
The Vernon House (46 Clarke St.) exhibit is on display from July 1 through October 1, on Fridays, Saturdays and Sundays from 11 a.m. to 4 p.m.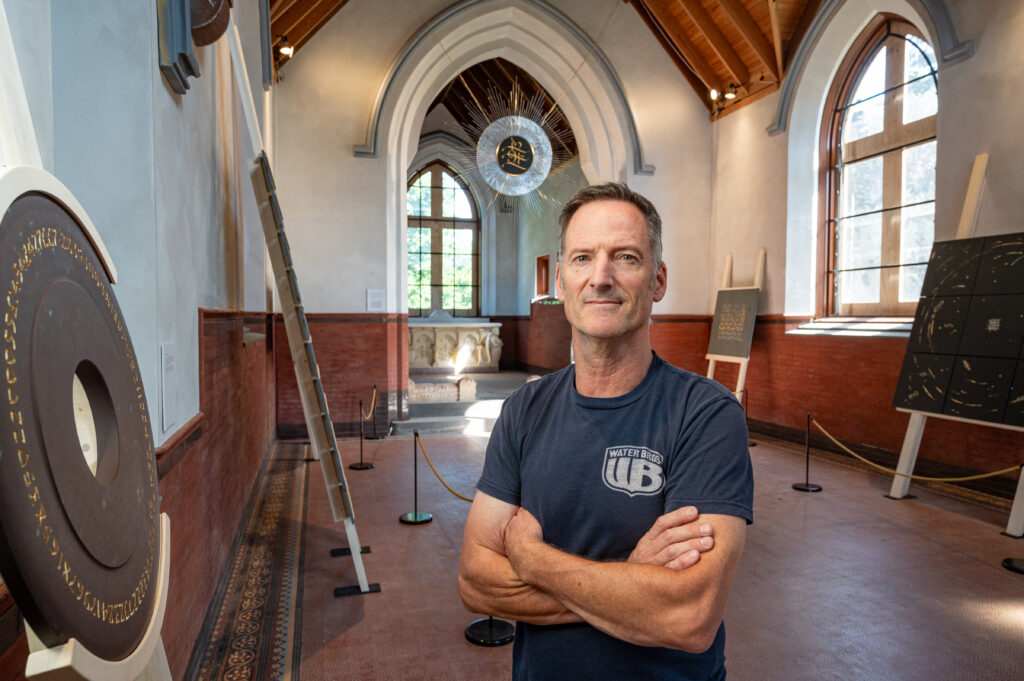 A Museum Without Walls
In August, Art&Newport will host another exhibit at The Belmont Chapel in Island Cemetery, featuring the work of local stone carver Nick Benson, owner of the John Stevens Shop in Newport, which was originally founded in 1705. Benson's grandfather carved many of the old tombstones located throughout the cemetery, which Kazanjian notes will add extra significance to the show, which is titled "Data in Spirit," and on display through Sept. 3.
This will be Art&Newport's second show at the chapel — the first was in summer 2020 and featured artist Piotr Uklański's "Suicide Stunners' Séance," an exhibition of new paintings of historical and fictional heroines. At the time, the chapel (circa 1886) was in disrepair, and the backdrop was exposed brick, a smattering of graffiti, broken stained glass windows, and abandoned church pews.
The past three years have seen two phases of restorations, with a third and final phase expected to be complete by next summer.
"When Art&Newport had the show in 2020, the chapel was kind of in the state we found it in," recalls Harry Eudenbach, the president of The Belmont Chapel Foundation. "It was almost like going into a ruin."
The exhibit, he says, "really brought the chapel to life." It also brought the structure's plight to public attention, which he credits with making the recent restorations a success.
"It made a big difference for us in terms of exposure," he adds.
For Kazanjian, this is an ideal outcome, and part of what she sees as Art&Newport's greater purpose. "That's exactly what Art&Newport is made to do: shine light on history here," says Kazanjian, adding: "We are a museum without walls."