The Seasonality of Seafood
'Tis the season of buttery lobster rolls, crispy fried clams and savory stuffies, but do Rhode Islanders know where their seafood comes from, why it matters, and why consciously choosing which fish, crustaceans, and mollusks to consume makes a difference?
Images courtesy of Castle Hill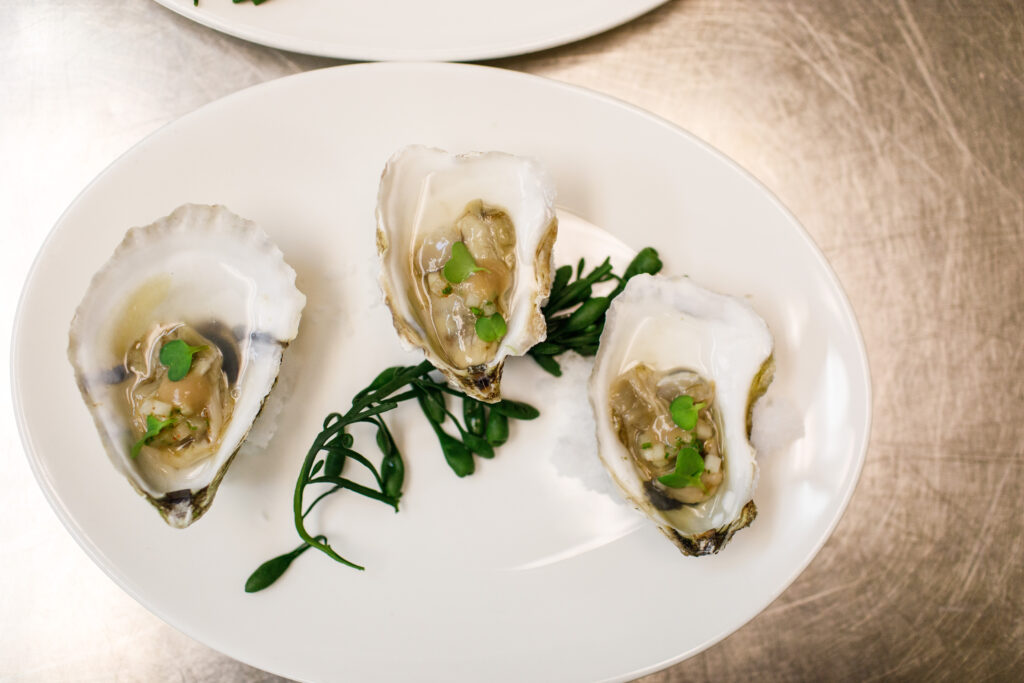 Chef Andy Taur meticulously filets a freshly caught golden tilefish inside the kitchen at Castle Hill Inn before he pan sears it skin side down with a little bit of olive oil. After draining it, he returns the fish to the pan, adding a small pat of butter, herbs and a single garlic clove. He'll ultimately serve the delicate, meaty white fish with a subtly light sauce made from fish stock, conscious not to compromise its intrinsic mild, sweet flavor.
The dish is not a permanent fixture on Castle Hill's menu, as it's a native species Taur can't always obtain, but it's one he can feel good about serving. Why? Golden tilefish stocks are plentiful, the methods used to capture the fish have minimal impacts on local habitat and NOAA Fisheries regulations are in place to minimize bycatch.
While environmental initiatives have long been at the forefront of the Relais & Chateâu property, its unique position on a 40-acre peninsula marking the gateway of the Atlantic Ocean at Narragansett Bay magnifies the gravity of seafood sustainability.
The Ocean State's 400 miles of coastline offers a front row view to the astounding wealth of seafood that lands on plates — both locally and around the world. While seafood is sometimes referred to being "in season," a species' long-term sustainability is an important part of the conversation that the Rhode Island Seafood Marketing Collaborative is working to amplify.
Chaired by the Rhode Island Department of Environmental Management, the collaborative was formed in 2011 to support local fishermen and small businesses — and to increase awareness and consumption by the public of locally fished species. Molly Ogren, Chief of Program Development at DEM, says the collaborative continually works to bridge the disconnect between consumers and local, sustainable seafood — and the divide is staggering.
Finding more local seafood
The agency reports that Rhode Island produces more than six times the amount of seafood required to meet local demand, but less than five percent of the seafood landed here is consumed in-state, and an astonishing 90 percent of seafood eaten within our borders is imported.
"So we're kind of having to change people's behaviors at the grocery store, just to go away from what they know is in their comfort zone of what's known and into worlds that might be a little bit more challenging, might require more cooking, might require some filet experience," Ogren says. "And so we do that by explaining what RI Seafood does really well, explaining the seasonality of seafood and why when you buy seafood, if you buy it year-round, you might not be getting the freshest seafood.
"Farmed fish is [available] all year round because that's how they operate and do their growing," Ogren adds. "But for wild caught seafood, or raised oysters, or grown oysters, or grown clams, or even quahogging, there's a seasonality to it. There are some points in the year where there's not as many landings or there's just not as much catch."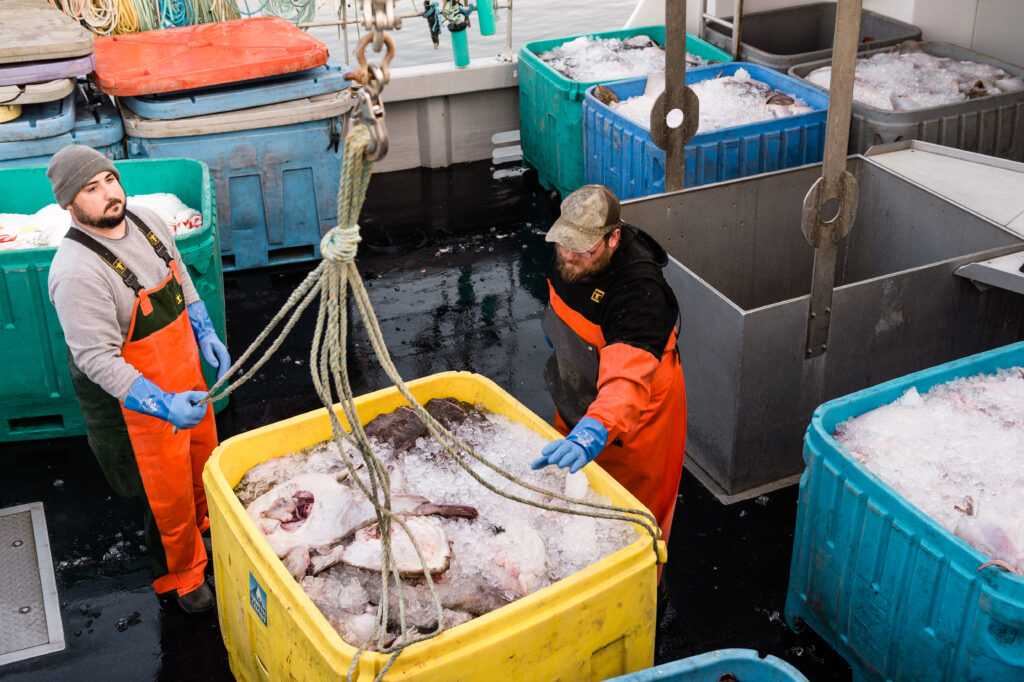 The collaborative works with the Commercial Fisheries Research Foundation based in nearby Saunderston to provide a guide to local seafood, which can be found at SeafoodRI.com, that includes a list of retailers that offer local seafood, area restaurants that serve local seafood, seafood markets and grocers, and links to fishermen and lobstermen who sell directly to the public, such as the Newport Lobster Shack.
"The other thing that we talk about is your buying power supporting your community," says Ogren, who knows a thing or two about supporting fishing families. She's the fourth generation of an Alaskan fishing family, and her colleague, Jordyn Kastlunger, a seafood marketing specialist at DEM, is a third-generation commercial fisherwoman from California.
"We showcase your seafood source, the fishermen at the forefront of what is fresh, what is sustainable, and [we] put a face to what your seafood looks like," says Ogren. "What we've noticed is when we put a face to their seafood, people are more apt to try it, especially when they see that there's an easy recipe; you know, something TikTok-able or on [Instagram] Reels, or if there's a quick filet guide that I can follow along with, it's so much easier."
The Local Species section on SeafoodRI.com highlights fish and seafood from Rhode Island waters — and provides Weekly Landing Data, so consumers can see the quantity of each species being caught in real time alongside its quota.
All this information helps seafood lovers make informed decisions both in the marketplace and when out to eat at a local restaurant.
Kastlunger, who can often be found on the local boats helping haul in their catch, says having one foot in the industry and the other in the consumer marketplace allows her to speak both languages and bridge the communication gap, breaking down discussions around regulations, seasonality and stock fluctuation — and translating that information into layman's terms.
Sharing the message of the positive impacts of choosing sustainable seafood and shellfish and advancing a healthy New England seafood system is something that Maria Chiancola, owner of the Newport Wine Cellar and Gourmet, embraces every day.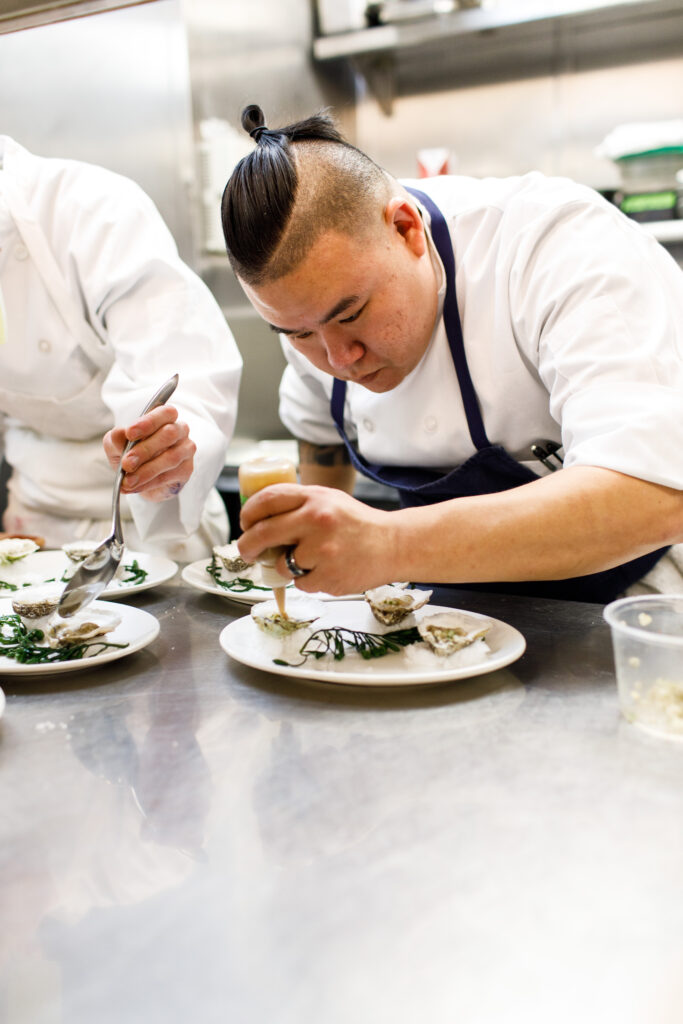 Eating — and drinking — with the ecosystem
Earlier this summer, Chiancola hosted an event featuring Kate Masury, executive director of Eating with the Ecosystem, an educational nonprofit that promotes a place-based approach to sustaining New England's wild seafood "through flourishing food webs, healthy habitats, and short, adaptive seafood supply chains."
Chiancola says when she opened her shop 15 years ago, she did so with the intention of supporting small, artisan, independent winemakers who respect the environment, the people who work for them and the traditions of responsible wine making.
"Sustainability has always informed my inventory and my approach," she says. "It is about the environment, the economics, and the social issues — all connected in a bottle of delicious wine.
"Most recently, I have been trying to reconnect after a period of time that we all worked in isolation, and I have been doing a lot of collaborative events," Chiancola says. "Working together with Kate made sense because our philosophy is the same — offer information so that consumers want to support responsible indulgence and enjoyment."
Masury champions initiatives with local organizations, chefs, restaurants, and retailers like Chiancola to meet people where they are.
"We're approaching things from a different way," Masury says. "Some of the other sustainable seafood campaigns are focusing on species and whether or not an individual fish ors hellfish is sustainable.
"For us, it's whether our interactions with those species, with those ecosystems that produce them, with the communities of people who harvest them; if those are sustainable or not," she adds. "So, it's more about us as humans and our interaction with all those things. We're looking at a place, a region, an ecosystem — not looking at things on a global scale."
Masury says the organization encourages people to diversify their seafood consumption, explaining that many people stick to the same handful of fish or shellfish dishes, often halibut, swordfish and salmon.
"We have more than 100 different species that are landed within the region that are edible and that are delicious that we could be eating," she says.
Hands-on help
It can be intimidating, Masury says, to try something new in a restaurant or in a recipe, but going to an Eating with the Ecosystem online class or in-person cooking demonstration can help people choose new types of seafood.
For example, local chef Jon LoPresti at the Newport Wine Cellar and Gourmet recently prepared local oysters two ways — grilled and on the half shell with a mignonette, black bass ceviche and sashimi and seared skate wing. He also demonstrated how to filet a whole fish.
Demonstrations like these, says Masury, help build consumer confidence and inspire people to expand their seafood diet.
The organization partners with the New York-based Cornell Cooperative Extension to offer online chef-led seafood cooking classes called "Cook a Fish, Give a Fish," where 100 percent of the ticket sales go to feed local seafood to families in need.
"Chefs will typically be at their restaurant and participants are in their home kitchens, and they'll cook along," Masury says. "We'll feature local seafood species — the last one we did was monkfish. We've been working on a seafood donation program with the Commercial Fisheries Center of Rhode Island since 2020, and that's been one way we're working to increase access to local seafood within the community as well."
Tasty, sustainable restaurant fare
Are more chefs like Andy Taur approaching menu building with sustainable seafood top of mind?
Rhode Island's two other Relais & Châteaux properties, the Ocean House and Weekapaug Inn, as well as Cuvée at Chatham Inn on Cape Cod, are committed to not serving species under threat from overfishing.
Taur, for example, takes staff to Matunuck Oyster Farm, which supplies one of the varieties served at Castle Hill, to learn about different species of shellfish in different stages of growth — and how seasonality and place affects the flavor, or merroir, of the briny bivalves. Owner/farmer Perry Raso started the tours on Potter Pond to educate people about local seafood and shellfish and encourage them to support local aquaculture.
Sustainable seafood is the most environmentally efficient source of protein on the planet, and a RI DEM report released last May shows commercial fishing's economic impact in Rhode Island is exponential, generating around $100 million in seafood landings annually (excluding shellfish).
Making conscious decisions in the grocery store, seafood market and at restaurants not only impacts ocean health but also the communities in which we live.
Tips for eating with the ecosystem
Start by asking where the seafood you're considering buying or ordering is from and how it was sourced. Avoid overfished and vulnerable species, including bluefin tuna, Atlantic halibut, eel, Chilean sea bass and most imported shrimp. Consult SeafoodRI.com at least seasonally to learn which stocks are plentiful and where to buy local seafood and explore recipes or take a class at Eatingwiththeecosystem.org — and follow local educational advocacy organizations like these on social media to support a sustainable and resilient local food system.