The shape of language
Viewers invited to consider 'Book as Muse' this summer at Jamestown Arts Center
There are a thousand silent ways to tell a story: Words on a page, color on a canvas, the shape of a sculpture. This summer, the Jamestown Art Center will host an exhibition which asks the viewer to consider what happens when representation and description co-mingle. Titled "Book as Muse," this revolutionary exposition sheds new light on a dynamic and provocative intersection, one that explores the rich tapestry of connections between literature and visual art.
Danielle Ogden and Jeff Foyle, co-curators, have setout to explore this marriage between language and image, bringing together the work of established and emerging artists as voices in a curated conversation. This dialogue is staged in the airy, inviting space of the art center's main gallery.
"Because the walls are so tall," Foyle wryly notes, "we can really show artwork on scale."
The gallery, then, allows the works ample room to communicate individually, speak with one another, and engage the audience in a back-and-forth. The pieces in "Book as Muse," all of which are "so grounded in process and research and thought," in Foyle's words, have space to breathe.
Ogden describes the exhibition as exploring "moments when language has been distilled down" and refined into visual expression. Her work with Foyle this summer, she explains, centers on the relationship between formal and informal language. Ogden and Foyle cite stories, symbols and the distillation of social commentaries into memes as guiding the thinking behind "Book as Muse."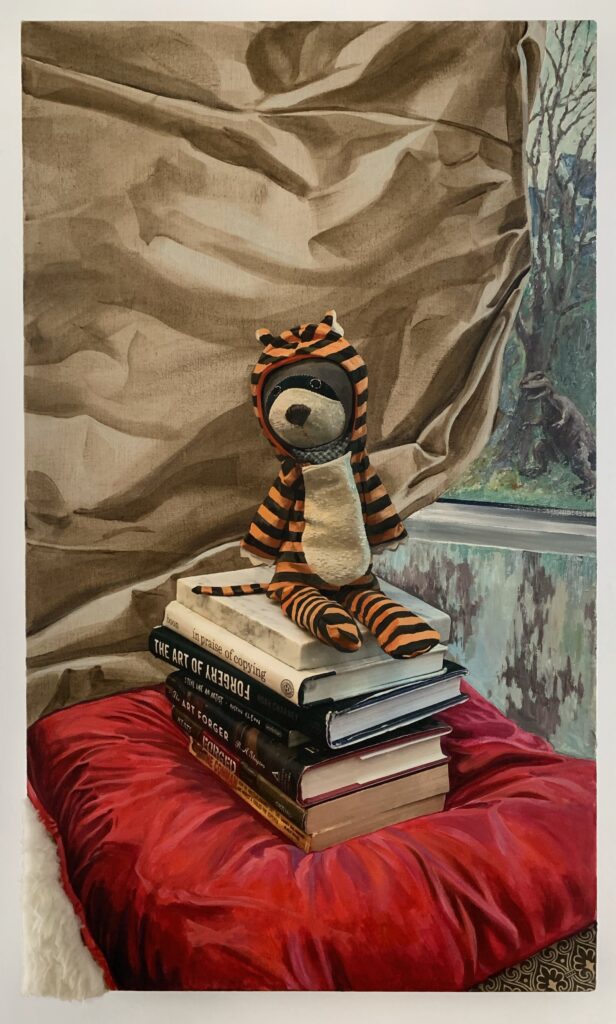 Artists as explorers
The exhibition features works by nine contemporary artists, among them Toby Sisson, Andy Li, Rupert Nesbitt and Coral Woodbury. The contributions of every maker in this exhibition promise a rich exploration of art and literature's provocative intersection. Each piece highlights a different moment of tension between word and image, inviting visitors to consider what they're seeing, what the work says, and how they reach those understandings.
Nesbitt's work plays with the intersection of real and not real. His artwork walks the line between the known and the uncanny, asking the viewer to consider the many layers of meaning present in his complex, intense pieces.
Nesbitt is "fascinated by copies" and how "emotional connections to objects" prompt his audience to consider how ideas map onto the visible world. His 3D creations, inspired by literary sources, present a compelling exploration of concept, illustration and hyperrealist form. Every image of Nesbitt's is more than an image: the artist pushes us to think about the "recursiveness" of reproducing anything.
"There's a multiplicity that starts happening when you make an image of something else," says Nesbitt.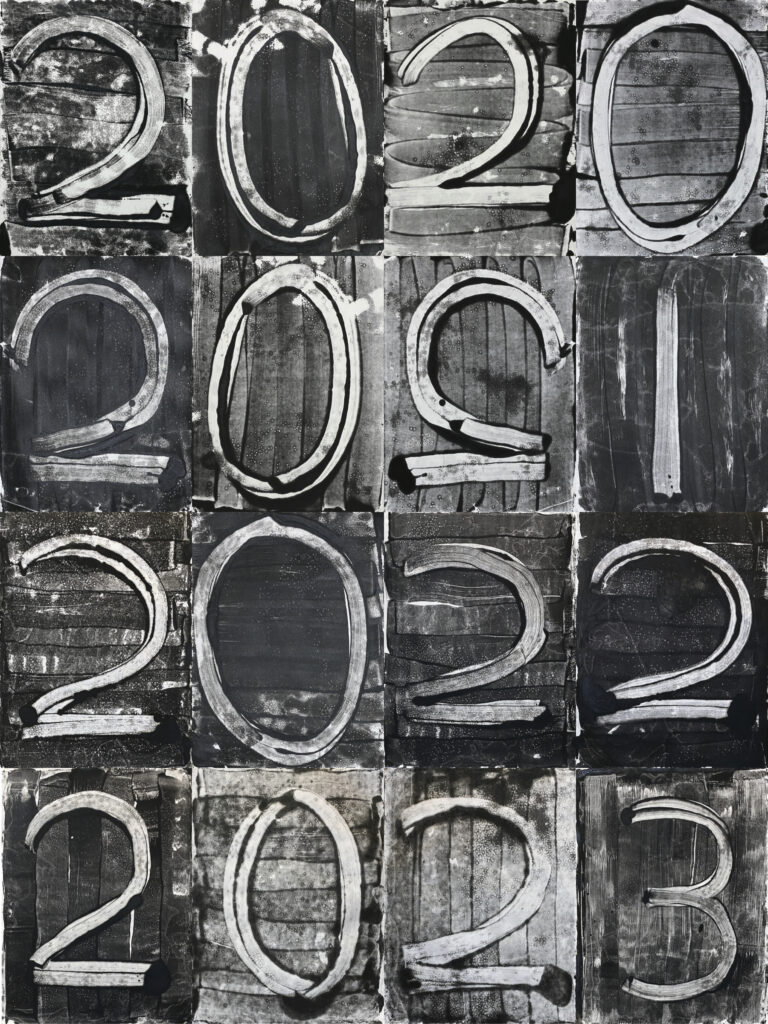 Sisson's artwork is known for its attention to the "something else" inherent in letters and numbers as symbols. Her work often employs paradoxes, displacing and invigorating the familiar forms of known things to make us question our understanding of them.
Sisson's art delves profoundly into the idea of American identity and into her own African American and mixed-race heritage. Through this lens, the artist engages the relationship between history, symbol, sentiment and story.
Her artwork in this exhibit considers very contemporary history: namely theway that the "pandemic ruptured the life of the world," giving time an "elusive quality." Sisson says she finds 2020 the numeral "really interesting as a shape."
Sisson's work takes this number — 2020 — and makes its shape plastic and malleable. Viewer's expectations are confounded, as the repeated, disordered and re-ordered numbers in the work make themselves evident as "systems or structures for identifying."
Her work, which takes the form of encaustic monotype prints, induces viewers to consider how the pandemic years have disrupted chronology for everyone involved.
Then there's Andy Li, whose embroidered fabric art also engages with time, puncturing his audience with truths both big and small.
Li says that a lot of the inspiration for his work comes from growing up in a "very spiritual, self-aware" household, and from conversations with his Taiwanese father and Bostonian mother. He describes himself as "working from the inside out," using the text in his works as a funnel for an emotional connection with his audience.
He uses a mixture of hand-sewing and machine work to create his embroideries, whose messages range from "IF THERE'S A WILL/THERE'S AWAY" to "THIS DOES NOT/ COUNTAS A /LIVE LAU/GH LOVE SIGN," and take the form of banners, sheets and flags.
Li's work plays with the spaces between words and the limits of the words themselves in a riot of color, humor and sincerity, a "modern spiritual take" on the everyday interaction.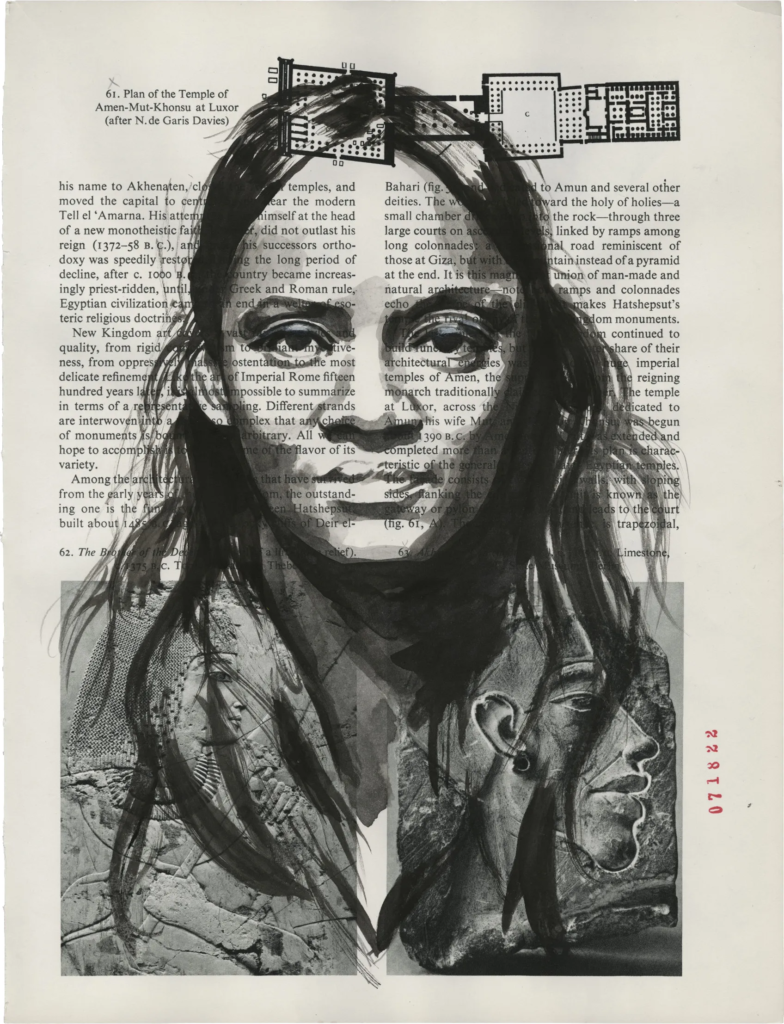 Coral Woodbury's large-scale mural work and dreamy, yearning paintings consider and employ the palimpsest (an object which has been re-used for writing or visual art, but still retains traces of its past use). Her artwork reflects the power of narrative: Woodbury is fascinated by "the myriad stories of humanity that books contain."
The sheer scale of her work, whether large or surprisingly small, reminds observers of the elasticity of stories and their ability to inspire and move.
In her pieces for "Book as Muse" Woodbury's work ranges from a wall-sized mural on which text is tenderly and intimately defamiliarized, to glorious, threatening, delicate oil paintings of zeppelins with Renaissance-style hands emerging, to pages from books on which she inscribes blocks of color as diaristic representations of light from different places she's travelled.
Text as "muse" exists under, around and through all of her works, whether or not the words involved are entirely visible to her audience.
The works of Woodbury, Li, Sisson and Nesbitt are joined in conversation by works from Nick Benson, Lesley Dill, Joan Hall, Buzz Spector and Jo Yarrington, who round out the exhibiting artists.
In an era where bite-sized information has become the norm, "Book as Muse" promises far more than a mouthful of fresh air. It hopes to encourage visitors to pause and think about the relationship between what they're seeing and how they know what they're seeing.
It's an homage to two potent creative languages, and to their capacity to communicate emotion, affect and knowledge. Whatever else they leave with, attendees will be left with a new appreciation for this dialogue, and for the infinite possibilities that arise when creative forms intertwine.