Rosecliff reopens after extensive restoration project
The Preservation Society of Newport County has announced the completion of a months-long restoration of Rosecliff mansion. Begun on Jan. 2, the project finished ahead of schedule and all together cost $7 million dollars.
According to Mike Taber, the Director of Properties at the Preservation Society, about 45-55 workers were on site every day throughout the restoration, and about three dozen of those workers were local tradesmen.
"I was totally refreshed at their coordination and teamwork," said Tabor of everyone who contributed to the extensive and complicated project. "The group of people we had here was probably my most pleasant experience of doing this work for 40 years."
Rosecliff will reopen to visitors on Friday, Sept. 1, which also marks the opening of a new exhibition, "The Celestial City: Newport and China." Later in September, Rosecliff will host the Newport Mansions Wine & Food Festival. Additionally, between Sept. 1 and the end of December, the mansion is expected to hold 65 weddings.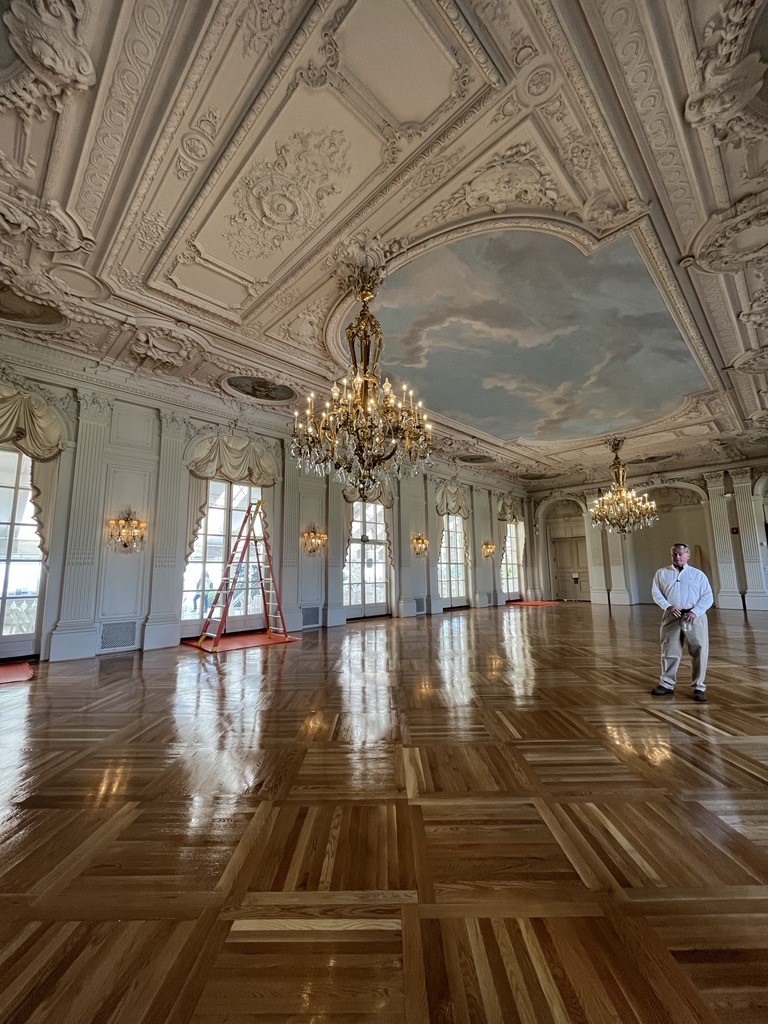 Highlights of the restoration project include:
Replacement of the 5,000-square-foot roof with a new 30-year roofing system with a 90-millimeter-thick rubber membrane.
Replacement of all 600 linear feet of the ornate balustrade that runs around the perimeter of the roof.
Construction of a new 3,200-square-foot Ballroom floor, composed of 305 white oak 3-foot-by-3-foot panels, that exactly replicates the original floor. The panels were fabricated onsite.
Steam-cleaning of all exterior marble and terra cotta surfaces.
Stripping and repainting of all windows, with new textiles for the ballroom windows, and a new protective film coating applied to all windows on the ocean side of the house.
Restoration of all front doors, including gilding.
Repointing of exterior terra cotta tiles.
The sandblasting and painting of all exterior wrought iron.
The cleaning of basins in the front and back fountains followed by the application of a new five-coat waterproofing system.
The rebuilding of the exterior back stairs.
Restoration of the central garden in the front of the house.
The repointing, cleaning and painting of the perimeter wall running the length of the property bordering the Cliff Walk, and the rebuilding of the service pit walls.
Cleaning and repointing of statue bases.
The original construction of Rosecliff was commissioned by silver heiress Theresa Fair Oelrichs in 1899, and architect Stanford White modeled Rosecliff after the Grand Trianon, the garden retreat of French kings at Versailles. According to the Preservation Society, after the house was completed in 1902, at a reported cost of $2.5 million, Mrs. Oelrichs hosted fabulous entertainments, including a fairy tale dinner and a party featuring famed magician Harry Houdini. Read more about Rosecliff at newportmansions.org.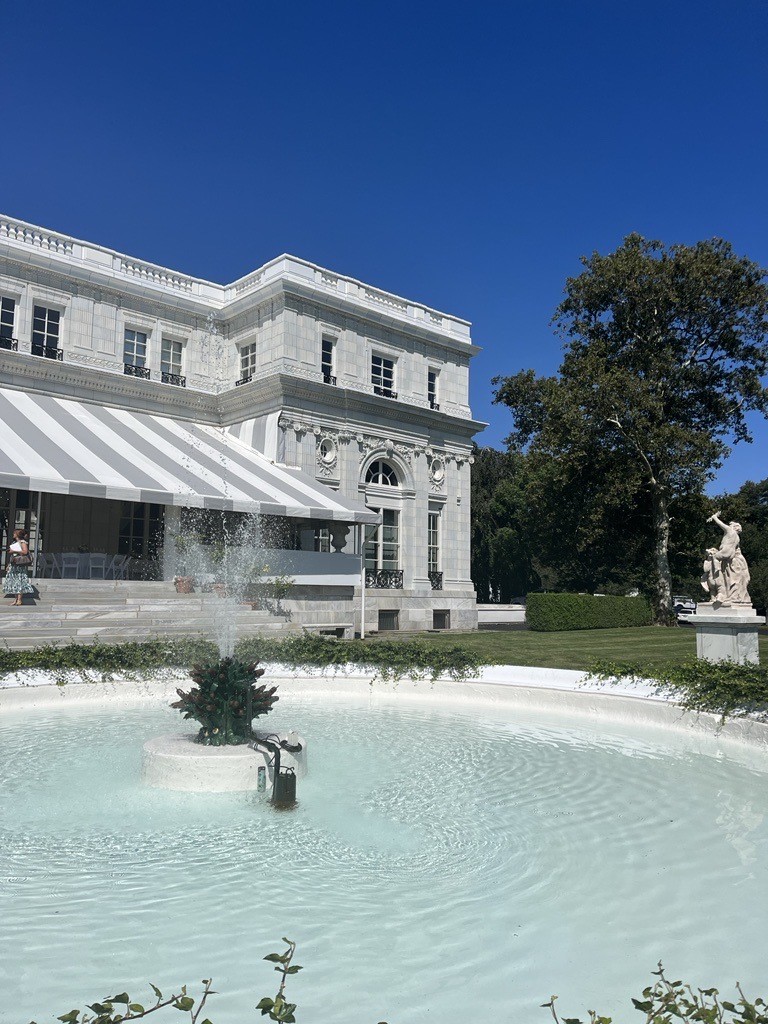 View Newsletter