Thirsty? Local bars have you covered
From Newport Water to the Nordic Cooler, there's a cocktail for everyone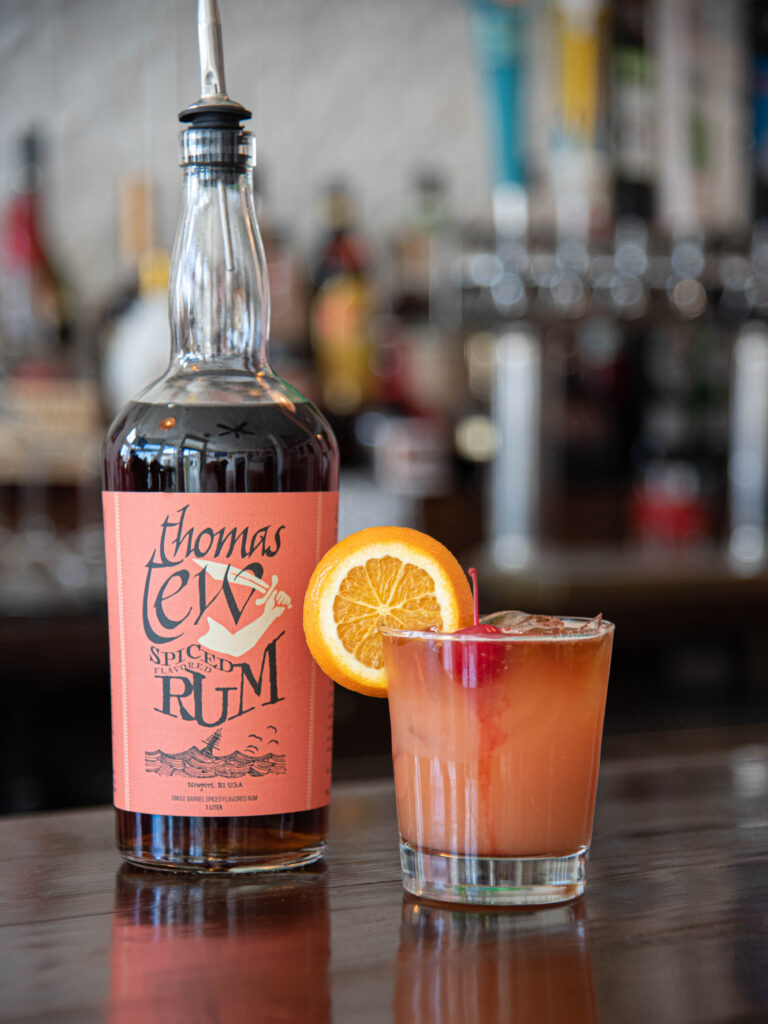 We recently went exploring for the top summer cocktails in Newport, and while it certainly didn't qualify as hard labor, our expectations were pleasantly challenged by the crafty innovation of local bartenders. We also savored some longtime bar menu favorites that have provided summer cheer to Newport locals and visitors alike all season long.
Pouring rum
Rum drinks are never a bad choice in a seafaring town like Newport: in fact, during the 18th Century the seaport town was considered the rum capital of the world. Ships laden with barrels of molasses from the Caribbean — the raw material for creating rum — offloaded their cargo at the 26 distilleries in town.
Newport Craft Brewing and Distilling Co. keeps the spirit alive with its pot-stilled Thomas Tew rum, named after the city's most notorious pirate. This rum is found in the mix at bars all over town — and it is the star spirit in cocktails and as sippers served straight up or on the rocks at the distillery's brand-new outdoor bar and tasting room.
Newport's long association with Bermuda — the famous Newport-Bermuda yacht race has been held every other year since the early 20th Century — shows up on the city's cocktail lists in the form of Dark 'n Stormy drinks, made with Bermuda's Gosling's Rum. Woe to the Newport bar that can't properly layer this classic sailor's drink.
Espresso martinis
There's far more to mixology in Newport than rum.
The espresso martini, for example, is a four-season cocktail in Newport, especially after sundown.
The summery Coconut Mint Espresso martini that won Cocktail Wars Newport's Espresso Martini Challenge for Melissa Meier of Newport Restaurant Group can be found at Bar 'Cino and La Vecina Taqueria.
The Copper Club speakeasy on Thames Street has an entire espresso martini menu (although we're partial to their New Orleans style Wally's Hurricane, as well, which is a mix of light rum, dark rum, passion fruit juice, orange juice, fresh lime, grenadine, cherry, orange and lime wheel).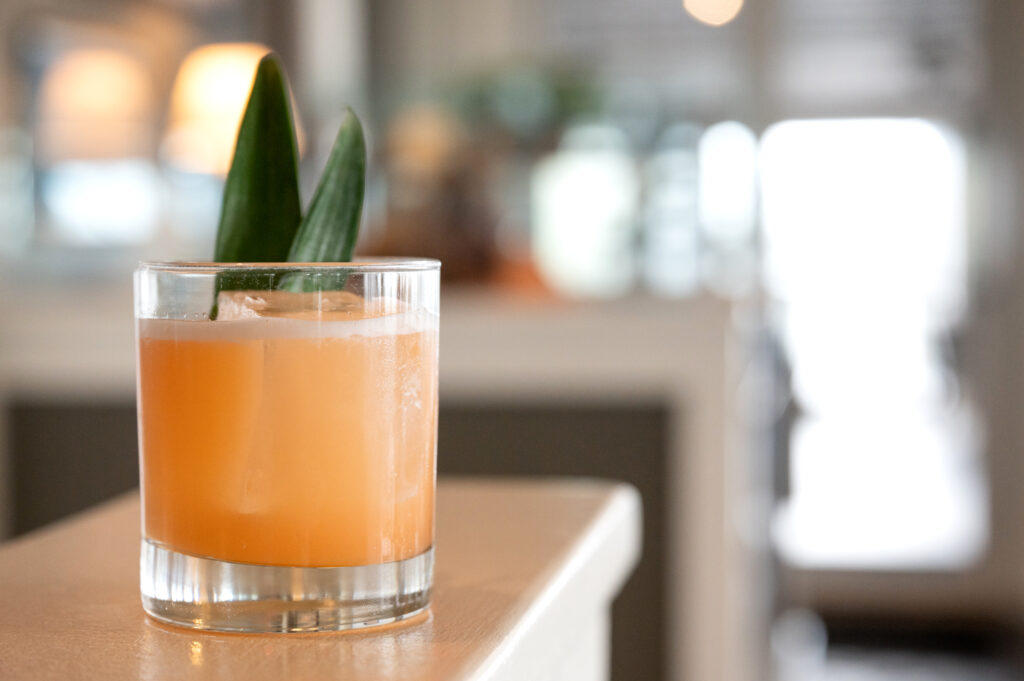 Gin is in
Rhodium gin shows up in a pair of light and fresh cocktails served seaside at the Boat House in Tiverton. The Pawtucket-based distiller produces a custom gin for Boat House owner Newport Restaurant Group that recently medaled at the 2023 American Distilling Institute's International Spirits Competition, and it's the key ingredient in the restaurant's Tiki Negroni, which is made with coconut campari, contratto rosso, and island bitters.
Tiki traditions also influence the Boat House's The Duel cocktail, made with Lunazul Blanco tequila, Rhodium gin, Aperol, Orgeat, lemon juice, and pineapple juice.
Eclectic summer refreshment
Pride month is celebrated in June each year, but at Giusto the party goes on all summer with the Bi Me a Drink, a rainbow-flagged wine cocktail blended with fresh watermelon and a hint of strawberry.
"We wanted to do something that was not a spritz but still wine based," says bar manager Olivia Whirty. "The rosé we have on the menu works really well with cocktails, and the watermelon makes it the perfect drink for summer."
Over at The Vanderbilt, bartender Shelby Paquin shakes up the Watermelon Sugar for guests to sip under the sun in the hotel's brick-lined back courtyard or upon the rooftop deck: the drink is a refreshing mix of Crop cucumber vodka, watermelon liqueur, house-made watermelon syrup, and topped with a lime foam.
A hint of baking spice may not be the first thing you think about when pouring a poolside cocktail, but Bar and Board Bistro bar manager Charlie Bullis says this subtle ingredient — along with aquavit, basil eaude via, watermelon and lime — makes the Nordic Cooler the popular restaurant's top drink for the summer.
Non-alcoholic cocktails have also flooded summer bar menus in Newport the last few years: at Diego's, try the Mango Tango, a blend of muddled cucumber, mango, agave, lime and ginger beer that won't have you missing the hard stuff.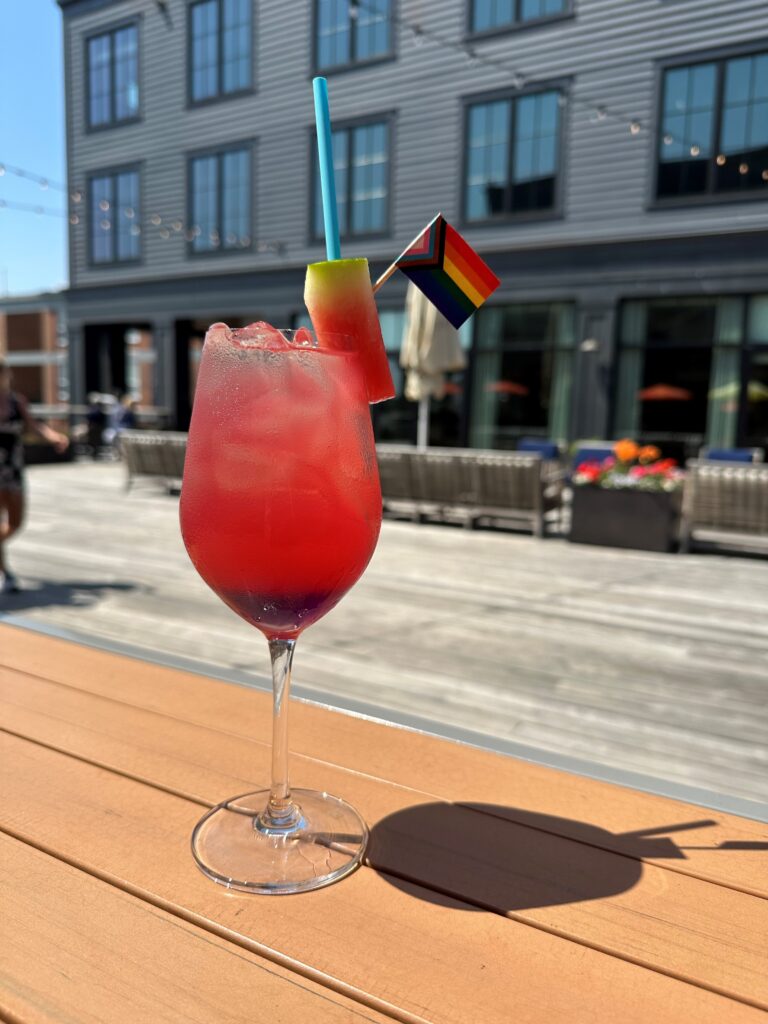 Newport's summer classic
Still, there's only one drink that rightly can claim the mantle as the city's summer cocktail par excellence season after season, and that's the Newport Water. First poured 15 years ago at the Clarke Cooke House's Sky Bar by bartender Justin Staats, this sparkling mix of Champagne, St. Germain, and Grand Marnier is served over ice and is the perfect salute to a day spent on the Bay.
Staats says the name of the drink, clear but slightly off-color in appearance, was a subtle "don't drink the water" joke, but it's also fair to say that Sky Bar patrons drink them like water in the summer — it's the single-most poured drink at the bar.
"I've always liked champagne on the rocks," says Staats. "It's light and refreshing and sparkling, and it stays cold and the flavor evolves as the ice melts. It's fun that people get such a kick out of it."
---
The Duel
1 ounce Lunazul Blanco tequila
1 ounce Rhodium gin
½ ounce Aperol
¾ ounce Orgeat syrup
½ ounce lemon juice
1 ounce pineapple juice
Mix all ingredients in a shaker, pour into a rocks glass and garnish with pineapple leaves
Newport Water
Brut champagne
½ ounce St. Germain
½ ounce Grand Marnier
Fill a Bordeaux wine glass with ice. Add St. Germain and Grand Marnier. Fill glass to top with champagne and garnish with a slice of orange.