Chasing Waves
The origins of Newport's surfing — and surf culture — are the stuff of legends
As magic hour casts its irreplicable golden blanket over the westernmost corner of Second Beach, Alie Toppa effortlessly glides her surfboard along a breaking wave back to shore.
Surrounded by friends in the water and on the sand, she exits the foamy edge of the Atlantic Ocean, shaking out her sun-bleached locks. Later, she — and other local surfers — strap down surfboards to the roof of cars before speeding off into the twilight. It's the best day ever. And they'll do it all again tomorrow — if the swell is right.
It often is.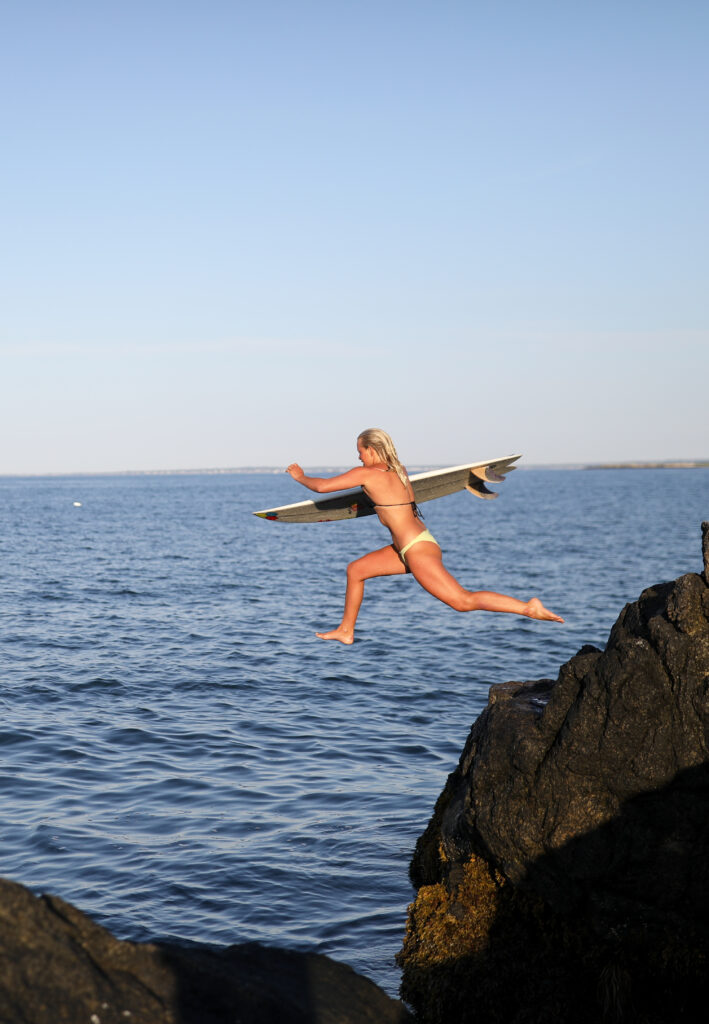 "On those perfect September hurricane swell days, when it all just lines up…there's nothing better than a good day with all your friends and driving home at the end of the day. That's just the best," says Toppa. "There's nothing like a good day surfing in Newport."
The 24-year-old's mother taught Toppa, her twin sister, and their older sister how to surf when the family spent their summers in Newport. Toppa was eight when she caught her first wave and was immediately hooked. "There would always be boards laying all around and we would grab them, and she would take us out," recalls Toppa. "We were pretty much just all born water babies."
She's surfed around the world – Sunset Beach on Hawai'i's North Shore, Rincón in Puerto Rico, throughout Costa Rica and Tortola – and has the chops to go toeto-toe with the best of them, but she reserves her competitive spirit for sailing, as evidenced by the first-place win she and her fellow crewmates captured at the inaugural New York Yacht Club Women's Championship in Newport this past June.
"I surf for the pure joy of it," said Toppa, who lives in Newport full time now. "The culture within the surf community here; everybody is so like-minded, and it's definitely shaped a lot of my life, whether it's where I've been or what I do. It's a lifestyle."
Newport's Godfather of Surf
The culture Toppa refers to can largely (or many argue, entirely) be credited to Newport native and surf icon Sid "The Package" Abbruzzi, who is widely considered the Godfather of surf and skate in the Northeast. Exactly how legendary is Abbruzzi? The Kinnane Brothers are producing a documentary about his life. (Earlier this year, the Little Compton-raised Kinnanes released "Home Team," produced by Adam
Sandler and starring Kevin James). One can't mention "surfing" and "Newport" without Abbruzzi's name and contributions being at the forefront.
"I've been surfing for more than 60 years," says Abbruzzi with pride.
It was the late 1950s and he was in the backseat of what he describes as an "Untouchables-type" car with his cousins when his aunt pulled in the parking lot at Second Beach, and they spotted a man
riding a wave. "Going through past history, it was probably a lifeguard because there weren't too many surfers at all back then. Surfing was considered rebellious. I mean, we made motorcycle gangs look good. To some parents, (a surfer was) the worst thing you could ever be," said Abbruzzi with a laugh. "I said, 'Boy, I want to do that!' and my aunt, she turned right to me and my cousins and said, 'You are never going to do that.' And that's what stirred the rebel instinct in me."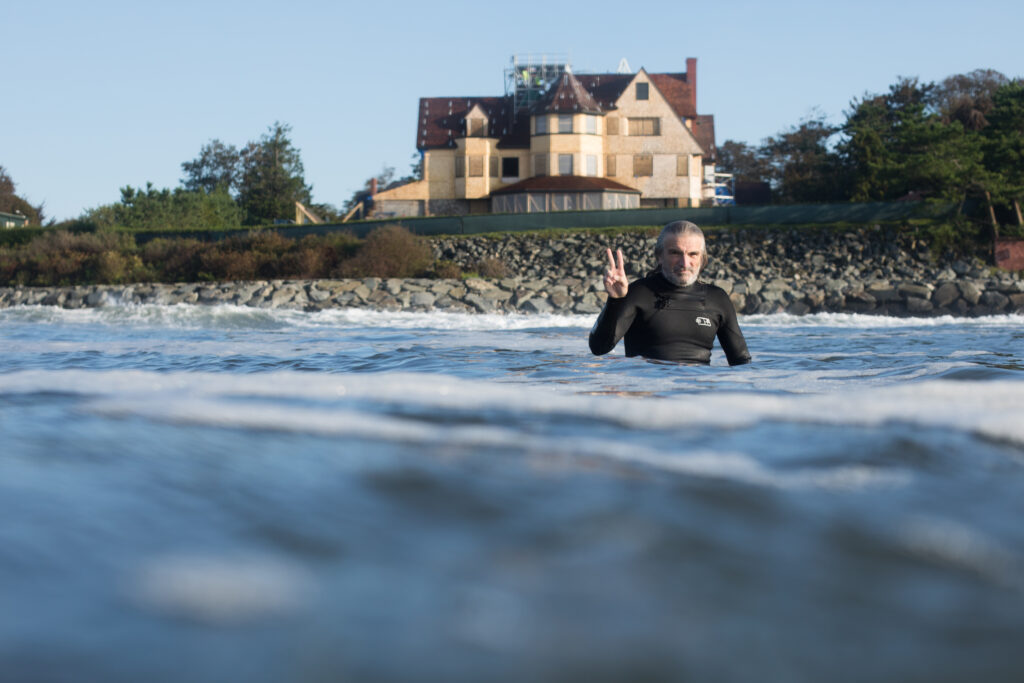 A few years later, Abbruzzi's father, a longtime baseball coach at Rogers High School, bought what could best be described as a pair of hard foam boogie boards for Sid and his younger brother, Chris. When their skills demanded a real surfboard, the options were slim pickings.
Abbruzzi found what they needed at Ryan's Sporting Goods, which was perched at the corner of Mill and Thames streets during that era.
By the early 1960s, local and national interest in surfing soared, as people were captivated by the sport thanks to "Beach Party," "Beach Blanket Bingo," and other teen-driven movies and television shows, including "Gidget," which celebrated California's beach-centric lifestyle. A surfing craze swept both coasts.
Surfing as seen on celluloid was exactly what captivated Fred King, who is born and raised in Newport.
He was a young teen in 1963 and had gone to see "Beach Party" starring Frankie Avalon and Annette Funicello. "When we came out from the movies, it was nice and sunny out, so my friends and I went down to the beach," he recalls. "There was a guy from California there and he rented me his surfboard for an hour for $5, and my paper route money back then was about $11 or $12 for the week, but I said it was worth it. I got hooked — and I'm still doing it 60 years later," says King, whose passion became longboarding and, after sustaining a neck injury in 1998, transitioned to standup paddleboard surfing.
"I still rock and roll out there. Whether you're standing up going into a wave or you're paddling and jumping up, once you're in that wave, surfing is still surfing," he said.
"The surfing scene from '62 to '67 was absolutely crazy," said Abbruzzi. "Real surfing wasn't seen until probably 1965, when the Duke Kahanamoku Invitational Championships was on 'ABC Wide World of Sports.'" He says he and his buddies would wait an entire year to drink in 30 minutes of surf on the program that aired annually. A year later, Bruce Brown's seminal surfing documentary, "The Endless Summer," was released, exposing surfing to an even broader audience.
But America's surf mania didn't last. "For a lot of those people, it was a fad," said Abbruzzi. But he was infatuated.
A surfing life
After graduating high school in 1969, he went to New Jersey to get a coveted California-made surfboard. He came back with four instead and sold the others to friends. The owners of the Garden State surf shop brought him eight more boards, and he sold those with ease. He continued to sell boards from his family's basement until 1971, when Abbruzzi opened the doors to the original Water Brothers surf
shop in a weathered shack just a stone's throw from the waves at First Beach.
"I had no intention of running a business; I just wanted to get the best surfboards for my friends," he said.
And then he got arrested.
A few years before, the City of Newport created a no-surfing ordinance that extended from the northern end of First Beach by The Chanler hotel to Castle Hill. "Basically, no surfing any place where guys would be fishing," said Abbruzzi.
The ban included one of the most fabled reef breaks on the East Coast:Ruggles (dubbed so for its location just off Ruggles Avenue). Overhead glassy waves are commonplace here, with hurricane swells drawing the best surfers from far-flung states. Rather than pay the $10 fine upon his arrest in October 1971, Abbruzzi took his case all the way to Rhode Island's Superior Court, where the judge ruled the ordinance unconstitutional.
"It was December 13, 1971. I'll never forget that day. I got the paperwork for legalization," said Abbruzzi.
Newport's Surf Culture
"When you talk about the surf culture in Newport, you have to give all the praise to Sid and Water Brothers," says Patrick Murphy, a fourth-generation Newporter, whose Fifth Ward gallery, The Kings Lens & Friends, is peppered with his own in-water surf photography and the work of other talented artisans. "A lot of my shop and what I have done has been inspired by Sid."
Murphy recalls the first time he was allowed to go to Water Brothers, then on Broadway, on his own. He became a regular, listening to story after story there — and forging friendships he still has today. "The best pros in the world have come to Newport because of Sid, and we all have those memories because of him," Murphy said.
Tom Curran, Christian Hoisoi, Garrett McNamara and skate boarding's G.O.A.T., Tony Hawk, along with skateboard impresario Tony Alva and other lauded talents, have all been welcomed by Abbruzzi through the decades. Among them is world-renowned big-wave rider Ian Walsh, also Abbruzzi's godson, who was born in Newport and hung out at Water Brothers before moving with his family to Maui.
"Water Brothers and what Sid does in Newport is part of the fabric of the community there," said Walsh, who was in town in June to train and sail in the Newport Bermuda Race as part of 11th Hour Racing's crew (the boat was the first monohaul to finish out of nearly 200 boats in the 635-mile ocean race).
A Homecoming
"The first time I came back to Newport [in 2008], I was chasing a hurricane to do a surf project there," Walsh said. "I hadn't been there since I moved away as a little kid, and I felt an immediate homecoming. One of the things that really stood out was going to the ocean where I would go all the time with my dad, and as soon as I basically smelt the Atlantic Ocean there, I had a lot of memories come flying back. Every time I go back to Newport now, I feel a very deep connection."
Walsh's father, Peter, a long-respected surfer in his own right, grew up riding Ruggles and other local breaks, but Ian learned more about his father's halcyon childhood when he followed his footsteps. "I didn't get too much information from my dad growing up about his surfing escapades when he was younger, but going back to Newport, I learned so much from running into old friends and people who he surfed with growing up, and I've been able to paint a much more complete picture of my dad as a young surfer in Newport," Walsh said.
Though the extreme sports icon has chased and charged monumental, bonejarring swells to the far corners of the earth — massive walls of water that are 50 to 75 feet tall — or even larger. These giant waves break with such force — onlookers feel the earth vibrate under their feet. Still, Walsh respects and admires Newport's waves and credits the city's surf culture for growing the sport.
"When I have gone through there with other peers, whether they are in surfing or not, it's very cool to introduce them to (Newport's surf) history and how relevant it is to the progression of all action sports, whether that's surfing, skateboarding or snowboarding," says Walsh. "It has a place in surfing history. It's a very cool aspect of what Newport is."
The Newport connection brought Murphy and Walsh together when Murphy moved to Maui for a time. Recently, Murphy has been spending winters in the surfing mecca. It's where Murphy took his surfing photography to the next level, paddling into merciless waves to get shots of Walsh and other big wave chargers. He got so into shooting surfing that he rarely found time to surf himself — something that he's changed since returning home.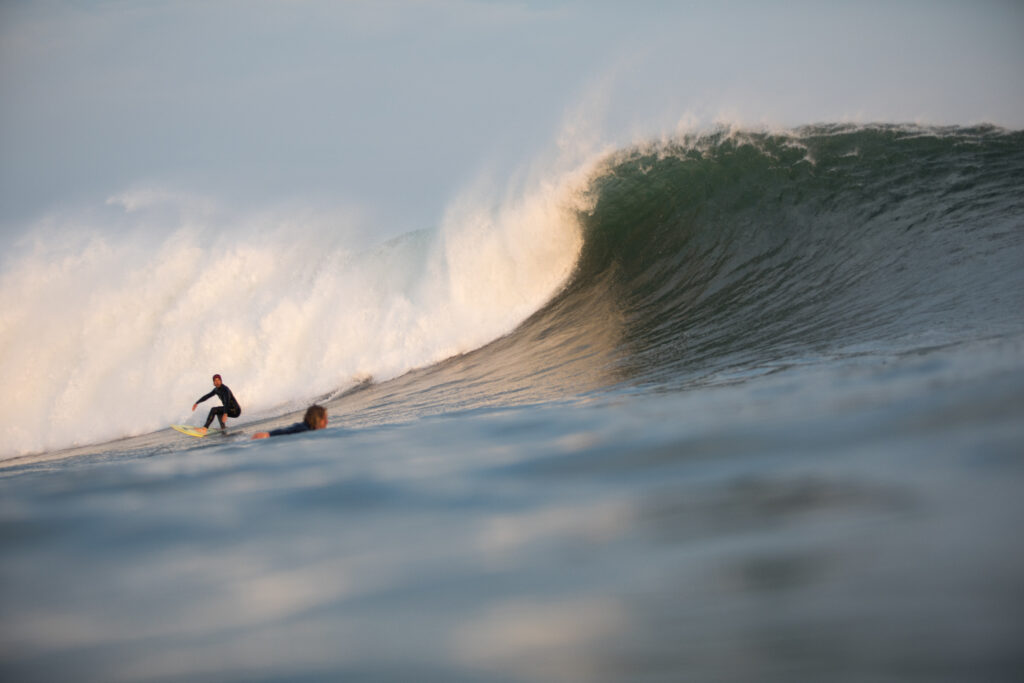 "It feels so nice to be around the ocean that I know; the same waters that I learned to swim in," Murphy said. "It's a very euphoric feeling to just have time to be with your friends in the ocean, which is really the thing I love most in life. The best surfer is the surfer having the most fun."
After six successful years, Murphy will close his gallery at the end of the summer and then move to Portugal, home to amazing surf spots, including some of biggest ridable waves in the world. "I want to create art and not live off of it for a while," says Murphy. "I'm gonna go explore the world for a bit, but I know I will come back to Newport. It's home. At the end of the day, I've done a lot here. And I have more to do."
As for Newport maintaining its surfing foothold, Abbruzzi is confident. "The surfing here is only going up. The kids are getting better and better; the surfing level is higher … they got a great group of people in front of them — their dads, their brothers, their aunts, whatever — a full community of surfers. I think there's a bright future."