Exploring: Farms & farmstands to visit this fall
There is so much to see and do this autumn, from apple picking to eating donuts to exploring corn mazes
Fall in Newport County is the time to pick pumpkins, pluck apples, and amuse (or confuse) the kids with a visit to a corn maze. From Jamestown to Little Compton, there is something for everyone to enjoy, from apple cider donuts to annual harvest festivals. Here's a selection of outdoor activities to enjoy during what might be New England's best season:
TRINITY CHURCH ~ NEWPORT
Trinity Church, the 324-year-oldEpiscopal Church in the heart of downtown Newport, transforms the lawn of Queen Anne Square into a picturesque pumpkin patch each October. Thousands of gourds, along with treats, such as pumpkin chili and hot cider, are for sale.
1 Queen Anne Square, Newport, 02840
1-401-846-0660
www.trinitynewport.org
HARD PRESSED CIDER CO. ~ JAMESTOWN
While Windmist Farm is open year-round for grass-fed beef and sustainably raised pork and vegetables, autumn means the return of freshly pressed apple cider and cider donuts. The Hard Pressed Cider Co. opens Labor Day through Thanksgiving at the farm, with cider drinks sold hot, cold, and slushie-style. There's no sugar added to the cider, but the cinnamon sugar cider donuts rolling hot off the convey or will more than satisfy your sweet tooth. If you miss them in Jamestown, the operation moves to the Farmer's Daughter's Christmas Tree Farm in South Kingstown between Thanksgiving and Christmas.
Windmist Farm, 71 Weeden Lane, Jamestown, 02835
1-401-423-9767
www.windmistfarm.com
SWEET BERRY FARM ~ MIDDLETOWN
Visitors to Jan and Michelle Eckhart's 100-acre farm and market on Mitchell's Lane literally get the pick of the crop each fall, when the fields are filled with people gathering peaches, blackberries, raspberries, apples, and of course pumpkins. For those looking to get an early start on the holidays, Christmas trees can be tagged starting the day after Thanksgiving, when it might be too chilly for ice cream at the café — but the perfect time for a slice of pie.
915 Mitchell's Lane, Middletown, 02842
1-401-847-3912
www.sweetberryfarmri.com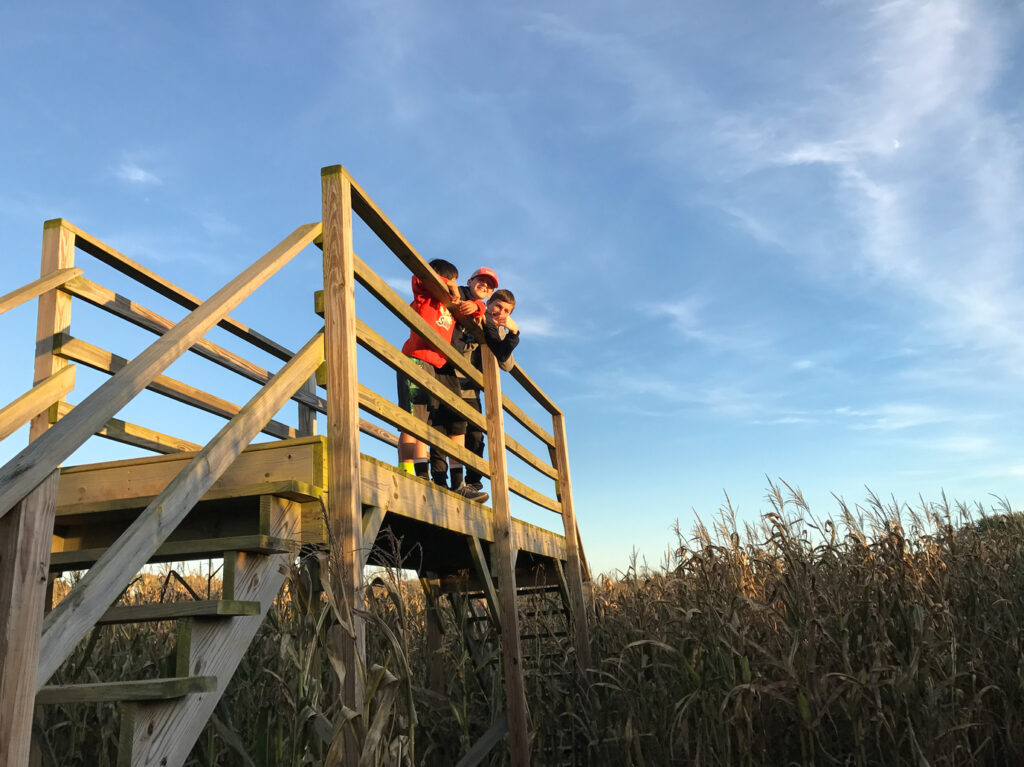 ESCOBAR'S FARM ~ PORTSMOUTH
The Escobar family spends most of the year tending and milking their herd of dairy cows, but the Middle Road farm comes to life each September when the public is invited to explore an expansive corn maze that extends across 8 acres, which rises after the fall harvest with a different theme each year. This year's design? Field of Dreams. A pumpkin patch and hayrides are also part of the fun; the maze is generally open on weekends in September, October, and November.
255 Middle Road, Portsmouth, 02871
1-401-864-1064
www.escobarfarm.com
MOUNT HOPE FARM ~ BRISTOL
Mount Hope Farm has been feeding Rhode Islanders before there was a state of Rhode Island, and this127-acre National Historic Landmark continues its agricultural legacy by raising goats and chickens, growing produce for the town's food pantry and hosting a weekly farmer's market year-round. The latter, held on Saturday mornings from 9 a.m. to 12:30 p.m., features up to 30 vendors, including Tiverton's Roots Farm, Hillside Mushrooms from Little Compton, and Warren's Bywater brewing much-needed morning coffee. Extend your visit with a brisk fall walk on the trails around the property, including an easy two-mile roundtrip hike to a historic Adirondack-style cabin on Church Cove.
250 Metacom Ave. (Route 136), Bristol, 02809
1-401-254-1745
www.mounthopefarm.org
TIVERTON FARMER'S MARKET AND WEST PLACE ANIMAL SANCTUARY ~ TIVERTON
Local growers gather each Sunday from 10 a.m. to 1:30 p.m. at Tiverton Middle School for the Tiverton Farmer's Market, and vendors such as Age of Grace (selling CBD balms),Maggie's Healing Path (medicinal herbs) and Movement Ground Farm help create a chill wellness vibe. Keep the good feelings going with a visit to the West Place Animal Sanctuary, which provides food, shelter and love to more than 15 species of abused and neglected farm and domestic animals.
10 Quintal Drive, Tiverton, 02878
www.tivertonfarmersmarket
YOUNG FAMILY FARM ~ LITTLE COMPTON
One of Rhode Island's biggest farms is in Little Compton, and while100 of the 300 acres of the Young Family Farm is devoted to potatoes, other plots are devoted to various pick-your-own activities, including fruits, vegetables and flowers. The annual Apple Festival, held the second week of October, caps apple picking season. In addition to gathering a bushel of Honeycrisp, Macintosh, Gala, Mutsu or Jonagold apples, you can also pick up some house-made applesauce, apple crisps, or apple pies in the farm stand. Pumpkins perfect for Jack-O-Lantern carving make their appearance as Halloween approaches.
206 W. Main Road, Little Compton, 02837
1-401-635-0110
www.youngfamilyfarm.com