Trailblazers to follow: Billy Thalheimer & Mike Klinker of Regent Seagliders
Electric "seagliders" that can "float, foil, and fly" on and above the water could become the future of regional transportation, and a Quonset-based company building these cutting-edge wing-in-ground-effect craft is drawing upon a deep local pool of maritime innovation that includes the racing sailboats of the America's Cup.
"There is no better place on the planet to build seagliders than Rhode Island," says Regent CEO and co-founder Billy Thalheimer, whose company has lined up $8 billion in orders in less than three years of existence. "Between access to Narragansett Bay, acres of coastal industrial real estate in Quonset, access to the top maritime composites talent in the country, and a strong economic incentive package — Rhode Island was the clear choice."
Closer to boats than planes, Regent's seagliders can float on the water, raise upon a hydrofoil as they gather speed — and fly 10 to 30 feet above the waves as they carry up to 12 passengers plus cargo on routes of up to 180 miles. Advanced fly-by-wire technology and sensors help control the craft, which will be operated by mariners — not airline pilots, says Thalheimer.
Using racing technology
Thalheimer says the difference between the seagliders and past attempts to build a safe and successful flying wing-in-ground-effect craft is the intermediate hydrofoil mode, which improves maneuverability and wave tolerance — the ability to operate in choppy water conditions.
"We could not do this without the expertise and technology developed in the America's Cup," including the use of hydrofoils and composite materials, says Thalheimer. "The America's Cup is the F1 of sailing, and what makes a lot of sense in the racing world we're now finding a way to use commercially."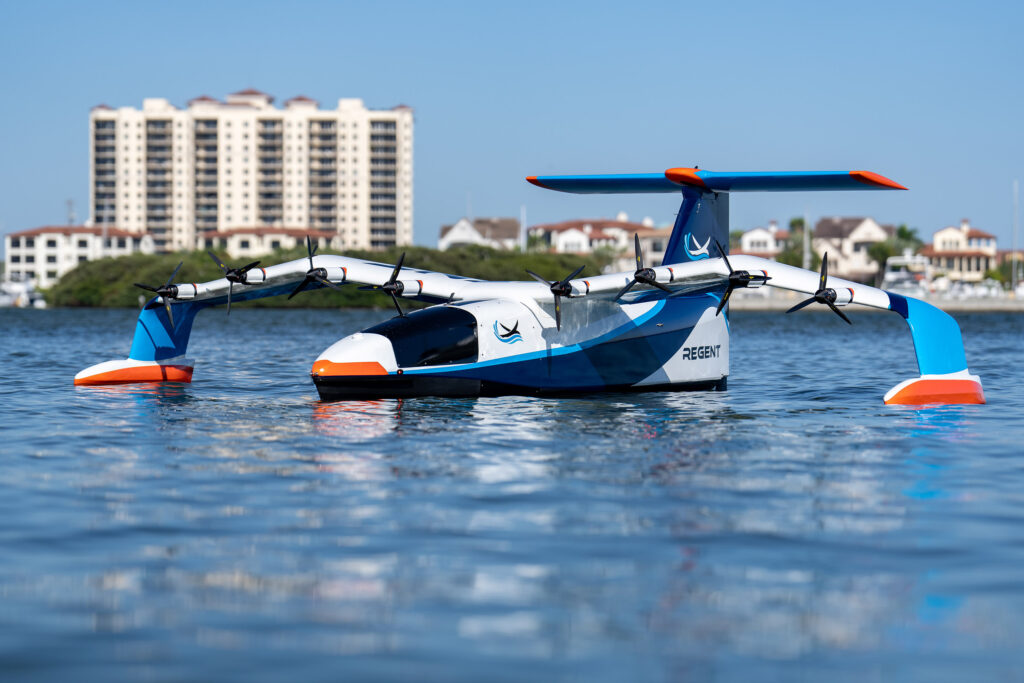 Regent co-founders Thalheimer and Mike Klinker met as students at MIT and later worked at Boeing. The limited range of electric aircraft, coupled with the inefficiencies of regional air travel, led the pair to conceive of an electric flying wing-in-ground-effect craft that has twice the range of any existing electric plane.
"Regent seagliders combine the best aspects of a boat and an airplane," says Thalheimer. "Faster than a high-speed ferry, they can fly at speeds up to 180mph and are more convenient and affordable than a short-hop airline since you won't have to worry about going to an airport to get [onboard] as they can utilize existing dock infrastructure. Plus, Regent seagliders are 100-percentelectric, making them a sustainable way to travel."
Making big connections
Regent's launch partners include Southern Airways/Mokulele Airlines, Mesa Airlines, and Brittany Ferries, and the company recently added former Boeing CEO Dennis Muilenburg and David Neeleman, co-founder of Breeze Airways, JetBlue, and Azul Airlines, to its advisory board. The company has successfully tested and flown a one-quarter-sized version of its Viceroy seaglider on Narragansett Bay and is currently building a full-scale prototype.
Regent plans to launch the first human seaglider flight in 2024.
Thalheimer says he looks forward to the day where seagliders are not only island-hopping in places like the Caribbean and the Aegean Sea but between Newport and Providence, Narragansett Bay and New York City, and connecting the Ocean State to places like Martha's Vineyard and Nantucket — minus the time wasted negotiating airports and in taxiing and holding patterns.
"As a Rhode Islander, I have so many routes I want," he says.