The Ocean Race Summit: An Homage to Water
The summit, which featured a variety of speakers, highlighted how we are all connected to the ocean  
On Tuesday morning, more than 150 people gathered for The Ocean Race Summit, held in the Ocean Live Park at Fort Adams State Park on Tuesday, May 16, 2023. The event featured a range of speakers from various industries, spanning tech to government, extreme sports and higher education, local nonprofits and philanthropists, who collectively highlighted the interconnected nature of the work being done to preserve and improve ocean health and environmental sustainability.  
The event was moderated by Danni Washington, a noted TV host and science communicator, who seamlessly introduced each speaker and connected one idea to another.
Terrence Gray, the director the Department of Environmental Management Rhode Island, spoke candidly, sharing that he was impacted by what he learned during the last Ocean Race Newport stopover in 2018, where he realized that some of the most remote waters on the planet are showing signs of plastic pollution. "All this stuff hits home," he said, especially when your home is The Ocean State.
"Even though we are small, we have an opportunity to lead by example," he said. In fact, Rhode Island recenlty became the first state to commit to recognizing the rights of natural communities and ecosystems (a theme of the summit was the question of whether the ocean should have rights, and how to go about declaring, designating and ensuring such rights).
As Janet Coit, assistant administrator at NOAA Fisheries, U.S. Department of Commerce (and formerly of RI DEM), spoke about climate change and its impact on coastal communities, sharing that it can all seem overwhelming at times and yet she maintains hope, hundreds of schoolchildren passed by just beyond the tent, all there as part of a weeklong education initiative to get youths to the Exploration Zone learn about some of the same ideas being discussed at the summit: ocean health and how it affects us all, in ways big and small.
Throughout the morning there was talk of sea level rise, warming waters, declining whale populations and limited resources, although the more interesting conversation revolved around examples of solutions and ways to alter the outcome of what came seem like an irreversibly dire situation.
One of the panels focused on sports as a catalyst for change and featured Charlie Enright, who grew up in Rhode Island and is now the skipper of the 11th Hour Racing Team; Zandile Ndhlovu, a South African freediver and ocean explorer who founded The Black Mermaid Foundation; and Jess Hotter, a freeride world champion skier from New Zealand who's also a Protect Our Winters ambassador. All three are featured in the documentary "Shaped by Water," a film by 11th Hour Racing (and produced by Corinna Halloran, a resident of Aquidneck Island) which was screened Sunday at the Fort and is, as host Danni Washington declared, an homage to water.
"Water is everything that connects us," Jess Hotter said during the panel, a sentiment shared by many in the room.
"The ocean is the most beautiful place I've ever encountered in my life," said Zandile Ndhlovu, adding that "it's the place where I found belonging."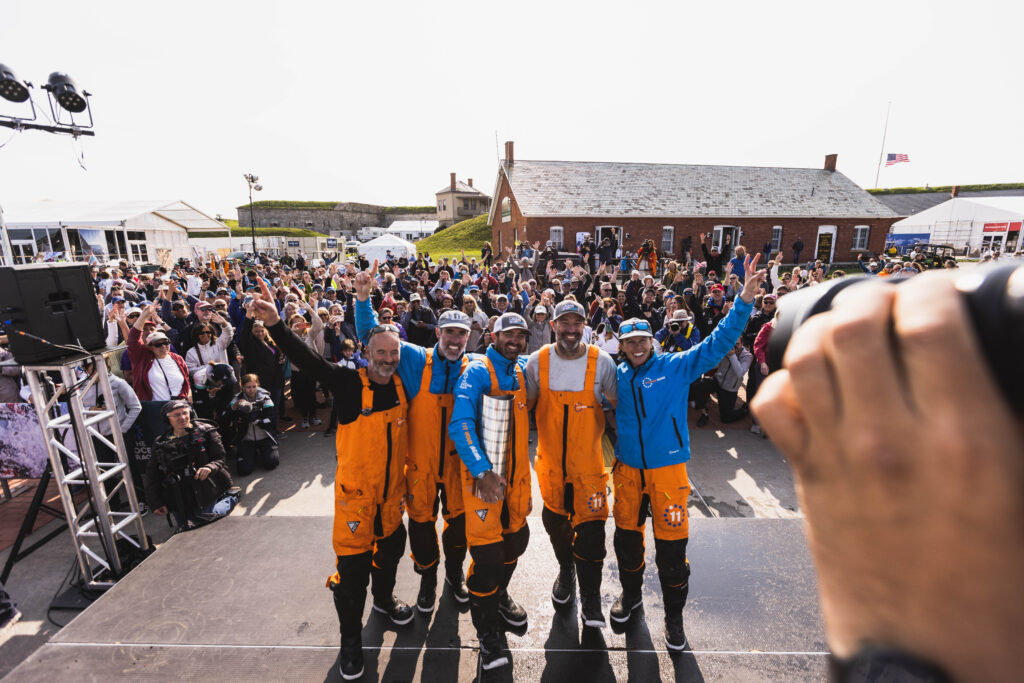 Charlie Enright spoke of arriving in Newport last week, confessing that he's not generally an emotional person but said winning that Leg of The Ocean Race was extremely moving (he was seen wiping tears from his eyes on the awards stand following his team's arrival). "The last 24 hours were pretty surreal," he recalled, "and the reception when we got here was pretty amazing."
Enright noted that when the boats are competing during each race leg, they are also continuously collecting science data. "We measure and track everything that we do," he said. "Sustainability is in our decision-making matrix… it touches every aspect of our campaign."
He added: "It's beyond messaging and about tangible solutions."
At one point during the summit, a video was screened highlighting the work of local nonprofit Clean Ocean Access (also a grant recipient of 11th Hour Racing) and the work the organization is doing through its Healthy Soils Healthy Seas program, which offers tangible solutions to improving ocean health in the form of composting and diverting food waste from the landfill.  
As Danni Washington mused between speakers, "small collective actions can add up," and "we are all interconnected."
Wendy Schmidt, philanthropist, president and co-founder of the Schmidt Family Foundation and Schmidt Ocean Institute, and co-founder of 11th Hour Racing, gave the closing speech. "It takes a lot to impress me," she said, "and I have to say, there is so much inspiration in this room." She spoke of ripple effects from each summit, the first of which was held in Newport in 2018 (Tuesday's event marked the 18th summit) and of racing with a purpose.
The boats are traversing 32,000 nautical miles, she said, which makes The Ocean Race "the most comprehensive science program of any sporting event in the world." The data gathered in real time produces hundreds of samples, which eventually impact climate models and weather forecasting.
"It's a pathway," she told those gathered, "and we can all be on it."
View Newsletter