Shaken or Stirred: Teon is Newport's Viral Influencer
Seldom seen on camera, meet Newport's TikTok star, Teon Cromwell Jr.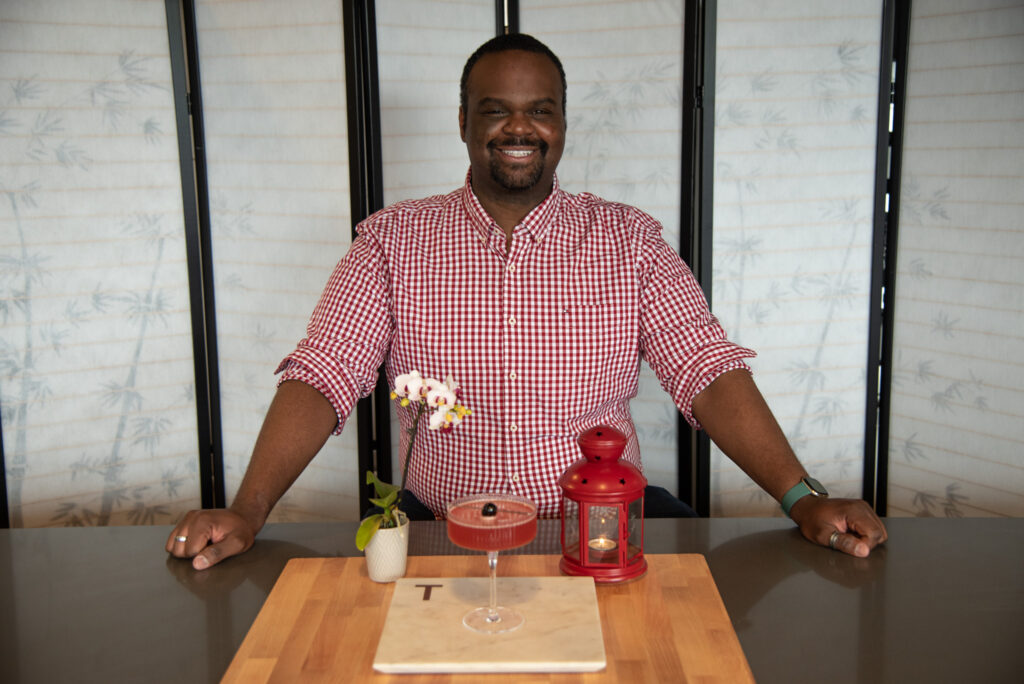 There was just something about the making of that lavender ombre cocktail that seduced nearly half a million viewers to stop scrolling their TikTok feed and take in the soothing, aesthetically inviting 19-secondvideo.
The elongated slender stemware, the clean lines of the subway tile backsplash, the vibrant purple Empress 1908 Gin being poured and mixed with rosemary simple syrup, limoncello, prosecco, lemon juice and sparkling water – it was visual delight— and all from the mastermind of Newport-based creator Teon Cromwell Jr.
Born and raised in Newport, Cromwell says cooking, baking and making drinks to show family and friends how much he cares is just part of his genetic inheritance. "Food is my love language," he says with a chuckle.
Whether following an Ina Garten recipe, adding a creative twist to a traditional recipe or crafting a unique one of his own, Cromwell's creations have long nourished heart and soul. Those around him couldn't help but encourage the self-taught cook and cocktail creator to share his talent with the world on social media.
Although he flirted with the idea, he's inherently camera shy, and concedes the idea of creating and editing a lengthy YouTube video was daunting. "And then TikTok came along, and I thought, 'A short-form video? I can do this,'" he said.
His first planned project was in October 2021: a month-long series of Halloween and fall-themed cocktails.
"I said, 'If I don't like doing it after a year, I can say I did it and that's all well and good,'" he recalled. But he thrived, diving into concocting recipes, shooting them on his phone, editing and posting.
From a "Vampire Blood" martini made to the sound track of Bram Stoker's Dracula to a handful of Harry Potter-inspired concoctions, each drink was consistently made on the same set, with thoughtful drinkware, engaging music and, very intentionally, just Cromwell's hands making, mixing, and garnishing the drinks.
"It takes the pressure off," he said about keeping his face out of the picture.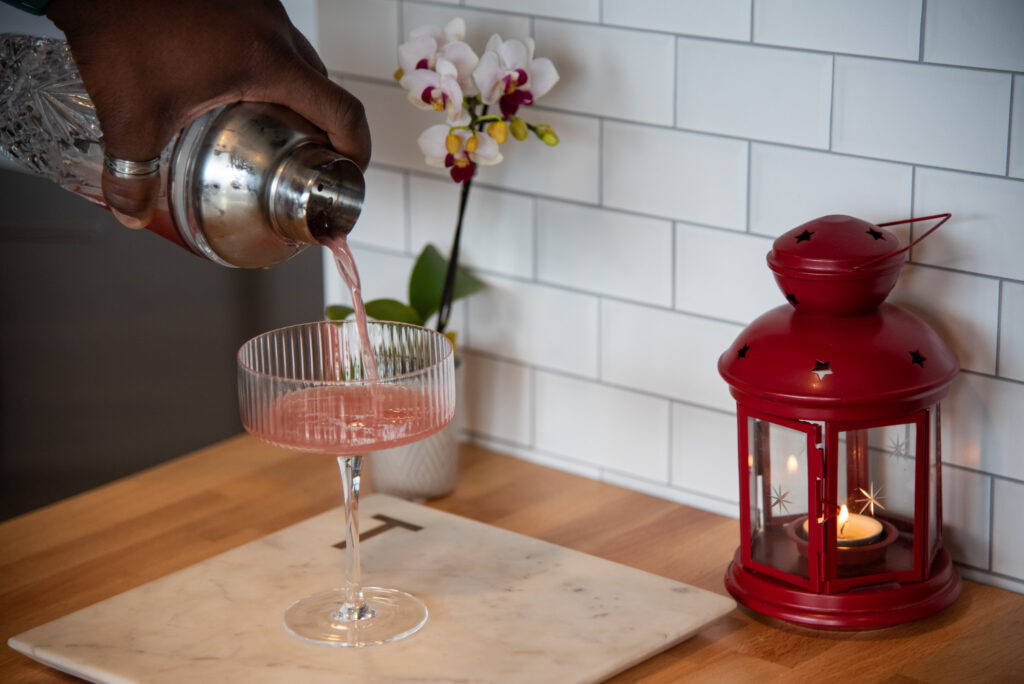 Quite the following
It turned out that thousands of people enjoyed his creations too. The series has amassed more than 238,000 views and counting.
Today, Cromwell's TikTok account boasts nearly 32,000followers, with thousands more on other social media platforms. A hot buttered cider recipe has racked up 513,800 views, a frozen bellini spritz for Easter just shy of 352,000 views and two versions of a flaming "Goblet of Fire" cocktion have a combined425,600 views.
"It's funny, this little piece of the Internet, this little thing that I did…has just blossomed into this thing that has opened a good amount of doors for me," he says. Looking back on his promise to himself when he first got started, Cromwell says he's still relishing the opportunity to create, adding that his family, particularly his oldest sister, has encouraged him to continue.
His videos garner tons of likes, comments and questions, such as how to make the recipe en masse, if the drink would work with substitutions or where he sourced the drinkware and accessories. "It's nice to have people say, 'This wasn't as difficult as I thought it was going to be,'" he said.
There have been some occupational hazards, however. Cromwell's drinkware collection has become substantial. "Sometimes a drink is a drink, but sometimes it's the glass that makes the drink too," he explains.
Coupe glasses — wide-rimmed stemmed glasses with abroad, shallow bowl typically used for cocktails served "up"(chilled with ice, shaken or stirred, then strained into the glass) — have become his breakout star."
Prior to this, I didn't know what a coupe glass was…but there's something about it that it's become my favorite form of glassware for any type of drink," he said. "I have so many coupe glasses now. My sister tells me I need to stop buying them, and I do. I've literally run out of space."
"Teon's TikToks kept showing up on my FYP (For You Page). My first thought was, 'His drinks are so pretty!' My second thought was, 'I want to drink all of them!'" says Newport resident Amy Harrelson. "I started following his account, sharing his Toks with my friend Kendra Muenter, and we would comment with things like, 'Where did you find that grapefruit prosecco?' or 'Do you bartend somewhere in town?' or 'That coupe glass is stunning!'"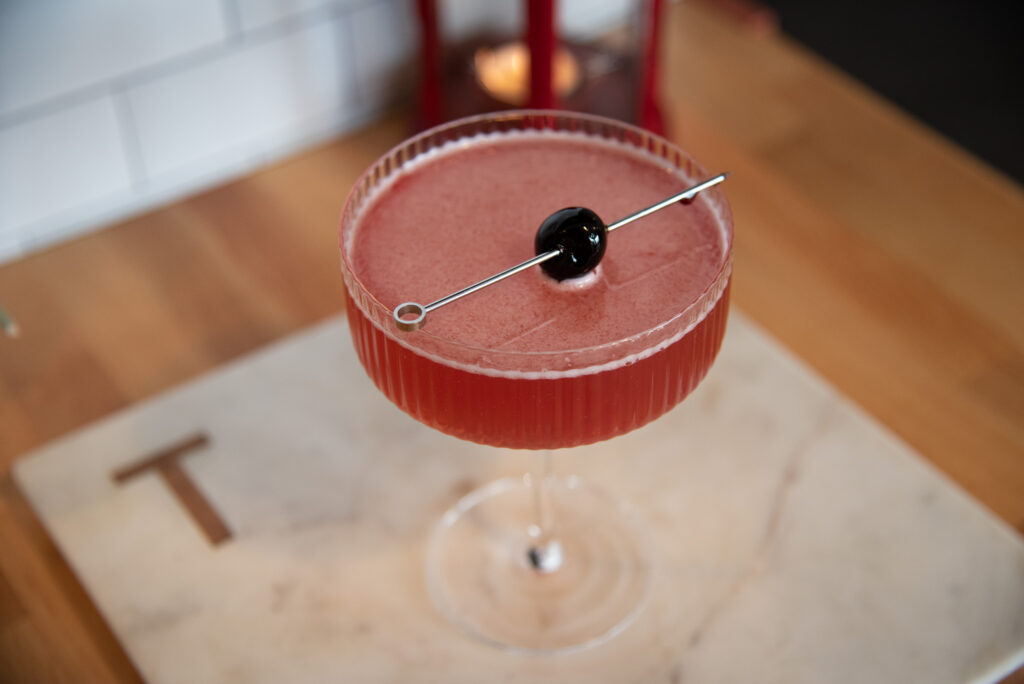 Influencer status
Cromwell's talent went far beyond Newport's borders, however, catching the eye of executives at Amazon, the world's largest retailer, as well.
"There's that quote in the movie 'The Devil Wears Prada,' where Miranda Priestly says, 'Rupert Murdoch should cut me a check for all the paper I sell for him.' And I told my sister, Jeff Bezos should pay me for all the things I've bought off his site. Then literally, a few weeks later, a woman from Amazon contacted me," says Cromwell.
The company courted Cromwell for its Amazon influencers program, where they pay him to create a minimum number of videos each month using cocktail-related products found on the website in addition to providing him with a monthly gift card for his own purchases. Cromwell also earns a commission from any items bought from his Amazon store. "Every time that happens, I say, 'Thank you daddy Jeff!'"
While his earning from Amazon combined with other platforms combined to a nice sum, it hasn't swayed Cromwell to leave his full-time job at the commissary at Naval Station Newport, where he's worked for more than 20 years, or his second job at Atria Aquidneck Place in Portsmouth — a place that he calls truly special.
"I always tell people, my main job pays the bills, and I'm grateful for that," he says.
Making videos seen by millions of people not only fulfills his creative spirit, but also helped Cromwell when he lost his mother unexpectedly last year. Initially he took some time off but started creating to take his mind off things. "I know she would love this, and it's one of the reasons I push myself… She was my biggest cheerleader," he says.
Bringing people joy
Unlike a lot of influencers, Cromwell isn't hung up on the numbers. Although he employs algorithm-friendly strategies to optimize his content, including using trending audio, posting at peak engagement times, and using keywords and hashtags, his content is mostly about bringing people joy.
"You can look at your metrics and your analytics, and I know a lot of people tend to obsess over those and dive in, and for awhile, that's what I was doing. Going viral – trust me, if there was a road map for that, everyone would take it. But sometimes it's just lightning in a bottle and everything clicks," he said.
Building a community has been more than just a digital experience for Cromwell too. Harrelson says that Cromwell was so sweet and responsive to her comments on TikTok, she did something totally out of character.
"This fall, I finally decided to 'shoot my shot,' as they say, asking him to come meet me and Kendra at Parlor for a cocktail. We promised we weren't insane!" laughs Harrelson. "And he came, and we talked and laughed for three hours. He is even more special in person. Teon is a Newport treasure."
"I just like that people are enjoying what is being put forward and enjoying what I am doing, and building this community, whether it is online or in person and meeting new people," says Cromwell. "I don't take it lightly and I don't take it for granted either. Every day, every moment, is a blessing."
HELLO LOVER
2 oz Kinky Pink Liqueur
½ oz Limoncello
½ oz St. Germain Elderflower Liqueur
½ oz Italicus
½ oz Grenadine
½ oz Lime Juice
Sparkling Water, to top
In a cocktail shaker filled with ice, add all of the ingredients (except for the sparkling water) and shake until well-chilled (about 20-30 seconds). Strain into a coupe glass and top with sparkling water. Garnish with a maraschino cherry and serve immediately.
Follow Teon @newportrifoodie on TikTok and Instagram