Raise a Glass
Cocktails sans spirits are on the rise — and more delicious than ever
The chilly winter night blanketing a muted Washington Square is juxtaposed by Bar 'Cino's warm energy, where bartender Melissa Meier effortlessly plucks shiny glass bottles from their perch like a maestra, adding a little bit of this — and a little bit of that — to a shiny silver shaker.
Following a vigorous shaking, sounding like a pair of maracas, she pours the concoction into a sleek rocks glass and garnishes it with an orange peel. As the thirsty patron sips the drink, a wide smile crosses her lips. It's the second round of the night and she's feeling…perfectly sober because there's not a lick of alcohol in her elegant drink.
"It's really wild to see how far mocktails have come," says Meier, bar lead at Bar 'Cino and its neighboring taqueria, La Vecina.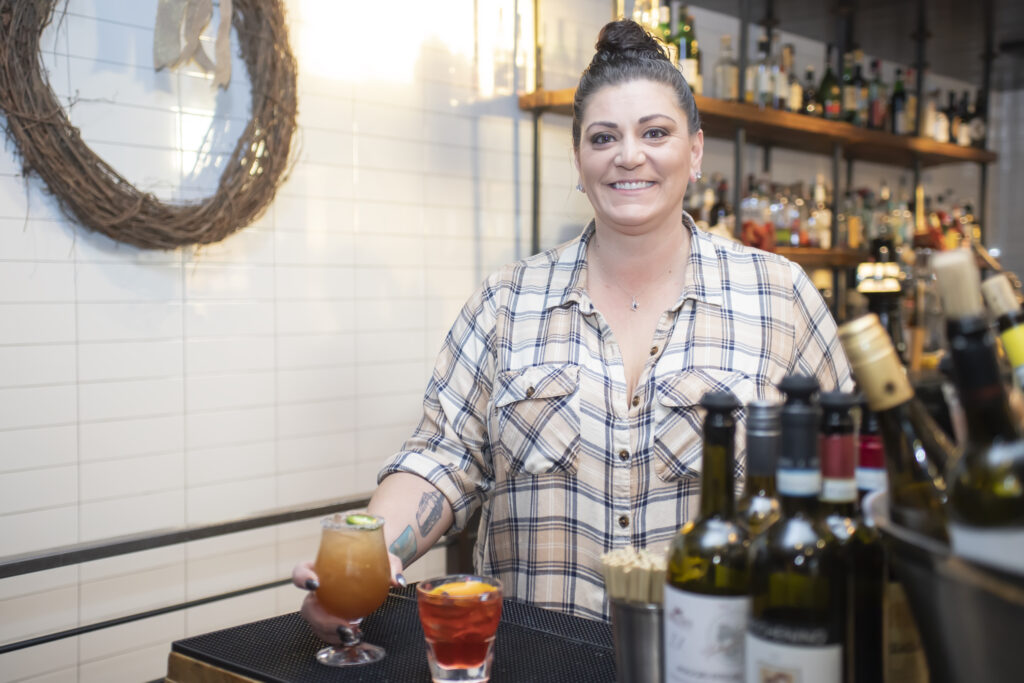 Fact is, "Mocktails" really doesn't describe today's alcohol-free offerings. According to NielsenIQ, a global measurement and data analytics company, total dollar sales of non-alcoholic drinks in the U.S. stood at $395 million, showing a year-over-year growth of 20.6% from August 2021 to August 2022. Many experts point to a wellness-focused Gen Z leading the charge for alcohol-free alternatives — and a willingness of the younger generation (among others), to look more closely at their alcohol use.
"Sober Curious" and Mindful
While many people have transitioned to total abstinence, there's a middle ground on the rise: "sober curious" and mindful drinkers. The terms describe someone who doesn't have a dependence on alcohol but is cognizant of their relationship with it. They may seek a teetotal lifestyle, or they may intermittently abstain. If they choose to have a relationship with alcohol, they want it to be a healthier one. "Dry-ish," "hip sobriety" and other lingo drift around the zeitgeist, while movements like "Dry January" and "Sober October" encourage sober sprints.
Once rarities, non-alcoholic beer, non-alcoholic wine and non-alcoholic spirits can be found at package stores and at bars throughout the United States, including here in Newport County, as both the industry and demand continue to grow.
"I'm going into my fourth or fifth year of Dry January, and when I first started doing it, there were no options at all," says Geralyn Burke, general manager at Perro Salado.
So, she explored options for the restaurant to offer more exciting booze-free beverages beyond agua frescas (made with fresh fruit, lime juice, water, a sweetener and sometimes herbs like mint or cilantro) — and discovered the growing number of spirit-free brands on the market. Vodka, gin, tequila, whiskey — nearly every popular liquor has a non-alcoholic counterpart. Today, Perro's menu always offers some thoughtful alcohol-free concoctions, and they're just getting started.
"I love that there are more products coming out. Giving people another option is always something I want. Who wants just a club soda with cranberry?" says Burke. "People are definitely a lot more mindful about how much they're drinking; not necessarily stopping altogether, but especially in this town — we all know this is a boozy town."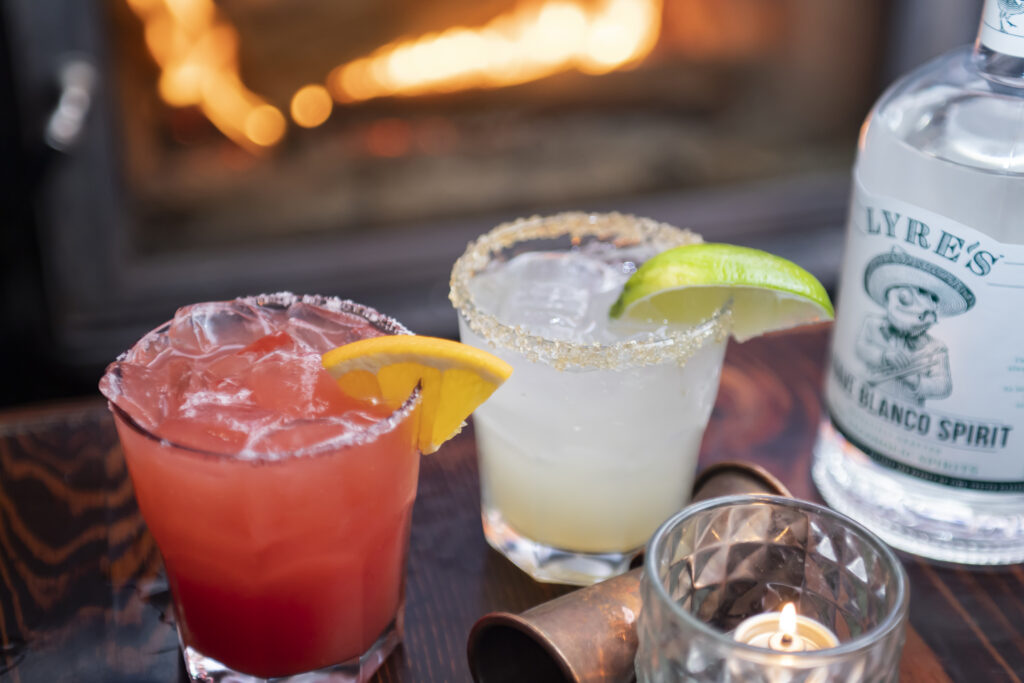 In the past year, Burke has paired up with Sara Emhof, founder of The Huddle, a creative classroom and meeting space in Newport, to teach private and public mocktail-making classes. Emhof says attendees are introduced to zero-proof liquors, wines, and beers and learn how to make artisan simple syrups, adding that participants include everyone from curious residents and local bartenders looking to broaden their spirit-free mixing skills to tourists pursuing alcohol-free activities.
"If you look at New York City or even out on the West Coast, there's just more of a non-drinking trend, and there's a trend in
all the zero-proof liquors and spirits," says Emhof. "Even just personally, alcohol just doesn't agree with me, but I'm social, and I like to go out, so I like to have an option that feels just as fun but doesn't necessarily affect my body in the same way."
From the day it opened in 2020, Blue Anchor Grill in Portsmouth's Island Park had a non-alcoholic drink menu, which has only expanded to meet demand. Picks include alcohol-free beer, CBD seltzers, and even classic cocktails like an Old Fashioned, which looks and tastes just like it's boozy brethren only it's made with Lyre's Non-Alcoholic American Malt, plus muddled orange and a sugar cube before being garnished with a Luxardo maraschino cherry.
"It was important to me personally because I quit drinking six years ago," says Blue Anchor Grill owner Mike MacFarlane, who also owns Tremblay's nearby and recently acquired the Thriving Tree Coffee House. "When you are sitting there and you have something fun and tasty in front of you other than water or soda, it makes you feel good. You get a lot of people now who are a little more health-conscious, or they may have one cocktail and might have to drive, and their second cocktail is a non-alcoholic version of something that is still fun.
MacFarlane says he's watched the alcohol-free craft beverage movement soar in the past decade, especially during the past five years.
"Nowadays, people are just a little bit more conscious and aware of what they are putting into their bodies, and it doesn't always have to be Jack Daniels," he says.
Jeovanna Matteotti of Lily + Lion Salon in Newport eliminated alcohol four years ago to align with the cleaner diet she adopted after being diagnosed with Lyme disease. She found back then that mos tlocal bars only offered fruity drinks as spirit-free selections.
"I don't want Jamba Juice. That's not what I came in the bar for," says Matteotti. "I want something I can drink slowly and savor." She also prefers when a bar or restaurant has a dynamic non-alcoholic drink menu so she can peruse a selection of drinks, and not have to do the work of asking the bartender to make something of her own invention. "I just don't like the lackluster effort when a bartender looks at me like, 'What do you want? Water? Soda water?'" She points to Diego's, with locations in Newport, Middletown, and Providence, as an example of how to do it right.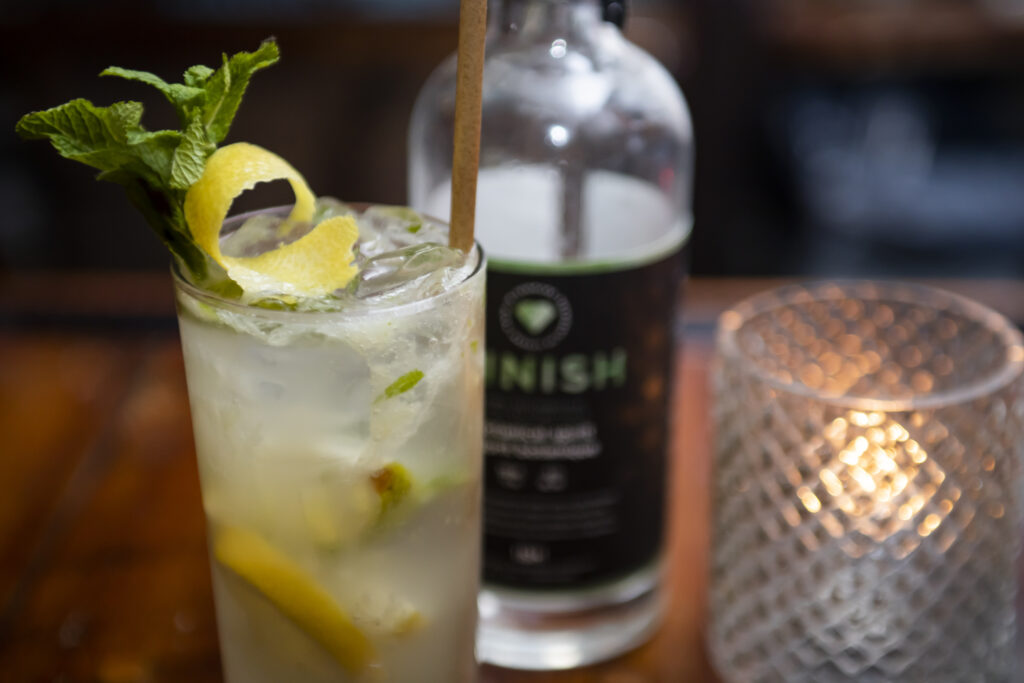 Looking good and tasting great
Diego's Wingman is a colorful, creative, zero-proof cocktail made with Seedlip Grove 42 Distilled Non-Alcoholic Spirit that has a complex, citrus-forward flavor profile mixed with hibiscus, lemon, strawberry shrub and rhubarb bitters with a splash of soda that's shaken, then served on the rocks.
Diego's also serves the Garden Party, which is a unique take on a non-alcoholic margarita. Ingredients include Seedlip Garden108, which is made with rosemary, thyme and spearmint, as well as cucumber, jalapeño, lime, ginger, house-made tonic syrup, celery, bitters and green tabasco. It's shaken, then served up, and it looks just like any other liquor-infused libation.
"People are always like, 'Are you positive there's no liquor in it?' after they taste them," laughs Diego's owner Scott Kirmil. He says that for years, he'd see women who were pregnant or groups of friends with a designated driver, or just people who wanted to be out and be social without the buzz, and as a longtime bartender, he wanted to offer next-level alternatives.
"So many lazy bartenders, the best they could do was a crappy mojito with Sprite that tasted gross, or something weird," he says. "I definitely love having good, tasty options at our spots." He admits that he was skeptical about some of the alcohol-free alternatives out there, but he quickly became a believer.
A new culture
From a business standpoint, mocktails can boost a bar's bottom line. Many of the spirit-free liquors cost him the same as those with alcohol, says Kirmil, pointing to the high-quality, carefully sourced ingredients that go into the drinks, including sophisticated herb and spice blends.
"Overall, I think it helps to check the average, so if you have a table of non-drinkers, that doesn't necessarily mean that it's going to be $50 less than the table [drinking] next to them," Kirmil says.
Burke concurs. "I think for what we are trying to do in our business model, it's a nice supplement,' she says. "It's never going to replace alcoholic beer sales, but it definitely has its own market. We've actually had a lot of people come in and say it's really cool you guys carry this."
Bar 'Cino formally added mocktails to its menu a year and a half ago. Some choices include the "No-groni" made with Lyre's Dry London, Lyre's Aperitif Rosso and Lyre's Italian Orange — a Campari counterpart. Also on the menu is the Spicy Pal-no-mamade with grapefruit, lime juice, spicy simple syrup and muddled jalapeños served in a glass with a black and white sea salt rim.
"It's spicy and sweet and you don't even miss the booze," Meir says of the latter.
Behind the bar, Meier fields cocktail requests of all kinds, and is delighted to concoct beverages whether boozy or buzz-free.
"As a bartender I don't care if you're not drinking an alcoholic drink. You are coming in and seeing what we are doing, and if you choose to have one of our great mocktails, then that's great," she says. "The stigma of sitting in a bar and having to have a sip of beer or whiskey is gone. You don't need to have a cocktail. Whether people want to tell people they're not drinking, or they just want to keep it private, it doesn't really matter. They're enjoying their time with their friends, and that's it."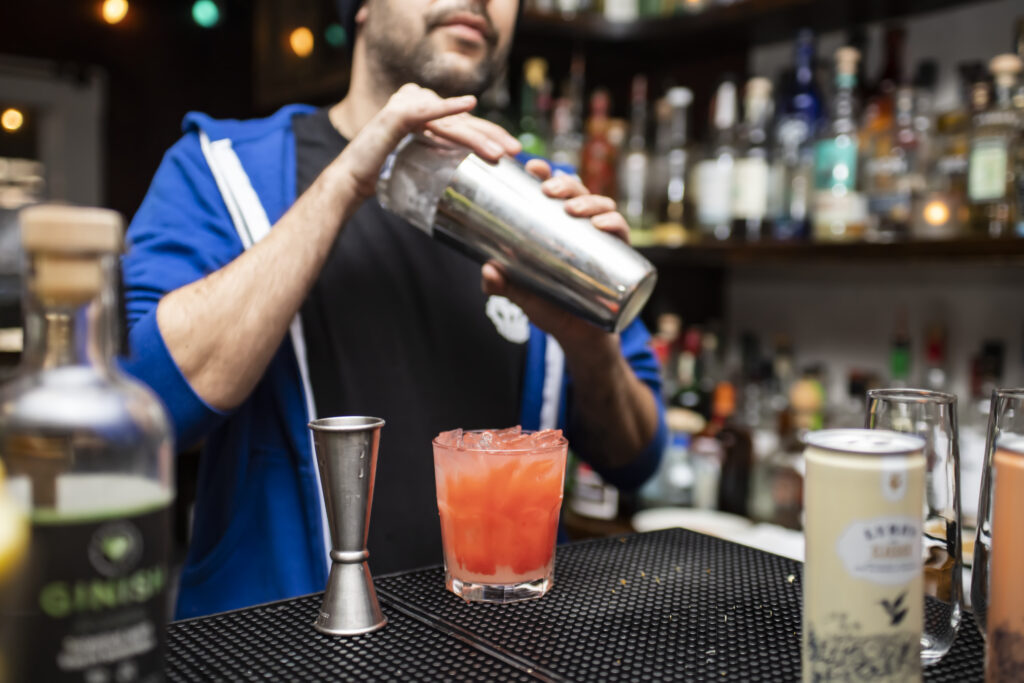 GOING THERE
Bar 'Cino
22 Washington Square, Newport
www.barcino.com
401-619-8201
Blue Anchor Grill
506 Park Ave., Portsmouth
www.blueanchorgrill.com
401-293-5007
Diego's
11 Bowen's Wharf, Newport
www.diegosnewport.com
401-619-2640
Diego's Middletown Barrio Cantina
116 Aquidneck Ave., Middletown
www.diegosmiddletown.com
401-619-1717
Perro Salado
19 Charles St., Newport
www.perrosalado.com
401-619-4777