Newport Folk Festival returns with annual dose of magical moments
Thousands gathered at Fort Adams for the first day of the legendary festival, which featured local acts alongside music greats
Photos by Emilee Angell | Newport Life staff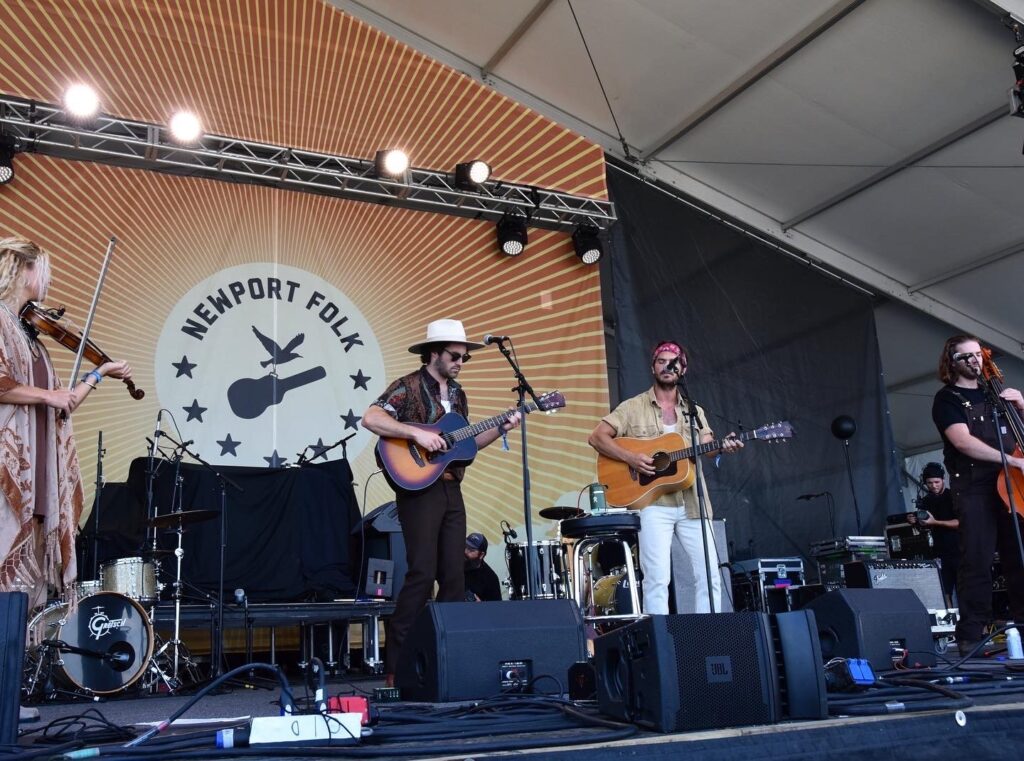 There were more bubbles drifting through the air than clouds in the sky on Friday when Newport Folk kicked off its annual music festival on a hot, sultry summer day at Fort Adams State Park.
There was the usual mix of music and camaraderie, magical moments and testaments of love, as families enjoyed sets together and friends from around town found each other in passing, a familiar face never too hard to find despite a crowd 10,000 strong.
From nearly every stage it seemed artists were singing and talking about love, a subtle theme that wove and wafted throughout the day, even as festivalgoers became sun-burned and weather-weary.
Newport's own Laden Valley took to the Fort Stage first, with quiet melodies and sweet harmonies, their set that had people swaying from the start and talking about the group all day.
Several hours later, My Morning Jacket took to the same stage to close out Day Number One, their jammy tunes cast in a golden hour light as the sun began to set over Narragansett Bay. Maggie Rogers – a festival darling who earlier in the day attracted a large crowd for her own set on the Fort Stage, which Jim James called beautiful – joined the group for a cover of "Say You Love Me." Other guests included Margo Price, John Oats and a Muppet on drums.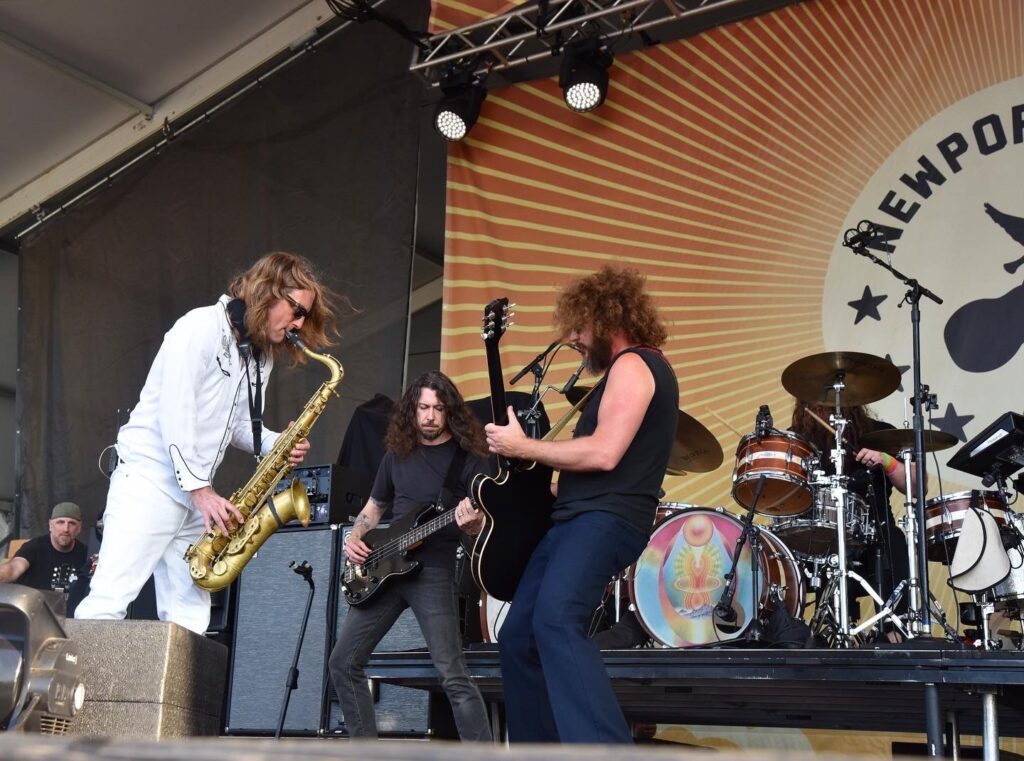 James called playing the Folk Fest magical. "We have been so fortunate to have so many special guests sing with us," he said, "we're kind of in shock of all the people we've gotten to play with here in Newport. It's kind of astonishing… We were just freaking out in the dressing room, getting emotional about it."
While the main stages attracted the largest crowds, the small side stages offered some of the most intimate moments.
On the bike-powered stage, located inside the Fort and once again presented by musical duo Illiterate Light, Al Olender played a few songs in the early afternoon, sharing stories in-between. Five years ago, she told the group gathered round, she was falling in love on a bench somewhere in New York, and the guy had to leave to play Newport Folk. She thought to herself, "now I'm even more in love with them!"  
She then invited a guest to join her, that same person from five years ago, James Felice of the Felice Brothers, and the two joined together for a cover of "Blue Bayou" by Linda Ronstadt – "Oh, I'll never be blue / my dreams come true" – in a moment that can only be described as beautiful.
Over on the edge of the water, on the Foundation Stage, The Choir School of Newport County, formed of the youngest performers of the day, was joined by Nickle Creek, in what was certainly a memorable moment for all.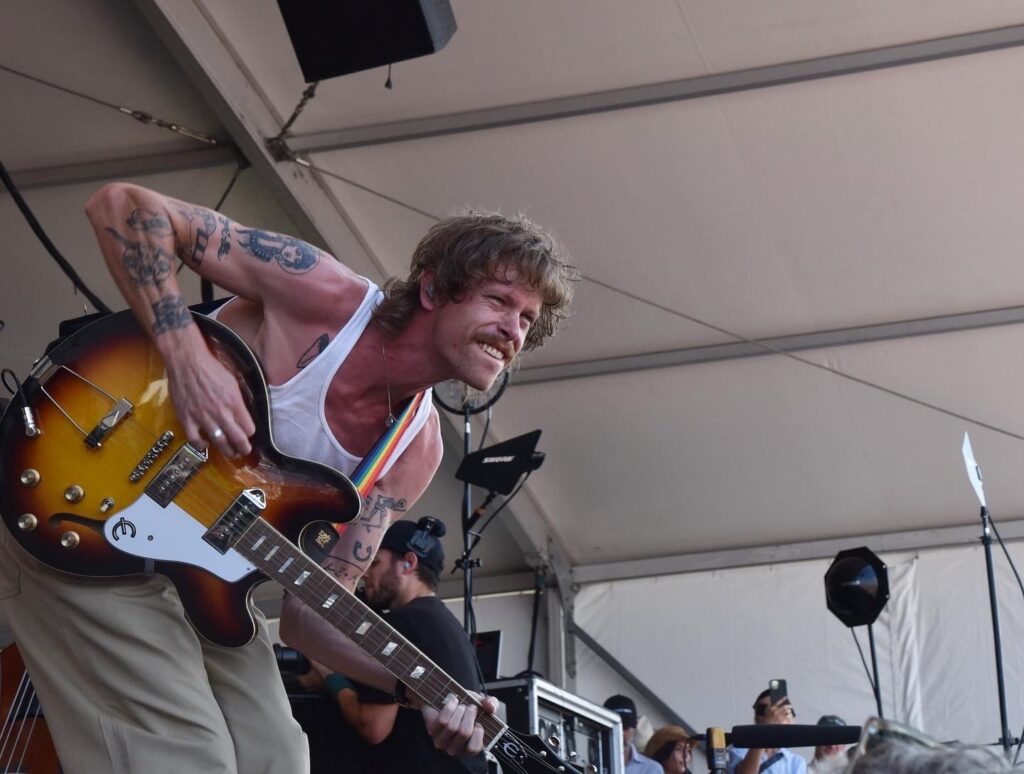 A major attraction Friday was the return of Caamp, who this year took to the Fort Stage. At one point, Taylor Meier, the group's singer/frontman, played a stripped-down version of "Strawberries," which Meier told the crowd isn't usually on their set list, but they played it at Newport in 2018 so it only felt right to play it again.
As he sang, the crowd of thousands became silent, and there was only a breeze mixing with the light plucking of acoustic guitar and lyrics sung soft and raspy: "be my heart, and I've got you in the end / I wish I had you from the start."
Some were moved to tears.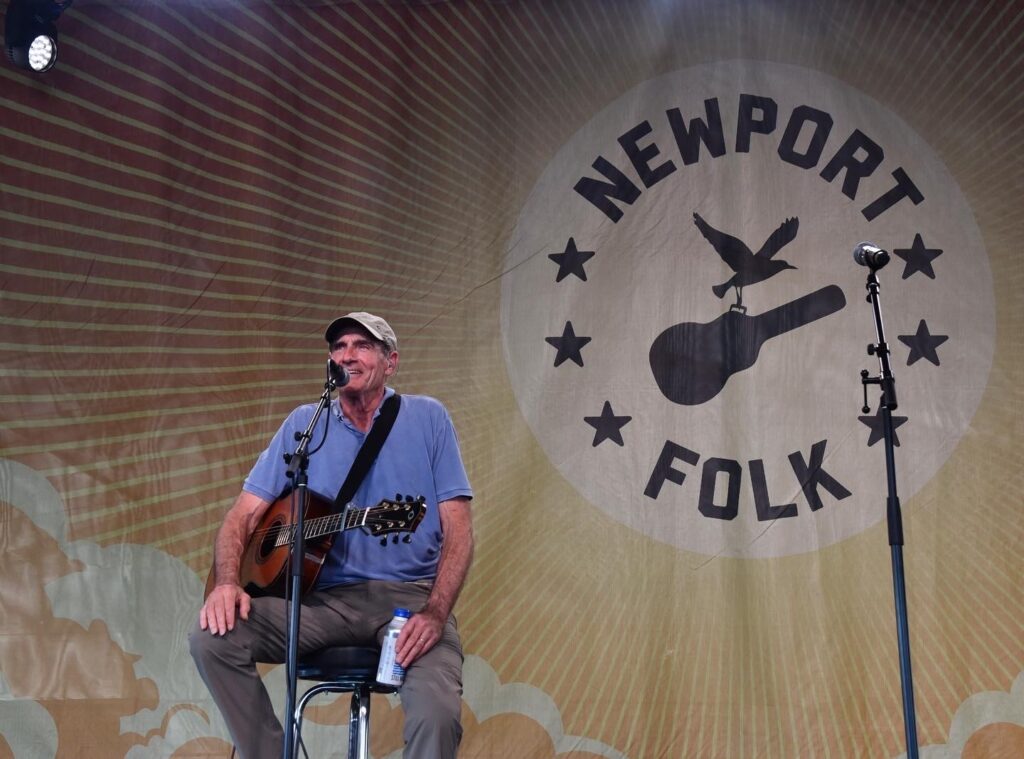 OTHER HIGHLGHTS
James Taylor was a surprise addition to the lineup when artist Noah Kahan cancelled for medical reasons. "Emergency folk music is what this is," he told the rather large crowd, which had quickly filled the inside of the fort, surrounding the Quad Stage in numbers not usually seen. "Little did I know when I woke up this morning – actually, little did I know an hour ago," he joked.
This is going to be "extremely, extremely mellow," he told the crowd, launching into a folksy set reminiscent of the festival's bygone days. Later, he was joined by his wife and son for a few songs.

The long line to get in on Friday was perhaps only surpassed by the long line to buy festival merch, which didn't let up until the late afternoon. Among the things for sale this year is a recording of last year's Joni Jam, when Joni Mitchell returned to the Newport stage – and to any music stage – for the first time in a long time, joining Brandi Carlile and others in an intimate and moving set.

Maggie Rogers, dressed in a soft white sundress paired with flat leather sandals, perfect for a hot day in Newport, welcoming Sister Strings on stage for a spontaneous collab. "If you've been here before, you know that Newport is not like any other festival," she told the crowd gathered round the main stage, "it's something much more special… we made this backstage for all of you." She then launched into a version of "Want, Want."
Later, Rogers switched tracks: "In the spirit of Newport, there's two songs on my latest record that are basically protest songs, and we figured we'd play them both of them. This is a song called 'Begging For Rain'."
Security guards were strictly enforcing fire lanes at all the stages, but that didn't keep them from enjoying the music too, dancing in the pathways as they continued to keep folks in line.

British band The Heavy Heavy played an energized set on the Harbor Stage, with singer Georgie Fuller telling the crowd: "it's such an honor to be here – I'm trying not to cry whist I say it, really."

The Sacred Souls brought a touch of R&B, singing "love has no limits and love has no name," as people in the crowd swayed from side to side, "love has no gender and love has no creed." Later, the lead singer Josh Lane asked, "How many of you have some sort of romantic energy with somebody?" He paused, as people raised their hands in response. "It's easier said than done to keep love afloat, but we believe it's worth it."

Mduo Moctar, in their traditional dress of West African tunics in shades of light teal and golden yellow paired with long white scarves, bringing their sounds of desert rock to the quad for what was one of the best sets of the day (in this reporter's opinion). It was the perfect music for the sultry summer weather permeating the fort at midday.  

Del Water Gap, a.k.a. S. Holden Jaffe, took to the main stage. "I've been wanting to play this festival since I was a little boy with internet connection, watching all the videos," he said. "It's truly an honor – thanks for being here in the heat."

And last but not least: Bike Newport parked a record number 1,600 bikes, far surpassing the previous record of 1,200 bikes on a Friday