More than a concert: Newport Folk Festival wraps another year 
Guitars, gospel, country tunes and a splash of star power dominate the stages
Photos by Emilee Angell | Newport Life staff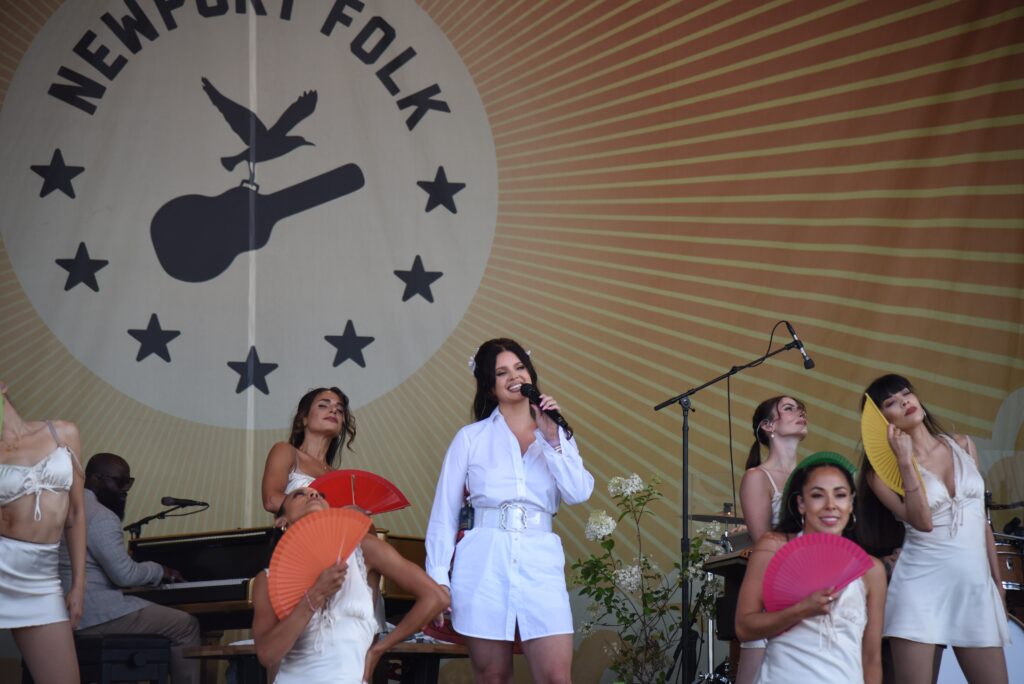 Guitars, gospel, country tunes and a splash of star power dominated Newport Folk Festival over the weekend, where Billy Strings, Jon Batiste, Los Lobos, Lana Del Rey and others all took to the main stage, offering a range of musical experiences.
On Saturday evening, Jon Batiste closed out day two, where he was joined by Indigenous musicians who sang and played traditional drums, their melodic voices carrying across the field to the harbor, where seagulls soared and the sky was shifting. "This is not a concert, this is a spiritual practice," Batiste said, repeating, "This is not a concert, this is a spiritual practice." 
"Tonight, you are loved, and the truth is always the right choice," Batiste, who was dressed in red, said as he switched between instruments – piano, saxophone, melodica – and brought an energy to the stage that quickly rippled out into the crowd.
He ended with a rendition of "When The Saints Go Marching In," joined by his friend and fellow musician Lauren Daigle of Louisiana, also dressed in red, and they made their way from the stage to the crowd. When they went backstage, Jay Sweet, executive producer of the festival, came out to say the set was ending 15 minutes early because of an approaching storm.
"We love you guys, we love you guys," Sweet said. "Listen up! You did an incredible job keeping the weather away, but we have to end the show."
There were no major surprises Saturday or Sunday, despite much speculation and the circulation of many rumored guests. All in all, this year's festival seemed a more baseline folk experience than previous years, perhaps an effort to tame some of the hype after Joni Mitchell's appearance last summer. Still, there were delights to be found around every corner.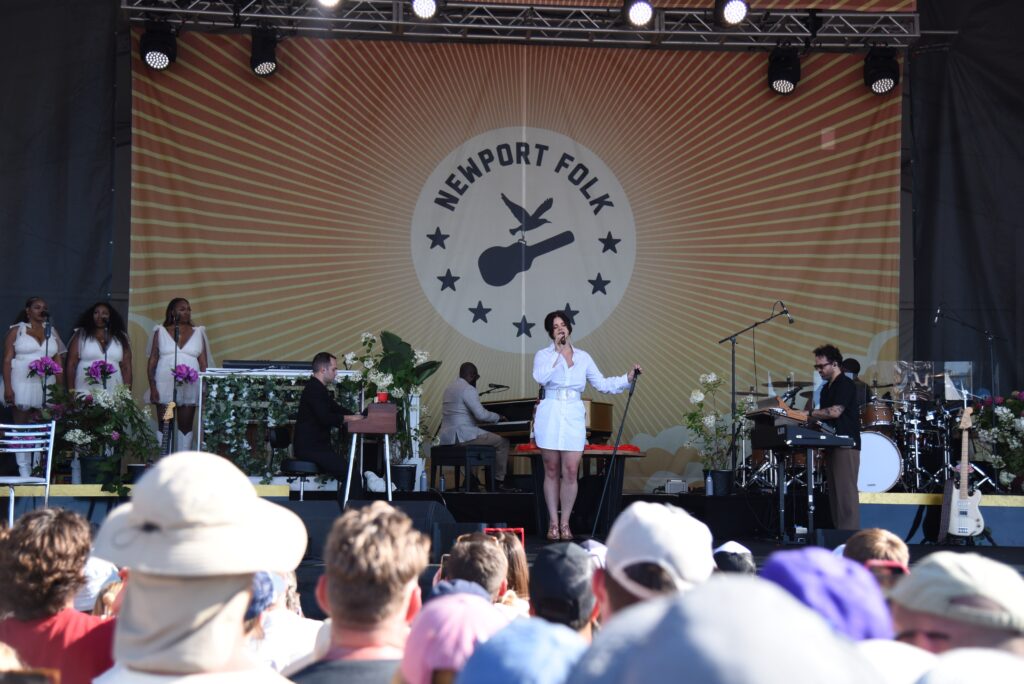 In true Folk Fest fashion, artists were seen wandering around the fort all weekend, enjoying performances alongside those in the crowd; among the most frequently spotted were members of Caamp and Goose, the latter musicians seen autographing t-shirts for enthusiastic fans.
Perhaps the most buzzed about set of the weekend was Lana Del Rey on Sunday, who had people talking first thing in the morning, when word spread that her soundcheck was the reason no one was let into the festival until about 10:45 (doors usually open at 10 a.m.), which led to an even longer line than usual, stretching well past Sail Newport.
For Del Rey's afternoon set, the backstage area was cleared out (she allowed no photo pit, and there was no one watching side stage), and a steady stream of folks with artist wristbands and all manner of VIP passes flowed into the fort, where they experienced Lana like everyone else: from the lawn, looking up, laying eyes on a stage adorned with two large mirrors, assorted flowers and array of furniture.
The anticipation of Del Rey's appearance was palpable, with loud cheers erupting from those closest to the stage every few minutes, alongside a chorus of "Lana, Lana, Lana." Stage music eventually announced her imminent arrival, and then she was there, softly singing "Norman f**king Rockwell."
"Hello, Newport," she said after her first song, her voice sweet and twangy. "I'm very happy to be in my dad's hometown."
She was joined by two guests, Nikki Lane and then Jack Antonoff.
"One of my best friends, one of the most fun people I know… outlaw country queen, Nikki Lane, and she's coming out to sing with us," Del Rey said by way of introduction. "Gosh, I'm a woman of very few words – Nikki, do you want to say hi?" The two proceeded to banter, and then sang "Breaking Up Slowly."
Afterwards, with Antonoff seated at the piano and Del Rey perched on top of the piano, she sang "Mariners Apartment Complex," a seemingly spontaneous choice, with her saying she might not remember all the lyrics and Antonoff urging at least one refrain.
"I've only wanted to play here since I was 14," Del Rey shared, eliciting loud cheers. Word quickly spread that her grandparents are buried in Barrington, which is referenced in one of her songs.
Throughout her set she was joined onstage by backup singers and backup dancers, lending a strong element of performance art to her show as she acted out certain lyrics (hair brushing, coffee drinking) and, later, was lifted in the air by dancers who eventually dragged her off the stage in a large white sheet.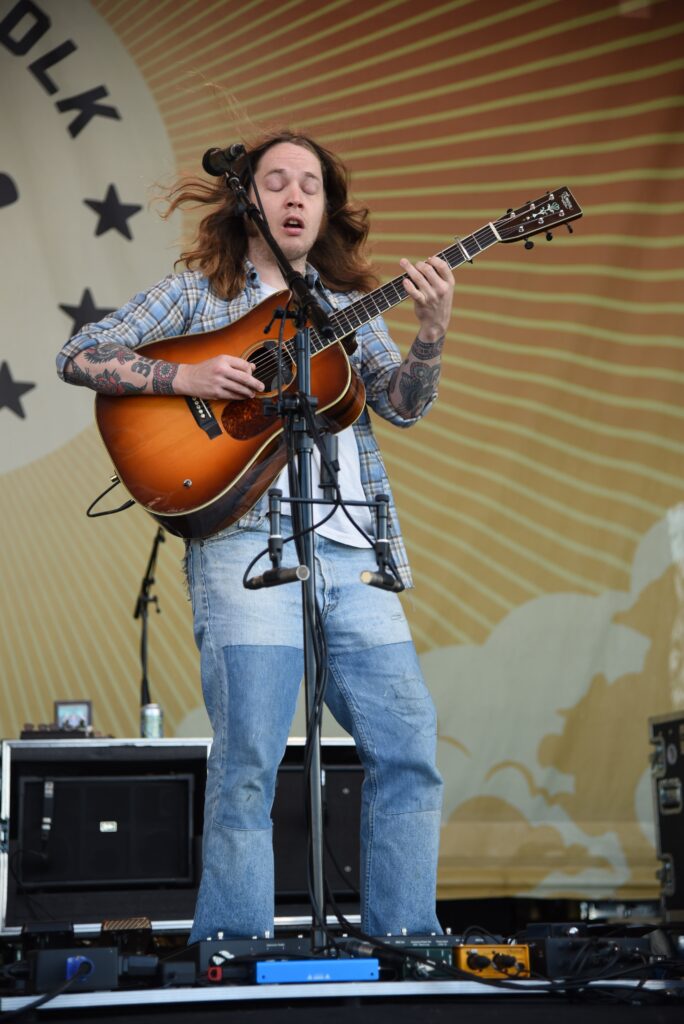 When Billy Strings took to the same stage thirty minutes later, it was stripped of adornment and there was just Strings in the center, his shoulder length hair a bit unruly, with two friends on either side, equipped with banjos, fiddles and a standup bass.
"We're going to play a little bluegrass for you," Strings told the thousands gathered round the fort for the final act of the weekend. What followed was a high energy performance of fast strumming and much foot stomping and even a bit of hair twirling via Strings.
"A lot of the stuff I play I learned from Doc Watson, and a lot of the stuff he played he learned from Mississippi John Hurt," Strings said, although he did much more strumming than speaking.
As Strings exited the stage, Jay Sweet came out for his annual closing remarks. "Take a second and look to your right," he said, noting the direction of the bay, where a golden sun was setting, "we have a whole year until we do this again. Be safe, Be safe."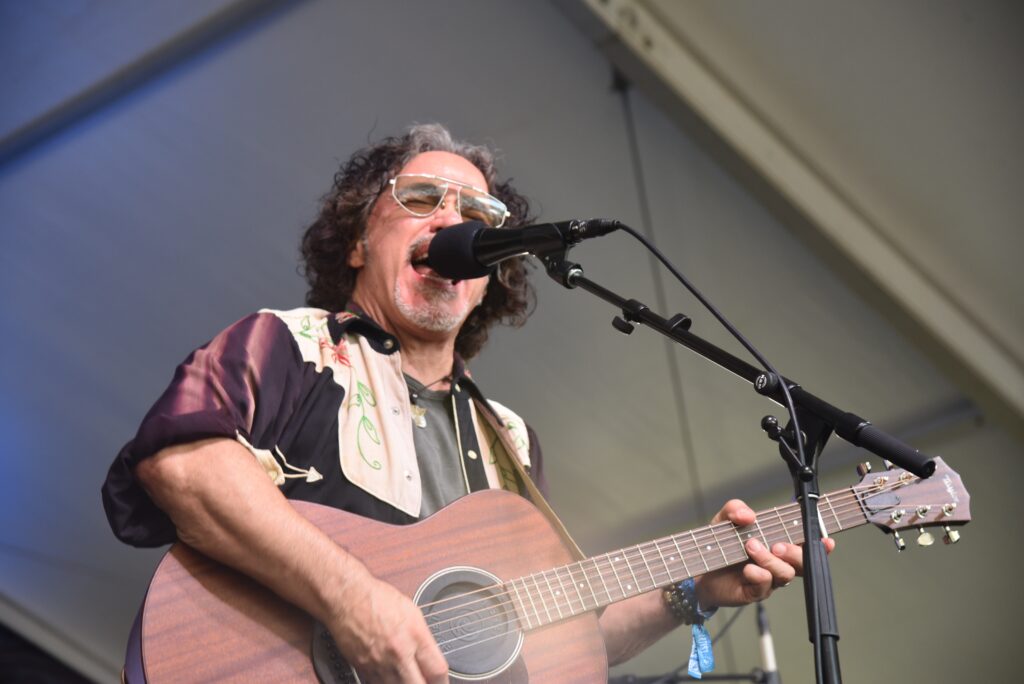 OTHER HIGHLIGHTS
Los Lobos took to the main stage Sunday afternoon in celebration of their 50th anniversary, sounding as good as ever. They were joined by a few guests, among them Neko Case and John McCauley of Deer Tick.
John Oates played the festival Saturday, telling those gathered round the Harbor Stage, "I've always wanted to play Newport Folk Festival. I'm really happy to be here." He then attempted to proceed without an introduction and was stopped by Jay Sweet. "The tradition must continue, John," Sweet said, laughing, "Would you please welcome for the very first time John Oates!" To which Oates responded: "I thought this place was so laid back you could make your own introduction."
What followed was a set that felt a bit like listening to the radio on a summer's day, light and breezy, a moment's respite. As the set ended and the crowd dispersed, one man said to a friend, "that was cool."
Later in the day Saturday, Aimee Mann took to the same stage, where an equally enthused crowd gathered to see and hear the longtime singer-songwriter, known for pairing vulnerabilities with harmonies.
While Lana Del Rey was playing the main stage, a few hundred people were in the quad for the Folk Family Revue, featuring Robert Ellis, Beau Bedford and Phil Cook along with a string of guests, for a set of songs from 1973. A highlight was a cover of Steve Miller's "The Joker," sung by Cleto Cordero.
Gregory Alan Isakov played on the Quad Stage Sunday, opening with "San Luis." "This place is always magical," Isakov said. "We always have to figure out what songs we can play during the day. Or any happy songs if we have them."
On Saturday, the Turnpike Troubadours took to the Quad Stage and were joined by special guest Tyler Childers, who was not on the lineup but who did play the night before at The Blues Café, and whose wife, Senora May, played Sunday morning on the Harbor Stage.
Remi Wolf took to the Quad Stage on Sunday with seemingly boundless energy, dressed in loose shorts, an Electric Lady Studios t-shirt, pink sneakers, a ball cap and a hint of metallic eye makeup. "Hey everyone, my name is Remi Wolf. It's my first time here. What a f**king joy. Holy shit," she said, beginning what was perhaps the most explicit set of the weekend.
"There's this thing I do the first time I come somewhere," she said. "I'm going to set out some ground rules, and they are very funny… how many of you guys know my music? [big cheers from the crowd] I want you to scream my lyrics really loud, if you can. That's rule number one. Rule number two is I want you all to put your hands up like this, and wiggle your fingers a little bit, [and] I want you all to be moving your shit like this [she demonstrates a booty shake]. And rule number three, my final rule: whatever you came in here with in your brain, if you're anxious or you're sad… whatever it is, let's all just let that shit go."
And then she launched into "Doctor."
The bike stage on the far side of the quad continued to be a highlight, where the crowd was smaller and the sets more intimate. Hosted by the duo Illiterate Light, the staging area is powered by a handful of people riding actual bikes, along with eight solar panels. Its interactive nature aims to illuminate the need for more sustainable practices, especially at music festivals. Bendigo Fletcher opened the bike stage Sunday, and other acts of the day include Raye Zaragoza and Sir Woman. On Saturday, The Ballroom Thieves played and actually hopped on bikes for a song, pedaling as they sang.
When Raye Zaragoza played the bike staged Sunday, she told those gathered round that she was living out a longtime dream, and the moment was surreal. She then played a song about being mixed race and shared that she used to be insecure about her hybrid ethnicity (which is formed of Indigenous, Asian and Latina heritage) and then realized "mixed race people are awesome," which is reflected in her song "The It Girl," which begins "I could tell I was living in a world / that wasn't made for brown skinned girls / just you wait it'll be your turn / In the mirror I would say to her / I could be the it girl can't you see?"
Sunday morning featured the usual smattering of gospel infused tunes, with The Harlem Gospel Travelers on the Quad Stage who had folks swaying and smiling bright and early.
A short while later, Jupiter And Okwess took to the Quad Stage, following the gospel-infused tunes with the rhythms of the Congo. As their bio declares, their music "is a blast of energy that bewitches the body and feeds the spirit."
Another highlight of Sunday was the festival debut of Abraham Alexander, who took to the Harbor Stage in an white blazer, white pants and teal guitar, singing tunes off his debut record, "Sea/Sons," released just three months ago and featuring tracks with Mavis Staples and Gary Clark Jr. "Newport, what's going on baaabyyyy," he said in greeting. He shared that he only picked up the guitar about eight years ago, in an effort to learn a few chords, and to be at Folk Fest now felt incredible and unbelievable. His music, he said, "is about my life, which is what I feel Newport stands for."
As hundreds of festival goers left the grounds Sunday night, and the crowd made its way out of Fort Adams and past Sail Newport, a young boy was walking while strumming an acoustic guitar, offering a final bit of music as the moon rose in a soft pink sky over a quiet harbor.