Making an Unforgettable Impression
The positive economic impact of film and television productions in and around Newport is widely known and easily calculated, but the impressions the city gives — and personal experiences — are immeasurable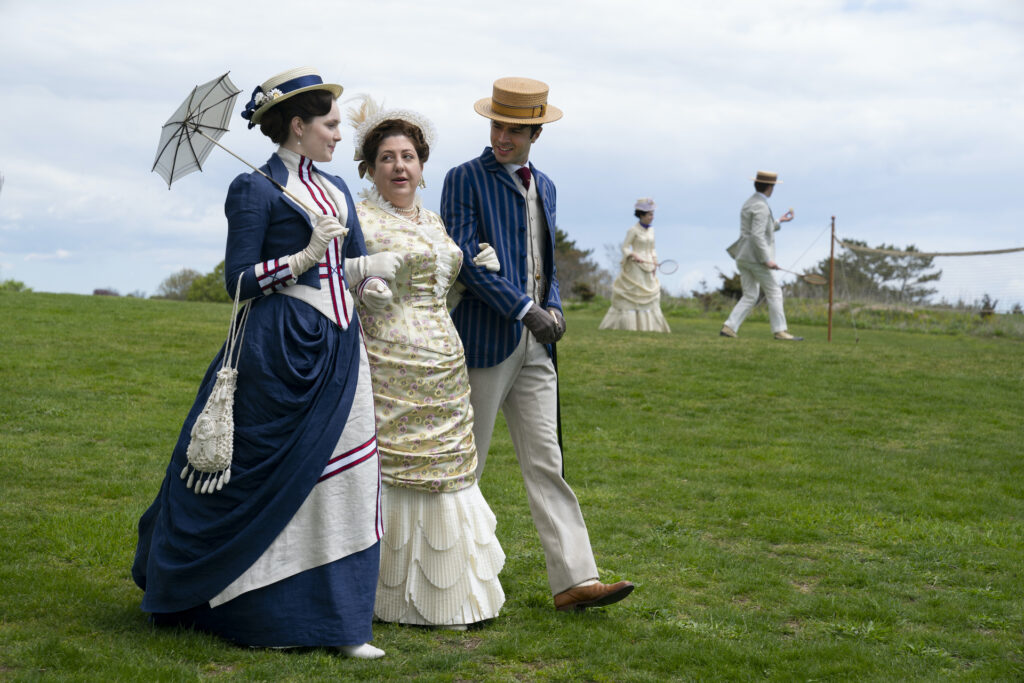 On a warm morning in July, Lord Julian Fellowes was seated at a table in the Gold Room of The Marble House, where he easily could have been one of the characters in his latest project, HBO's The Gilded Age. Only on this day, Fellowes was the center of attention, and all eyes — and cameras —were focused on him.
Fellowes was playing part in a media event hosted by The Preservation Society of Newport County and, with the small crowd seated around the room, was sharing tales of how he came to be in the City-by-the-Sea.
"Of course, I knew about [Newport]," he said, recalling his first trip to the city in 2019, "because I read quite a lot about the Gilded Age by that time, but I'd never been here, and I don't think I was aware of how complete an image of the Gilded Age is in the town."
At that time, he was considering locations for his highly anticipated period drama, The Gilded Age, which would be his first series since global sensation, Downton Abbey. "It was a great relief when we discovered we were going to be able to use the real McCoy as much as we could," said the famed film director and screenwriter.
Of course, an Oscar-winning luminary like Fellowes doesn't just land in Newport on a whim.
Providence native Alex Berard is a location manager who has scouted many sites for film scenes throughout Newport County and beyond, including Woody Allen's Irrational Man starring Joaquin Phoenix and Emma Stone, shot in part at Salve Regina University, The Fastnet Pub, Washington Square, Franklin Spa, Beavertail State Park in Jamestown and other Rhode Island locations in the summer of 2014.
Two years later, Berard scouted for The Discovery, a film that would foster a Newport homecoming for legendary actor/director/producer Robert Redford, who famously came to film in the city for the film adaptation of F. Scott Fitzgerald's The Great Gatsby, released in 1974,to play the title role of Jay Gatsby opposite Mia Farrow as Daisy Buchanan. Much of the Academy Award-winning film was shot at Rosecliff and Marble House and a scene was filmed at Linden Place in Bristol.
More recently, Berard drew on those experiences, combined with his Rhode Island-raised insider's view, to propose Newport for critical scenes in both The Gilded Age and Disney's Hocus Pocus 2, the eagerly anticipated sequel to the Halloween cult classic that's become a cultural touchstone.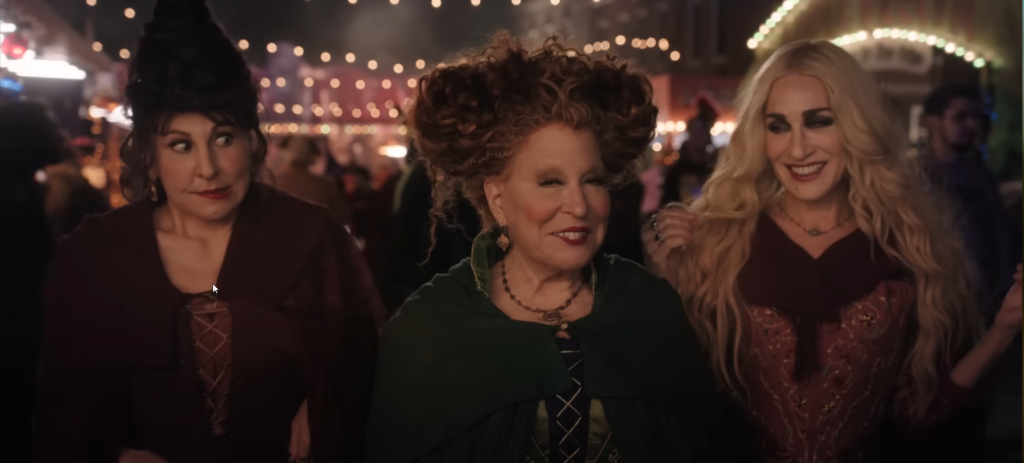 The Rhode Island Guy
With a well-established career as a location scout in New York City, it was the critically acclaimed film American Hustle that took him to Worcester, Mass. reigniting Berard's passion for his nearby Ocean State. Soon after, he found his way to The Discovery. "It gave me the experience of what filming in Newport was like," says Berard, who's been known as "the Rhode Island guy" ever since.
"I'm always pushing Rhode Island. I often get calls for movies looking to film in Massachusetts, and I say, 'Would you consider filming in Rhode Island?' because personally, I think in Rhode Island in general, you can be in Providence and have a downtown city, and then be in Newport in 45 minutes and you have totally different looks. You have the mansions obviously, you have coastal, but then you can go up to Portsmouth and Middletown and you get this far my feel," Berard says. "You can get a lot of different looks in a very contained area.
"While on set of Season One of The Gilded Age at The Breakers, Berard received an unexpected call from a Disney executive regarding potential locations for shooting Hocus Pocus 2. They had been looking to return to Massachusetts (key scenes in the first Hocus Pocus were shot in Salem) but they were encountering limitations.
"Salem in the fall is like shooting Newport in the summer — it's a difficult thing to do," he said. "The first thing that popped into my head was Newport. Newport's downtown has got a great Salem feel." A few months later, he started officially scouting.
Other Rhode Island towns, including Bristol, were in the conversation, but Newport rose to the top.
"The big sell in Newport was Washington Square. You can stand in the middle of Washington Square and do a360 [degree] and all of the buildings have the right look," says Berard. "And there are no power lines, which doesn't seem like a big deal, but when you have witches flying around on cranes and wires, it's a very big deal."
Leading up to and throughout the production of Hocus Pocus 2 last fall, Berard relied heavily on Casey Regan, a South Kingston native who interned for him on The Discovery while a student at the University of Rhode Island. Today, she's an assistant location manager who Berard calls his "go-to Newport person." Regan worked with business owners, retail and restaurant managers, stakeholders and virtually anyone else in the Washington Square area to inform them of timelines, schedules, traffic detours and more.
"I love working in Washington Square and all of Newport. The people down there were so friendly," she says. "We did 2-3 weeks of having a pretty serious impact on the area with no major complaints — and it made us want to return. That's why I love going back for The Gilded Age now." (Marble House and The Elms mansions will be closed most of October to accommodate the series' Season Two filming.)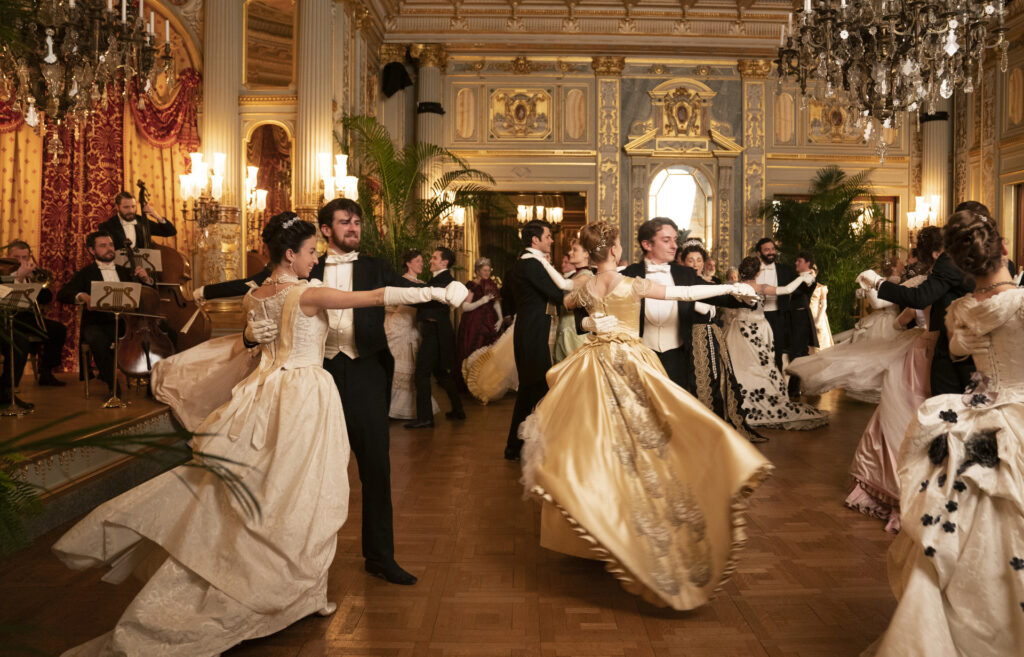 As someone who grew up frequenting the City-by-the-Sea, Regan says it's been a delight to see colleagues from near and far fall in love with her stomping grounds' undeniable charms. "It's funny how, especially the New York crew, settled into Newport so quickly," she says with a laugh. "They kind of become locals for a couple weeks."
One of those was Bob Shaw, the renowned two-time Emmy award winning production designer who Fellowes praised during his time in Newport for taking inspiration from both the most meticulous and most grandiose details at The Breakers to make sets for his series.
Shaw stayed at The Brenton Hotel and took a liking to walking to work — often with a stop at The Nitro Bar for coffee along the way. "It's just such a pleasant, walkable community… If we were at The Elms or the Tennis Hall of Fame or some other places near there, I'd just walk up the hill," says Shaw, adding that his Season Two decorator has taken to Cliff Walk. "She said it was so gorgeous, she'd look forward to her morning run every day."
Shooting in real homes
In a world full of make-believe sets constructed to look identical to real places, Shaw was grateful so much of The Gilded Age was shot in authentic period homes — a rare opportunity.
"That was the highlight of the experience; having such a great relationship with The Preservation Society," says Shaw. "They were very forward-thinking, and you don't often find that to be the case at all. …Often, we'll approach a historic property, and they will be too concerned about letting a film company into these historically preserved places, and The Preservation Society [of Newport County] instantly saw that it could be very mutually beneficial."
To this end, Fellowes waxes poetic about a deeper effect.
"There's a pleasure in showing these houses, these rooms, this town to the American public, and those who haven't been here, and letting them know it exists," says Fellowes. "I suppose my fantasy is to make more people aware of who they are and who they come from and what their great grandparents were doing that led them to where they are now."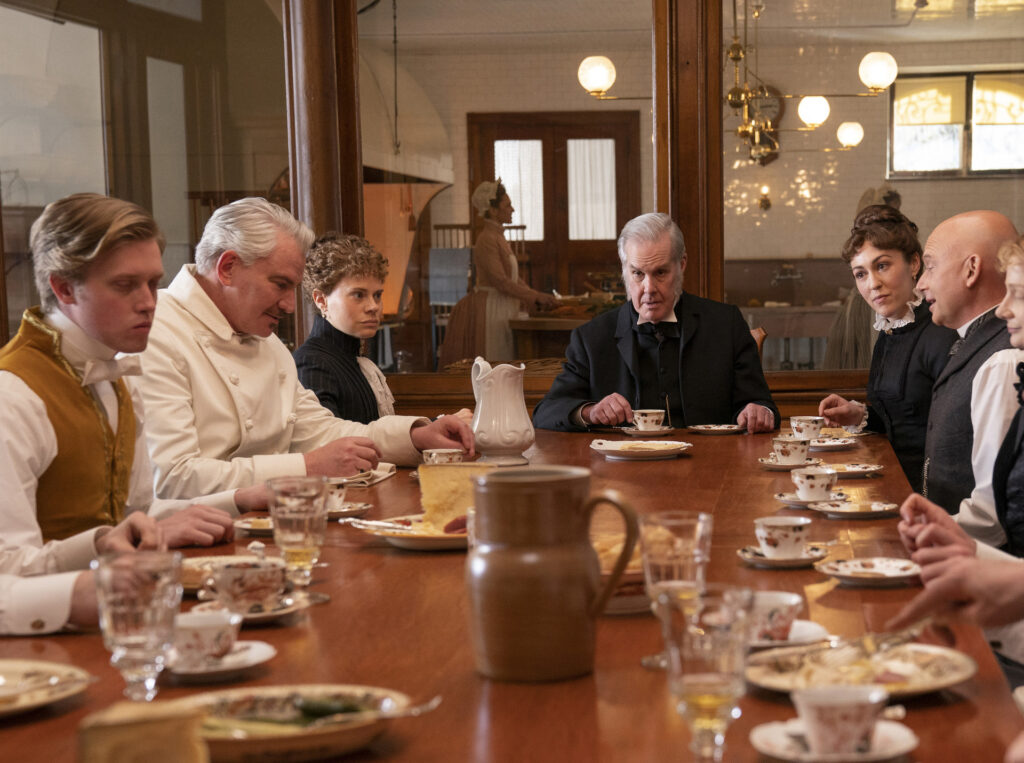 Screen time for locals
But it wasn't just Newport's mansion museums that stole the spotlight. The Ledges, a grand stick-style private home perched on an Ocean Drive promontory that's been in the Cushing family since it was built in 1867, was the setting for Gilded Age scenes—it was ideal for its sweeping views of the Atlantic where corseted characters could promenade with parasols in hand.
Nearby the Wrentham House (originally called "Indian Spring"), a striking granite and brownstone turreted mansion designed in 1891, is the setting for an outdoor scene. As authentic as authentic can get, the actors sauntered on grounds designed by famed Gilded Age landscape architect Fredrick Law Olmstead amid the backdrop of the Richard Morris Hunt-designed Romanesque-style hilltop villa featuring an 80-foot-long porch.
"Almost everyone we talked to was very informed about the history of their home, who the owners had been and who the architect was and who had done the original interior design and pieces of furniture that were from one company or another," remarks Shaw. "Everybody was very educated about both the town and their own properties. You get a tremendous sense of the pride and heritage Newport has."
Newporter Sean O'Connor, well known for being a co-founder of Newport Out, a local resource for the LGBTQ community, along with his husband Dani Cano Restrepo, was able to experience the mansions in an entirely new way as an extra in The Gilded Age.
"Walking inside The Breakers and seeing how much goes into the production, how much equipment is there, how much the space is just absolutely taken over by the production — that surprised me. I thought I knew a lot went into these high-quality productions, but to see it," says O'Connor, "it's this wild but well-coordinated machine."
Costumed in a period-replicated tuxedo, O'Connor played a guest at a grand society ball hosted by the character Bertha Russell, who Fellowes concedes "is completely Alva [Vanderbilt]" in the first-season finale. Shot in the ornate Music Room at The Breakers, O'Connor says the12-hour day was hard — but rewarding — work.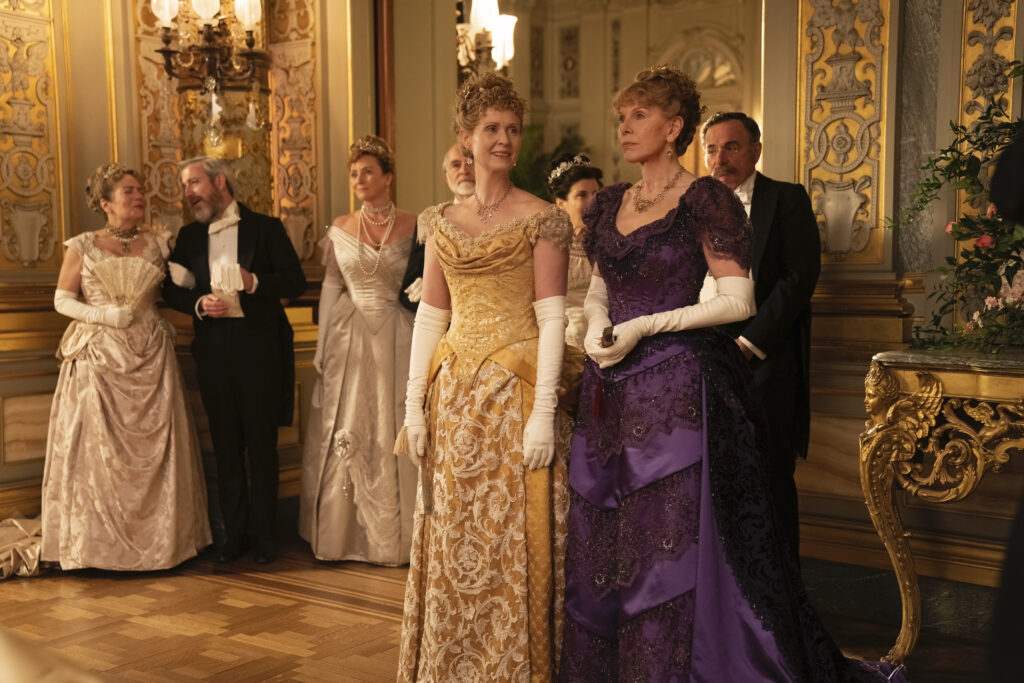 It was also a full circle moment for the hobbyist thespian.
"When I was a kid, one winter at Astor's Beechwood mansion, they had a Christmas show and I played one of John Astor's grandkids, so it was fun to slip back into that Gilded Age era a few decades later," he says.
Shooting for The Gilded Age turned out to be a family affair for O'Connor as much to his surprise, his older brother had been selected as an extra for the ball scene as well. "I said, 'Wait, I thought I was the drama kid in the family!'" he laughs. At one point during filming, the O'Connor brothers flanked series stars Cynthia Nixon and Christine Baranski, but only the elder took the opportunity to chat up both Emmy and Tony award winners between takes.
However, the two brothers did make a post-production wager.
"My brother is also Mr. Competitive, so he was like, 'Let's see who gets more screen time in the end and the loser has to take the other one out to dinner at the Cooke House,'" O'Connor says. Much to his shock, he was one of the background people on the promotional posters and graphics leading up to the series debut on HBO. "So, I think by default, I win.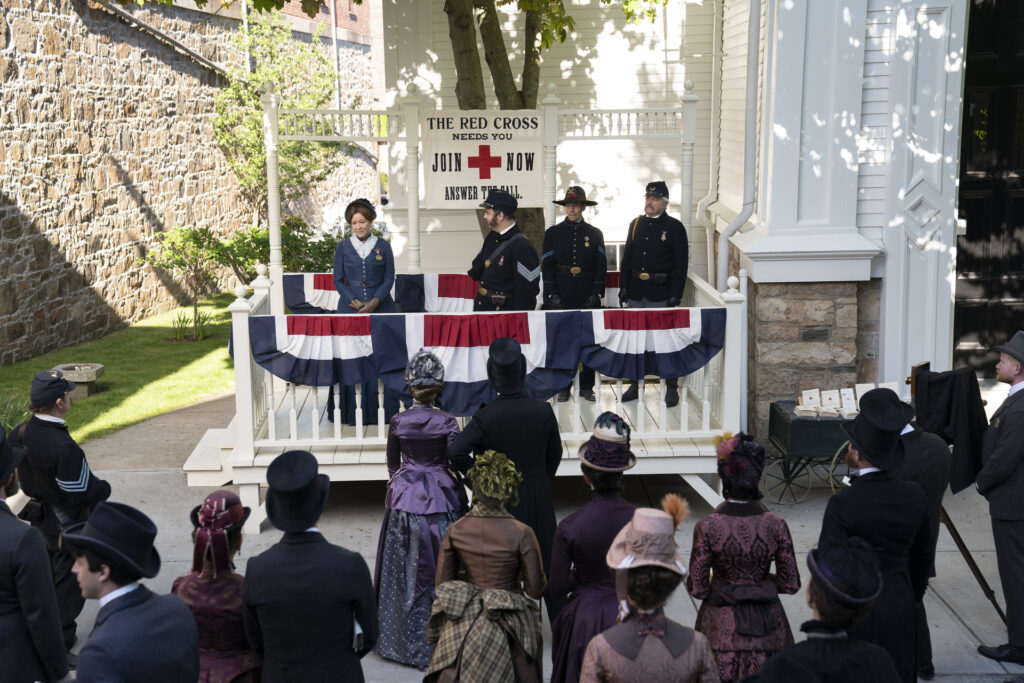 Big bucks for Newport
According to Rhode Island Film and TV Office Executive Director Steven Feinberg, HBO hired more than 1,200 Rhode Island workers for The Gilded Age's first season, adding that union rates range from $37 to $72 an hour ("That's for an eight-hour day — and they always go over," he adds), plus the production used more than 500 local vendors. Keeping that momentum, Hocus Pocus 2 began shooting not too long after, creating even more opportunities for assistants, costumers, technicians and craftspeople.
It's an economic home run for Feinberg, who recalls being 9 years old when an article about The Great Gatsby shooting in Newport was in the Sunday newspaper. He was in the car with his mother, who had the paper on her lap, and the article prompted a conversation about movies.
"And I looked out the window and said, 'Maybe one day I'll be in charge of all the movies in Rhode Island!' Isn't that weird?" he says with a small laugh. "Some days I go to work and I pinch myself."
Feinberg knows firsthand not just the economic impact of filming in Newport, but the emotional one too, felt by behind-the-scenes folks and Hollywood glitterati alike. He was personally tasked by Robert Redford to share a letter, printed at the time in The Newport Daily News, the actor wrote soon after The Discovery wrapped which read:
I have had the privilege of working on two films in Newport, the first time in1974 with "The Great Gatsby" and most recently on the film, "The Discovery."
I am grateful to have had the opportunity to become re-acquainted with the City and its people. I was pleasantly surprised that, some 40 years later, the City looks and feels almost exactly as it did when I first came here. I commend the community for the vision and care demonstrated to ensure for the preservation of its historical and culturally significant properties.
Finally, I was most appreciative of the hospitality extended to me and my colleagues during our stay in Newport. For me, the welcoming and warm spirit of the community will not soon be forgotten.
In July, during Lord Fellowes' visit, Bob Shaw attended a dinner for Fellowes — also at the Marble House — where it hit him how extraordinary it is to shoot in Newport.
"Being in Marble House dining by candlelight — some of the details look kind of over the top and almost borderline garish in the day — [but] Marble House at night was just, people overuse the word 'magical,' but it truly was magical."