Exploring: Newport Animal Experiences
You can cuddle a cat, adopt a pet, spoil a dog or oil a pig
Maybe you've done yoga with a goat, but have you ever meditated with a cat? Cat meditation only scratches the surface of the fun feline activities at Bajah's Cat Cafe in Tiverton — and Bajah's is just one of the places in Newport where animal lovers can get their furry fix, whether you want to adopt a pet, nuzzle a pony, stroke a kitty — or treat your pup like the prince or princess you know they are.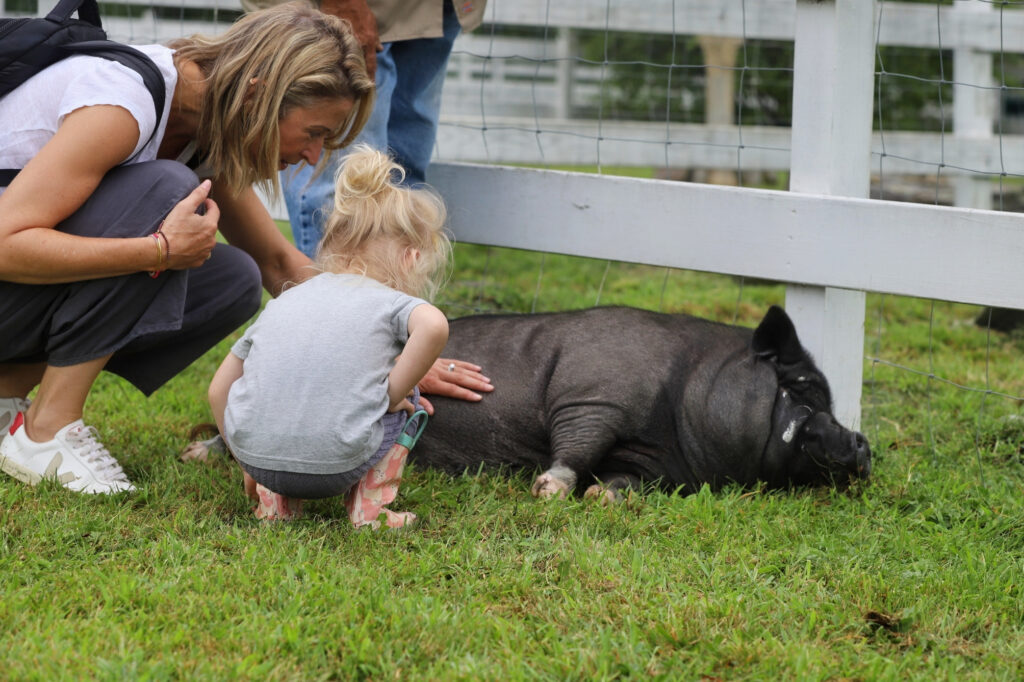 Bajah's Cat Cafe
Amanda Souza-Viera opened Bajah's, the only cat cafe in Rhode Island, in 2021.
A self-described "cat lady," Souza-Viera named the cafe (yes, you can get coffee, tea, muffins, cake, and breakfast sandwiches along with some quality kitty time) after her own pet cat, who, sadly, went missing a few years back.
For a modest fee, visitors can spend 30 minutes to an hour communing with up to 15 cats, and Bajah's takes a fun approach to animal encounters with events like date nights, rock painting sessions, a free monthly (cat-themed) book club, and cat meditation, where you enhance your zen with rubs and purrs.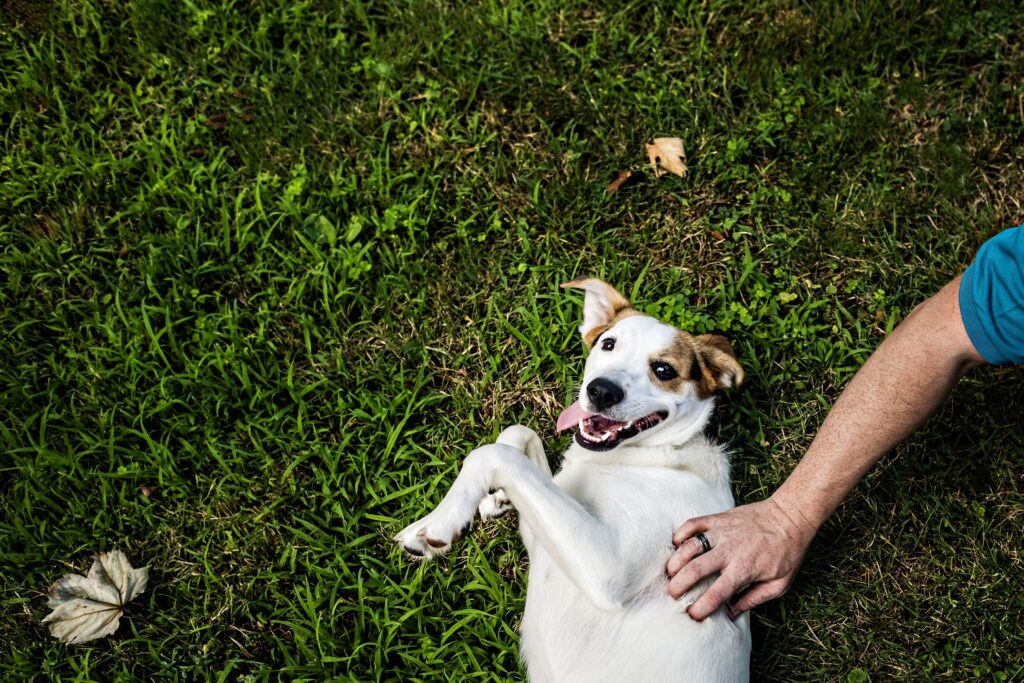 The Potter League for Animals
Bajah's also offers cats for adoption, partnering with groups like the Potter League for Animals, another favorite stop for Newport County animal lovers. Headquartered in Middletown, the Potter League is Rhode Island's largest animal welfare organization, placing more than 1,500cats, dogs, and other furry friends —"almost anything that lives in your house," said CEO Brad Shear — in new homes each year.
The Potter League provides shelter for pets, arranges adoptions, and also offers cost-free veterinary services and pet food to owners who can't afford a private vet. Among the animals temporarily cared for by the Potter League are pets belonging to residents of local women's shelters, homeless veterans, and pet-owners who are hospitalized.
Founded in 1939, the Potter League today operates from a bright and modern facility with radiant heat in the floors to keep animals warm and sunlit playrooms, where visitors are welcome to observe and — if interested in adopting — interact with potential future pets.
"A lot of people just come to visit the animals," said Shear, "and a lot of times the people who come to visit become adopters." Another way to get ensure face time with Potter's pets is to sign up for a kids' camp or volunteer: more than 200 local residents give of their time to support the shelter, doing everything from cleaning and feeding animals to walking dogs and socializing with cats.
Lucky Dog Resort
Every animal that gets adopted from a place like Potter League is lucky, but perhaps few are as fortunate as the pooches lounging on couches at Middletown's Lucky Dog Resort. When owner Laurie Ruttenberg quit her corporate job seven years ago, rolled over a 401k, and bought a kennel on East Main Road, she knew right away that she didn't want to run a place full of cages and chain-link fences.
"Dogs live in houses," said Ruttenberg, who tore down all the cages and dog runs and converted the two-bed-room house on the property — the former owner's home — into a luxury pup resort.
For $150 a night, dogs get pampering worthy of the Queen's corgis.
"I was looking for a Newport Mansions experience," said Ruttenberg. "Our dogs get treated better than a lot of people." Overnight guests sleep in velvet lined beds — some prefer to bed down with the staff members who provide 24-hour care and supervision — dine on gourmet food, are entertained with outdoor play and indoor games — and get to spend quality time with up to 40 other canine companions.
In addition to overnight stays, Lucky Dog Resort offers daycare, training programs, and a special concierge program for couples get-ting married in Newport who want to include their dog in their wedding ceremony.
"Being away from home is not a normal thing for a dog," Ruttenberg said. "One of the things that makes me the happiest is when we can get a super-anxious dog to warm up to us. Making dogs feel at home is what separates us from the pack."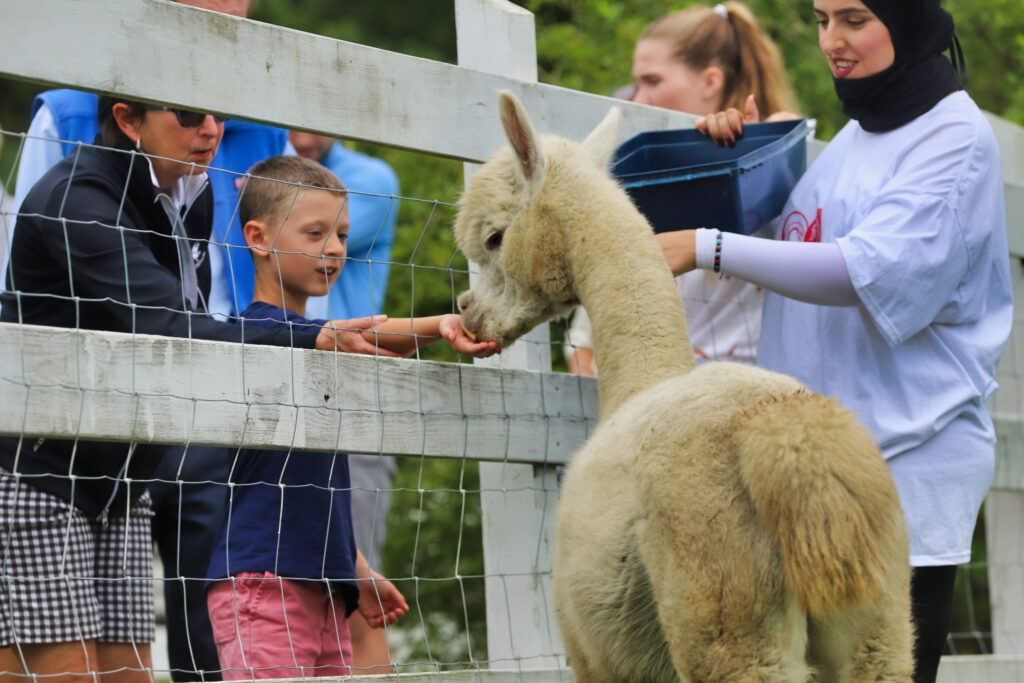 A place for farm animals
At Tiverton's West Place Animal Sanctuary, the residents are less of a pack than a herd. This unique facility houses and protects more than 70animals — usually for life — that were rescued from farms, slaughter facilities, and other places where they once faced abuse and neglect.
Cows, pigs, goats, horses, donkeys, alpacas, and sheep are among the menagerie roaming the seven-acre sanctuary, which opens its doors to the public three times a year for visitor weekends — and for tours upon request.
"We're a little different from your typical dog and cat shelter," says Pat-rick Cole, director of development and communications at West Place. "Visitors can get up close and personal with animals that most people don't have a lot of experience with."
That includes Jack and Diane, friendly brother and sister pigs who might just roll over and let you scratch their belly, and peacocks who can live up to 50 years and, as Cole says, "probably will outlive a lot of the humans here."
Like the Potter League, West Place relies on a small army of volunteers to care for its animals and maintain the property. Monetary support comes from individual donors, corporations, foundations, and income derived from tours and sales at West Place's small gift shops.
Among the experiences offered to guests is a couples' tour that includes the opportunity to pet and feed the animals, take part in care activities like grooming horses or oiling the pigs— and is capped off with wine or beer from the sanctuary's own vineyard and brewery.
"The animals always seem to know when tours are coming up," says Cole. "They get a lot of treats — and are amped up for it."
Finding the Animals
Bajah's Cat Café is at 137 Main Road, Tiverton. For more information, call 1-401-816-4310 or visit www.bajahscatcafe.com
The Potter League for Animals is at 87 Oliphant Lane, Middletown. For more information, call 1-401-846-8276 or visit www.potterleague.org
Lucky Dog Resort is at 599 East Main Road, Middletown. For more information, call 1-401-835-0680 or visit www.luckydogresortri.com
West Place Animal Sanctuary is at 3198 Main Road, Tiverton. For more information, call 1-401-228-6800 or visit www.westplace.org