Art Talk: A new space in town
At Art Talk in Newport, the process of making art is also a form of healing and therapy
In a cozy and sunlit studio on the corner of Spring and Prospect Hill streets, Angela Gallo is assembling a space that will be part therapy office, part meeting place for group workshops — and a gallery. The thread connecting these various interests is art, specifically using art as a tool to help people heal — and as a means of fostering community.
Fittingly, this new space is called Art Talk.
Gallo is especially looking forward to using the space for group art therapy sessions. She launched a six-week program at The Huddle last fall (located further down on Spring Street), whichwent well — and created the momentum needed to launch her own practice.
In recent years, Gallo has worked as a licensed independent clinical social worker at Lighthouse Counseling Associates in Portsmouth, although she will be phasing out of that position as she pivots to Art Talk full time.
Originally from New Jersey, she moved to Aquidneck Island in 2018, living first in Portsmouth before moving to Newport. When the space became available on Spring Street, which is just a few blocks from her apartment, she thought to herself, "I either do it or I don't, and I did it."
The benefits of group
Many people arrive at group art therapy sessions appear a little standoffish, Gallo said. They're, worried about what people will think of them — or about what they will produce. However, by the end of most sessions, the group has bonded, and everyone is connected; everyone has channeled their worries or emotions, thoughts or feelings, into some sort of art, regardless of skill.
"Whatever you put on the canvas thatday, is your emotion that day," Gallo said.
The sessions usually run for six weeks, and Gallo said they are most beneficial if people attend all of them, although you can sign up for one class at a time. Her first workshop planned for the new space is a four-session process art group, which will meet four times and during each session add a new layer to the same canvas. Gallo said the maximum number of people for such a class is 10, and she envisions most people sitting on the ground, getting comfy as they create, regardless of experience or talent.
"I always want people to have no expectations," Gallo said. "It's enough [for people] to try the art piece and see how far it actually takes them," she added.
For the process workshop, the focus will be more on camaraderie than therapy. For other group sessions, talking through what people made, and the emotions that surfaced during the process, is more of a focal point.
Gallo practices Cognitive Behavioral Therapy, which seeks to provide people with the tools necessary to continue healing on their own. "It's a skills-based therapy and that's why I love it so much," she said. "One of the skills I give people is art." Gallo also recommends journaling. Some people, she said, enjoy yoga or breathwork as a centering practice, but she's personally never been able to find solace in such activities.
"Art is the only thing that brings me to that center," she said. "I don't think enough people realize art can do that as well."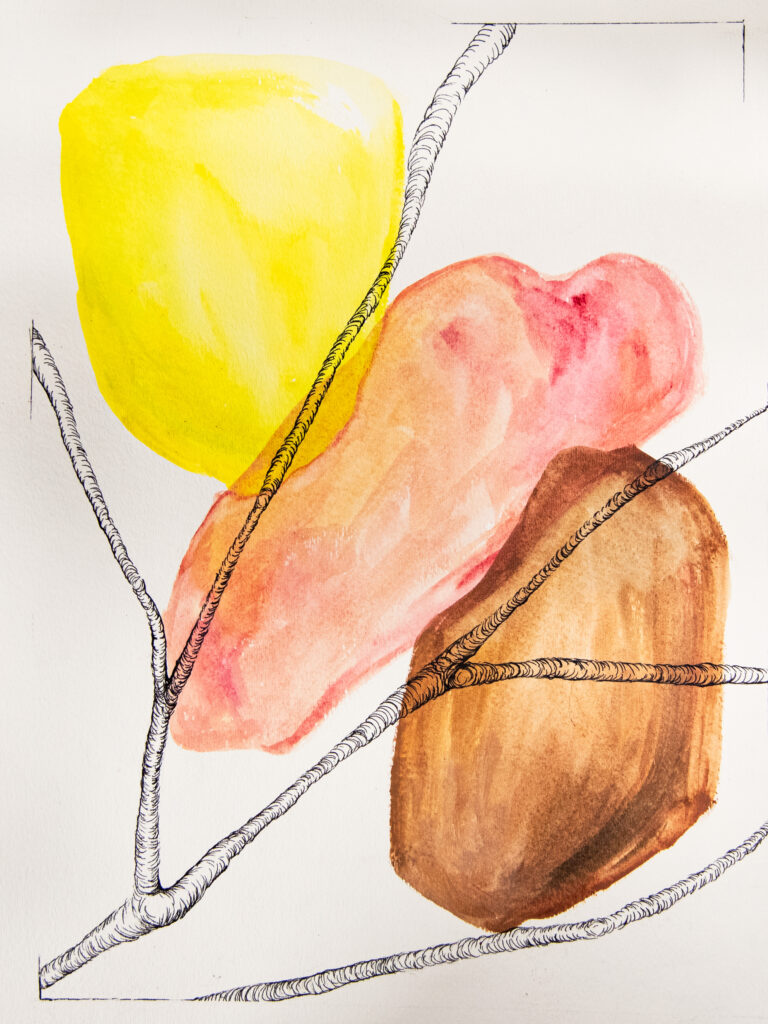 A full-circle moment
"This is me finally circling back to art therapy," Gallo said of opening Art Talk, where she also plans to display some of the artwork she recently returned to making, mostly charcoal drawings, although she's challenging herself to explore color and other mediums.
"I knew from a young age that art was my escape," she said. However, in middle and high school, artmaking was often on the backburner, second to sports and not something she partook in during school hours. Like many teenagers, she was aware of fitting in with one group more than another, and the art circle never feltlike her crowd.
In college, she first pursued fine arts and then switched her major to art therapy. She later earned a master's in social work from New York University. "I wanted to use art to help others the way art has always helped me," she said.
Art as therapy, she said, has long been a tool for helping people navigate trauma. And now, in a cultural moment when it seems more and more people are aware of living with trauma in its varied forms, Gallo thinks art as therapy is especially relevant.
"It's connecting with this movement of people who are connecting with themselves and their trauma," she said. "Millennial therapists are in the perfect spot," she said, to advance art as a therapy tool for helping people with trauma heal, noting from her experience that "young adult and college clients really appreciate it."
And group art therapy classes are a great way to get people into a safe space where they can begin making these connections, she said. "If I can get them into a group, I can get them into individual therapy."
A shared space
The Spring Street studio — which Gallo has taken to calling a Mental Health Collective and Art Gallery — will also be used for one-on-one sessions, either in person or via Zoom. Joining Gallo in her practice is Talia Baron, a psychologist who will offer neuropsychological testing. Others have also expressed interest in using the space from time to time, possibly for yoga sessions or other wellness-oriented activities.
With Art Talk doubling as a gallery, there will always be artwork on the walls, which is intended to make the space feel more inspiring and inviting.
The first group of exhibiting artists included Philip Easton, Ry Smith, Shannon Oliver, Julia Macchiarola, Mosquiat and Gallo. An opening was held March 4, with an official open house held on March 18.
"I'm so grateful for the Newport community," Gallo said. "I don't think I could open a place like this anywhere else."
To keep up with the happenings at Art Talk, follow along on Instagram.