Weird, Wonderful, Obscure: New book explores Rhode Island's quirks & history
Bob Curley, a contributing writer to Newport Life who pens the exploring column, wrote a book, just recently published: "Secret Rhode Island: A guide to the weird, wonderful, and obscure." He answered a few questions about how the book came to be, and what you'll find within its pages.
Q: Where did the idea for "Secret Rhode Island: A guide to the weird, wonderful, and obscure" come from?
I'd love to take credit for the idea but it's actually a national series from Reedy Press, the publisher of my previous book, "100 Things to Do in Rhode Island Before You Die." However, all the ideas *inside* the book are mine!
Q: How did you go about compiling facts and anecdotes? What were some of the most surprising finds?
The ideas for the book arose from a combination of research, reading, a personal interest in things like history and weird facts, and several decades spent writing about Rhode Island for Newport Life and other publications. I already knew a fair amount of what ultimately ended up in the book, but there were definitely some fascinating finds along the way. I love the story about Michel Corne, the 19th century Newporter who helped convince Americans that tomatoes were not poisonous, and learning that the grave of Massasoit, the Wampanoag chief who saved the Pilgrims from starvation, is located in a small-town park in Warren. The history of Smith's Castle in North Kingstown is especially interesting, if also dark at times: it was the site of the only execution in America where the condemned was hung, drawn, and quartered. And it's the oldest existing plantation house in the United States.
Q: It seems like a lot of the factoids are historical – what was your research process like in collecting these? Did you visit local museums and archives? Or sift through history books?
Visiting museums and reading books is definitely part of the process; some of this stuff was just filed away in my brain for future use when researching and writing other stories, and of course the Internet can be a wealth of useful information as long as you're careful with the sources you use. Fortunately, there are some really great Rhode Island historical societies, history museums, and websites devoted to the state's long history, which honestly has been pretty weird right from the beginning.
Q: How did you decide to organize around "weird, wonderful and obscure?"
The book isn't formally organized that way – each entry pretty much stands on its own – but overall there definitely are elements of each of these categories in Secret Rhode Island. The fact that the body of the state's founder, Roger Williams, was replaced by a man-shaped root in his grave is pretty weird. I find it pretty wonderful that visitors to Roger Williams Park Zoo – whether they know it or not — are still paying honor to a dog that saved a family from a fire more than 150 years ago. And as for obscure, the book was the perfect opportunity to answer questions like why is the tallest skyscraper in Providence called the "Superman building," and why our favorite little hot weiners are called "New York System."
Q: Describe your writing process: Do you have a preferred writing spot or time of day? How long did it take to research the book? How long did it take to write the book? What was the editing process like? Etc.
The book took about six months to write but probably several decades to compile the base of Rhode Island knowledge needed to write it. As a freelance travel, lifestyle, and healthcare writer I tend to write in spurts, so this book fit well for me since each of the 100 or so entries could be tackled individually. I wouldn't say I did one per day – I'm not quite that disciplined – but it was gratifying to see all these little articles and anecdotes slowly add up to a book.
Q: What is something about the book you'd like people to know – or not know – before they read it?
My other book, 100 Things to Do in Rhode Island Before You Die, is a bucket-list book full of what I consider the essential experiences to have if you live in or visit Rhode Island. Secret Rhode Island is like that book's weird sibling. It's as much about things to do – although many of the "secrets" can be seen or experienced – than the quirks and oddities that make our little state so unique.  
Q: Are there any upcoming book events people can attend? And where can the book be found?
The book can be found at local bookstores like Ink Fish Books in Warren as well as on Amazon and from other booksellers. If you want a signed copy, I'm happy to send you one myself: just email curleybob@gmail.com, or come see me at one of my upcoming book presentations and signings, like my event on Nov. 30 at Pivotal Brewing Co. in Bristol.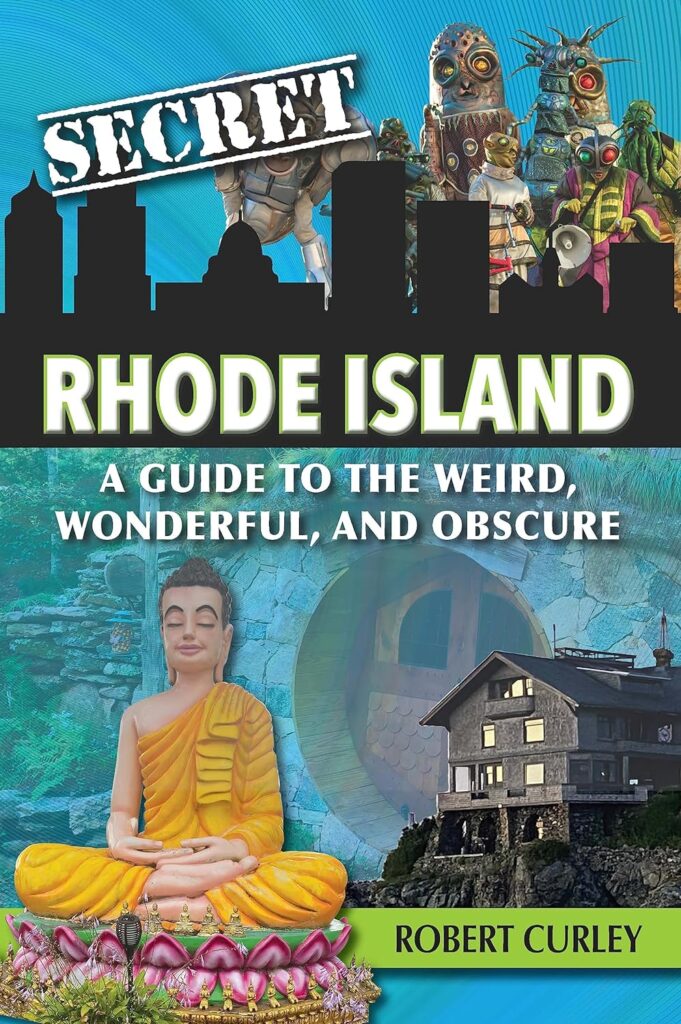 View Newsletter