Newport Folk & Jazz Festival Preview
Beloved festivals return for another season of concerts & memory-making at Fort Adams
Newport Folk Festival
July 22-24, 2022
Founded in 1959, the Newport Folk Festival is one of the nation's best known music festivals due in part to the legendary artists who've graced its stage throughout the decades including Joan Baez, Judy Collins, Janis Joplin, B.B. King, Johnny Cash, The Allman Brothers, Pete Seeger, Peter, Paul and Mary, and of course, Bob Dylan, who was famously booed at the 1965 festival for "going electric" by playing an electric Fender Stratocaster – a moment that would become, as the New York Times described, "part of American folk culture." (Dylan wouldn't return to the Newport Folk Festival spotlight until 37 years later.)

George Wein, the impresario founding father of the Newport Jazz Festival (see sidebar), also introduced the Newport Folk Festival to music fans, using the same multi-day/multi-artist format that would go on to become the template for Woodstock, the Monterey Pop Festival, New Orleans Jazz & Heritage Festival (also founded by Wein and widely known simply as "Jazz fest), and in more modern history, Bonnaroo and Coachella.

Today, the Newport Folk Festival has become synonymous with impromptu jam sessions, surprise guest artists and artist-and-audience singalongs.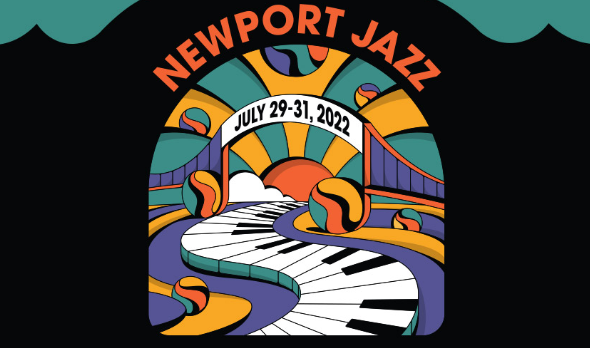 Newport Jazz Festival
July 29-31, 2022
With a shared passion for jazz and making music, George Wein along with Louis and Elaine Lorillard masterminded the first Newport Jazz Festival in the summer of 1954, luring leading artists to the multi-day affair including Dizzie Gillespie, Count Basie, Billie Holiday and Ella Fitzgerald, to name a few. The event was the first of its kind, with others soon to follow modeling the inaugural event.

In time, a cornucopia of talent played the Newport Jazz Festival, which quickly became the brass ring of music festivals. Though the groundbreaking event unfolded at a number of locations throughout Newport over the decades, iconic performers including Dave Brubeck, Miles Davis, Dionne Warwick, John Coltrane, Ray Charles, Frank Sinatra, Nina Simone, Sly and the Family Stone and even Led Zeppelin, left last impressions on the ever-growing audiences.

This summer will mark the first Newport Jazz Festival since George Wein's passing at the age of 95 in September, 2021. His legacy, however, lives on, not only as demonstrated by the success of both the Newport Jazz Festival and Newport Folk Festival, but as the architect of the template by which every modern day music festival follows.

View Newsletter