Immersed in community
From the editor ~ March/April 2023
Dear readers,
When I moved to Newport after college, at the age of 23 and for my first full-time job (as a copy editor at The Newport Daily News), I didn't think I would stay for more than a year or two — maybe three. I grew up in Portsmouth, and the idea of settling down on the island was not the glamourous city life I had imagined for my youthful twenties.
Life, however, had other plans.
One year at The Daily News became seven, and Newport has been home for a dozen years. Still, there was a time, five years ago, when I grew restless and left Rhode Island on a one-way ticket, traveling to faraway coasts and exploring other cities by other seas. It was on those travels, though, that I realized only one City-by-the-Sea will ever be my home: Newport.
Friends who live in other places often ask me why Newport? And my answer is usually the same: because of the community.
My sense of this community is influenced by growing up here, of course, and also by living here as an adult. In fact, many of my closest friends are people I met after I took that job at the paper. I met these friends through immersing myself in the Newport way of life: through kickball leagues and bar trivia; going to lots of live music shows — outside and inside, daytime and late-night — joining the board of an arts nonprofit and attending all sorts of openings and soirées and street fairs; riding my bike to Reject's Beach or heading to bonfires at Third; hosting — and attending — all sorts of house parties, in every season.
Eventually, the Newport life, in all its varied and exciting forms, became my life.
Over the years, I've sought to highlight the many ways this community exists, both in the ways I've experienced it and in the ways others have experienced it — because the idea of community shifts from person to person, neighborhood to neighborhood, organization to organization.
In this issue — our Community Issue — we spotlight some of the ways community takes shape around Newport County, from spaces dedicated to the care of animals to those created to support and encourage the artist within us all. We learn about the next generation of chefs, currently a motley crew of bright-eyed teenagers who will most likely be running the restaurants of Newport's future. And we visit God's Community Garden, where a group of volunteers is dedicated to growing tons of vegetables — every pound donated to those in need of nourishment. Finally, we have our cover story on Salve Regina University celebrating its 75th anniversary. We highlight the ways the campus has become a meeting ground for students, faculty, thought leaders and the whole community.
For me, and maybe for you too, the community that surrounds us is just as comforting and awe inspiring as the ocean views that surround the island. Our community is always there — a walk or a drive away — and ready to be enjoyed on the sunniest or stormiest of days. And for that, I am most certainly grateful.
Until May,
Helena
Managing Editor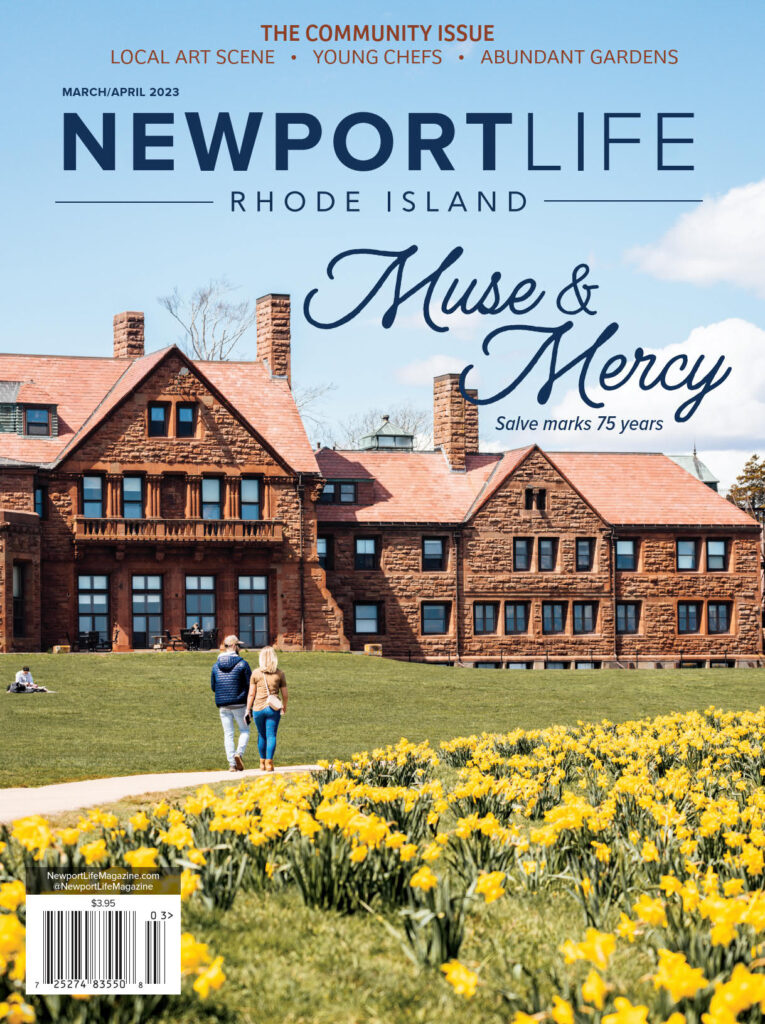 p.s. Wondering where to find the magazine? Check out this list of retail locations: https://www.newportlifemagazine.com/where-to-buy-nlm/
p.p.s. Interested in subscribing? You can do that here: https://simplecirc.com/subscribe/newport-life-magazine