The Art of Community
An artist re-immerses herself in the local art scene — and shares what she learned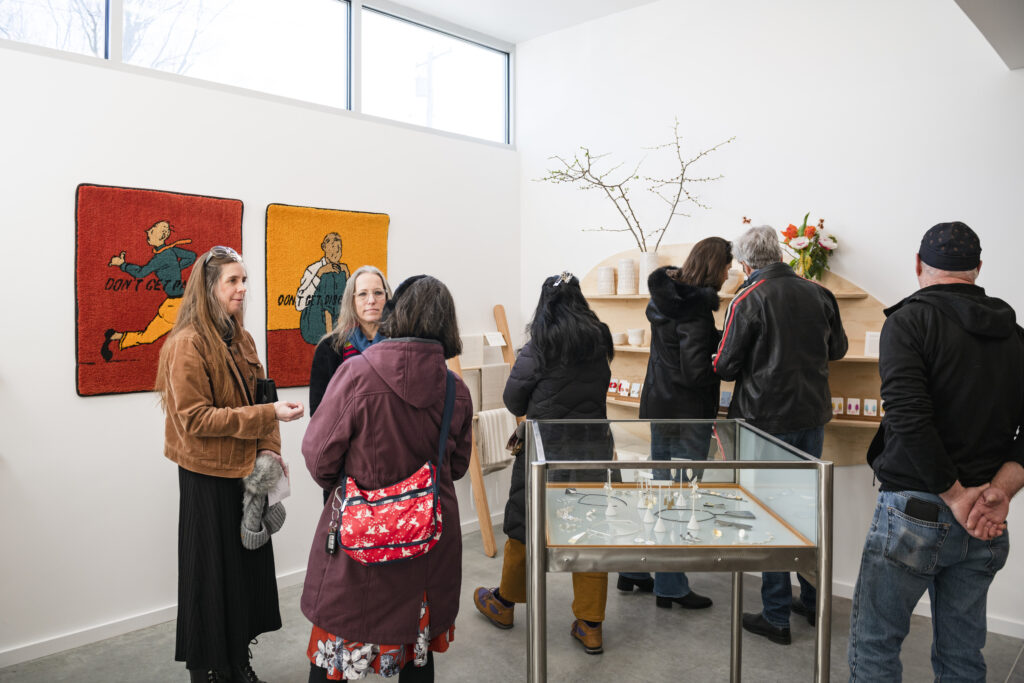 Lately, I've been contemplating what happens when you were forced to hit pause on your community — and are not sure how to get back in.
In 2019, I finished a graduate degree in fine arts and felt deeply immersed in the arts culture of Newport County. But then, as it did for many, the pandemic took the plans I had laid out for myself and placed them on hold.
As we all re-emerge, the maddening truth is that I am finding it quite difficult to reintegrate into the arts hub where I once got such creative inspiration and joy.
Yet, in recent weeks, as I've met and conversed with people for this article, I've seen that the local arts community has remained strong, is still nurturing, and is ready to welcome back into the fold those who, like me, may have become disoriented.
What follows is a selection of organizations and groups that are actively supporting artists of all kinds and, as such, are at the heart of the community.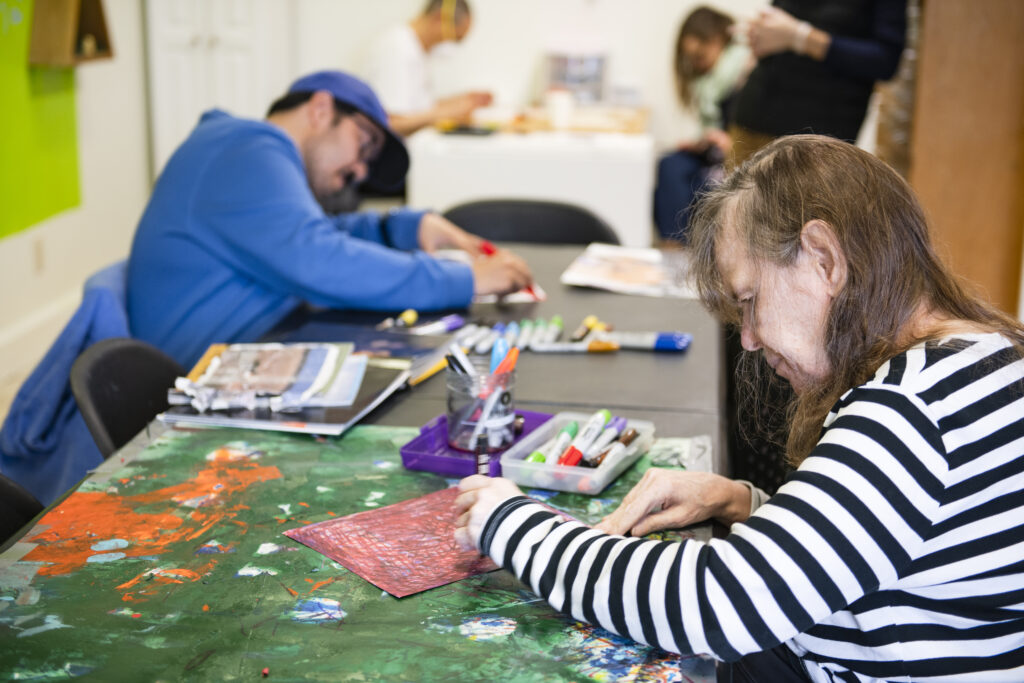 Portsmouth Arts Guild
Established in 2003, The Portsmouth Arts Guild's mission is to celebrate, share and promote artists of all ages and abilities while contributing to the cultural enrichment of the community through classes, open studios and exhibitions.
After speaking with Jan Burling and Wendy Berube, two of the guild's board directors, I learned guild membership has increased dramatically in the last year, which seems a product of their obligation to the community — especially during the most trying times of the pandemic, when they began offering Zoom classes, a weekly plein air group and an online artistic challenge.
The guild and its subsection, Artists for a Cause, actively seeks to support the community through its work. It's currently in partnership with the Four Hearts Foundation to build an innovative playground that will be designed with accessible features to foster a nurturing environment for all children (to read more about this project, read this article from July/August 2022).
"We all want to be supportive of each other," says Berube, and to continue "learning from one another, and [enjoy] just being together."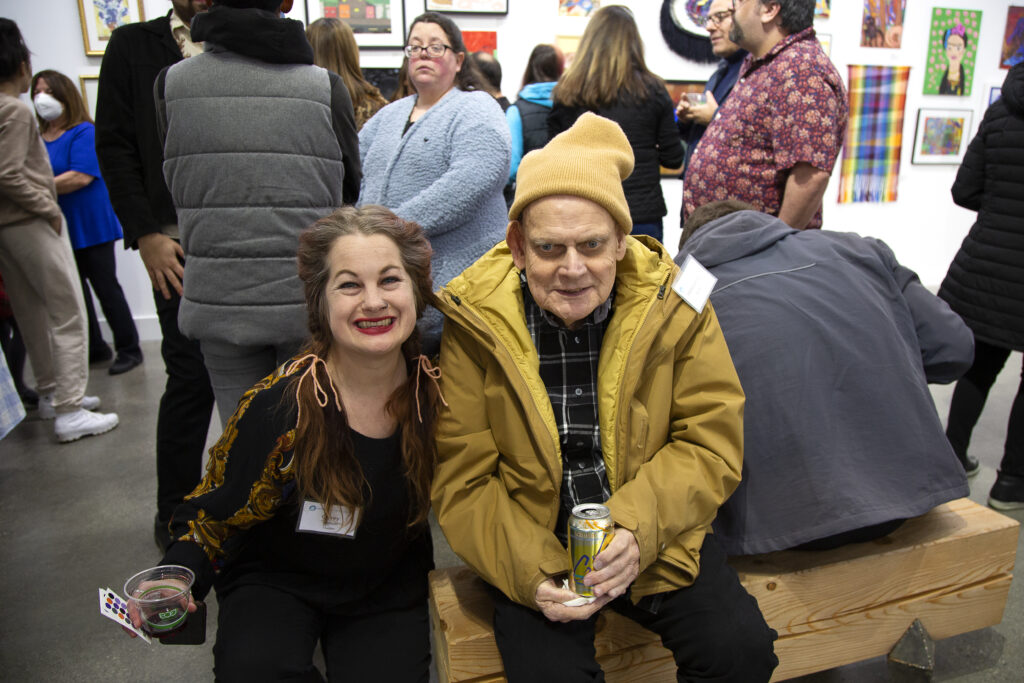 Out of the Box
Casey Weibust is the ever-inspired Art Director at Out of the Box Studio and Gallery in Jamestown. Together with Melissa Seitz and Vince Ruvolo, Weibest co-curated the stunning and energizing show "Outsider Art: Harnessing Color," on view at the Jamestown Art Center through April 1 — and includes artist members from Out of the Box.
On a Friday in late January, I attended the opening reception, one of the first for me since things have re-opened, and I was struck by the artsits' bright use of color as an unmistakable means of creative expression.
After entering through a hall filled with hues of orange, which prepared me for what I was about to encounter, I saw in the main exhibition space blasts and bursts of palpable color. Ranging from a wide variety of usable media from paint to found objects to textiles, the works are tactile and create an unbounded experience.
The group of artists left me empowered to harness all that is available to us as creators, which is everything.
Founded in 2018, Out of the Box has become wholly intertwined with the community, a relationship that has persisted despite the many challenges of the pandemic. The newly renovated gallery and studio supports people with disabilities to live fulfilling lives and develop themselves in an environment that provides exhibition and studio space, technical support, networking and inspiration for members as well as opportunities for the community.
As we discussed how great it feels to get together with others again, Weibust said receptions give artists who might not know one another an opportunity to discuss, collaborate, and just chat about what they might be working on. These interactions are so important to the artist community — they are what fuel it.
"We need networking with other artists and the melting pot of the inexperienced with the experienced; this allows all to exist and share in the same space," Weibust said.
Weibust said that the goal is to get people from the community in to see what the artist members are creating, and then get the Out of the Box artists out into the community.
The Loom and Libraries project is one such endeavor. Six libraries across the state — Langworthy, Newport, Middletown, Portsmouth, Warwick and Westerly — are housing 36-inch by 48-inch looms — and all library visitors are invited to contribute to the tapestry.
On March 16, from 5 p.m. to 8 p.m., Out of the Box will have all six participating tapestries on display at their gallery for an opening reception. This is an opportunity for all to see what their small — or generous — contribution adds to the collection. In addition to the finished products, there will be a loom present for visitors to experiment with. "Anyone can take a turn and it serves as a wonderful icebreaker to open doors and minds with one another. We need to get back to interacting with strangers," Weibust said. After the show, each piece will be donated back to its respective library. Additionally, every second Thursday of the month, from 6 p.m. to 8 p.m., Out of the Box hosts Rodeo Poets, featuring live poetry readings and storytelling. The event is free and available for those 18and older.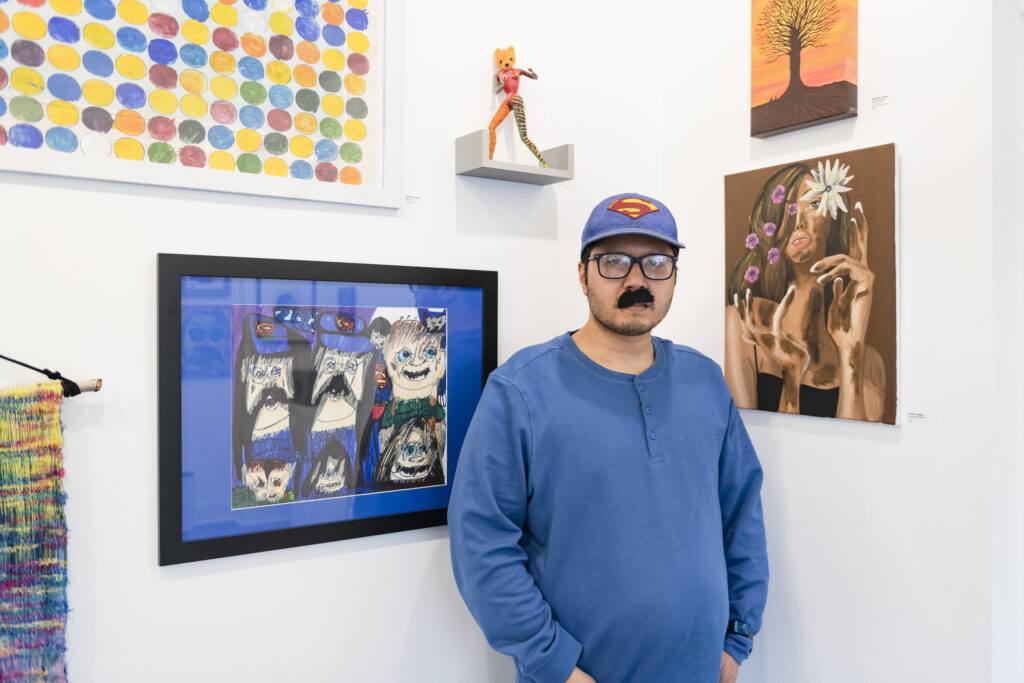 Island Art Spot
After realizing there was not much offered on the island for children, Jennifer Gee, a former classroom teacher, opened Island Art Spot. She wished to create a space where kids could come to explore boundless creativity. Contrary to being at home, where families might wish to mitigate creative mess, or at school, which could have a more goal-oriented standard to their art classes, Gee shaped a setting where mess isn't in the lexicon — and where it is about the process and not the final product.
"Here they can use their imagination," she said. "We provide tools and a space, not much is off limits, and they try to not focus on it being perfect and feel free to explore new things."
For the children who have missed out on a lot of camaraderie and creativity during the past few years, Island Art Spot offers programs that help even the youngest artists to ease them into something inspiring. It's the ultimate sanctuary space to offer the kids community, where they can explore without judgement and let their imagination flourish without limits.
RI Open Drawing
More than 18 years ago, Bill Heydt created RI Open Drawing. Every Saturday from 9 a.m. to noon, currently at the Newport Art Museum's Coleman Center, and for a fee of $15, a group of artists with varying abilities draw from a live model. With no formal discussion, it is a no-judgement zone.
"Everyone is really expressing themselves, there's no contest or reward — it's yoga for the mind," Heydt said. "There are no pressures from oneself or the outside world. Just you, the mark you are making, and the collection of this group."
Sometime at the end of last summer, a friend recommended the group to me after I expressed a craving for the companionship of fellow artists.
Making it to the Saturdays I could, I was able to dedicate my time to solely the task of making these marks on this page. I did not have to worry about work, home, or even the pressures I put upon myself in my own studio.
To be back in a communal art space, to feel the presence of others and observe their ways of seeing on the page, inevitably began to influence my own work: Human figures have been popping up in my usually seascape filled spaces, and I've begun to see myself in the process and where I belong within it and our collective.
Over the years, more than a hundred other artists have joined the Open Drawing group.
"It becomes like a family, some have been here since the very beginning,"Heydt said. "All are welcome, and we often spend a lot of time during the breaks catching up, walking around, and looking at each other's work."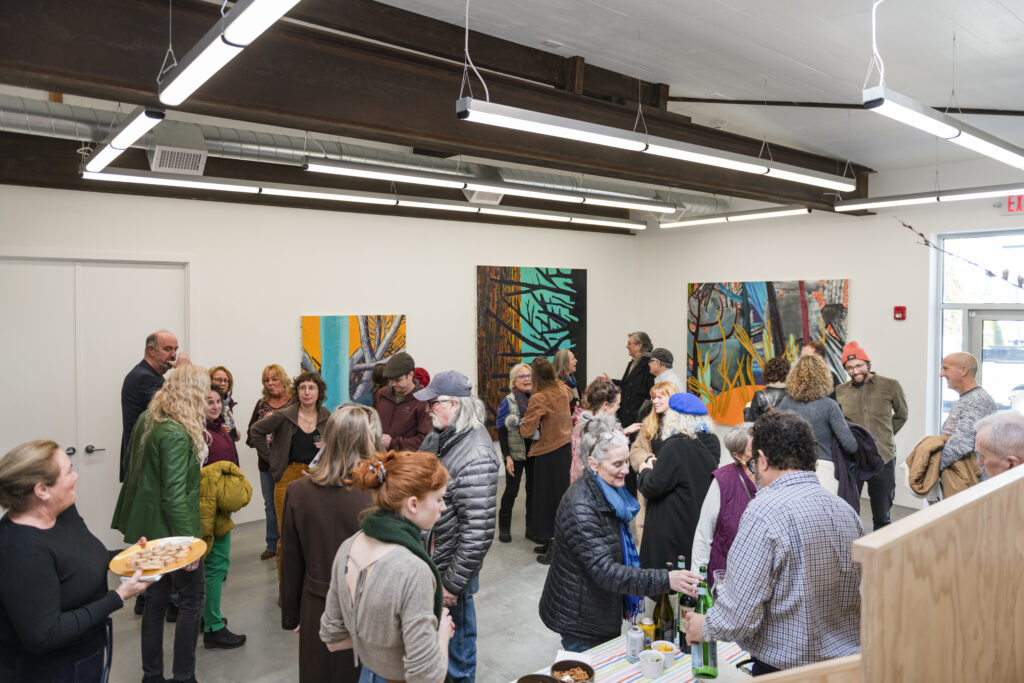 OVERLAP
In the renovated N&E Glass Inc. building on Van Zandt Avenue in Newport is OVERLAP, a newly opened artist-run retail, exhibition and studio space committed to showing and supporting regional artists.
It offers a much-needed place for artists with a deep commitment to their craft to exhibit, sell, and create. It is also a space for all to come together to see the high-quality work being imagined, created and achieved by nearby thinkers and makers.
"The whole idea is to overlap craft and art," said Susan Matthews, OVERLAP's founder. "I am fascinated by the blurred lines between the two. I want this to be a resource for artists to show their work that everyone might not be seeing."
The first exhibition, "Order, Disorder," is a solo show of large works by proficient painter Sue McNally of Middletown, and is on view through April 13, with an artist talk scheduled for March 30 at 7 p.m.
On the afternoon of the inaugural opening in late February, as I approached the overflow of people spilling out the front door, I realized our arts community had been hoping for a gathering like this for some time.
Inside, many from all corners of Newport's creative community congregated, caught up, met for the first time, and enjoyed the vibrant contemporary work within the gallery and retail space.
The energy of the local arts community, in all its varied forms, was palpable.
Back in motion
After being forced to hit pause and, months later, re-emerging, what is unmistakable is that the arts community in Newport County has an avenue for every artist, hobbyist and arts appreciator, regardless of talent or taste. The prevailing mission of each of these organizations is to give back; whether by raising funds, interacting with the community, or making a space for those — including myself — who might need to be welcomed back in with a (slight, friendly) push.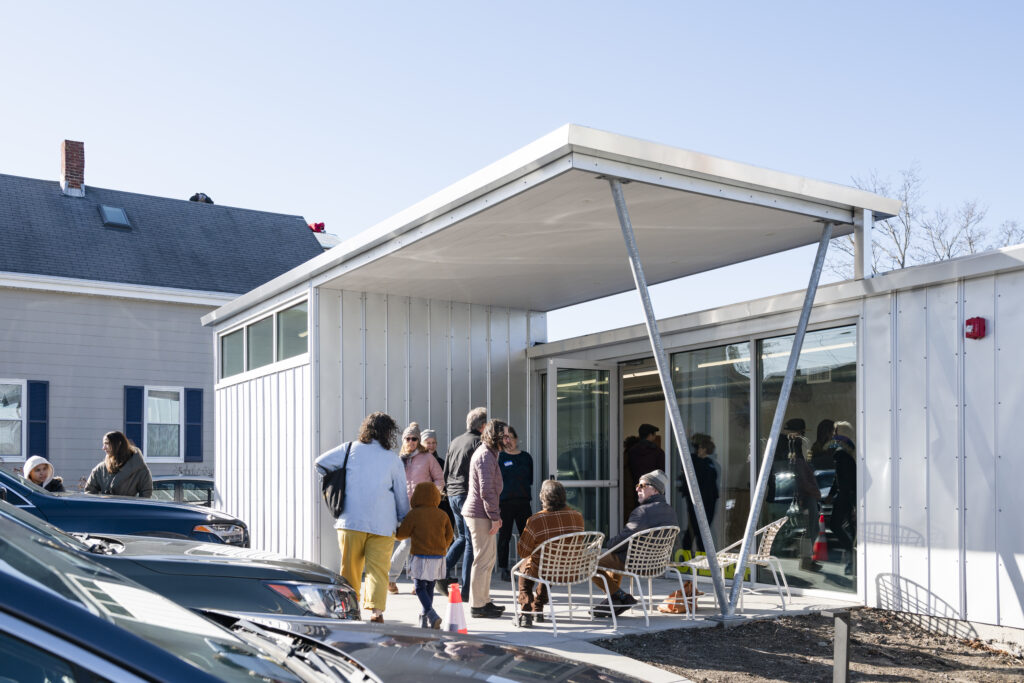 Check them out
Portsmouth Arts Guild
2679 East Main Road, Portsmouth
www.portsmoutharts.org
Out of the Box Studio & Gallery
11 Clinton Ave., Jamestown
www.outoftheboxart.net
Island Art Spot
Wyatt Square, 575 East Main Road, Middletown
www.islandartspot.com
RI Open Drawing
Coleman Center for Creative Studies, 26 Liberty St., Newport
www.facebook.com/RIOpenDrawing
OVERLAP
112 Van Zandt Ave., Newport
www.overlapnewport.com