In profile: Bill Lucey and "The City of Palaces"
A longtime civic leader reflects on decades spent working in Newport — and the impact of "The Gilded Age"
What kind of local banker, businessman and solid civic leader rides his Harley-Davidson to a meeting — just because it's a warm, sunny day?
Bill Lucey, that's who. Lucey has spent more than 30 years working in and around Newport, serving on the boards of several nonprofit groups, working in publishing and now serving as a vice president at BankRI. He enjoys connecting people, and sees his role in the Newport community as one of an advocate.
For 12 years, he's been involved with The Preservation Society of Newport County, and he currently serves as chairman of the board of trustees. He's also on the board of directors for newportFILM and on the board of trustees for Salve Regina University, where he graduated with a master's degree in Information System Science in 1998 and, in 2017, received an honorary Doctor of Humane Letters in recognition of his work with nonprofit organizations. He studied at the University of Rhode Island for his undergraduate degree, earning a B.S. in business management.
Many know Lucey for his days as publisher of the Edward A. Sherman Publishing Company, which previously published Newport Life Magazine and The Newport Daily News — and where he worked for nearly 30 years. Lucey left the publishing business in 2018, a departure that came soon after Sherman Publishing was sold to GateHouse Media. He joined BankRI in November 2018.
"I miss the people," Lucey said of his publishing days, noting he's happy so many people from those days are now scattered throughout the community in
different roles (including this writer and the magazine's new publisher).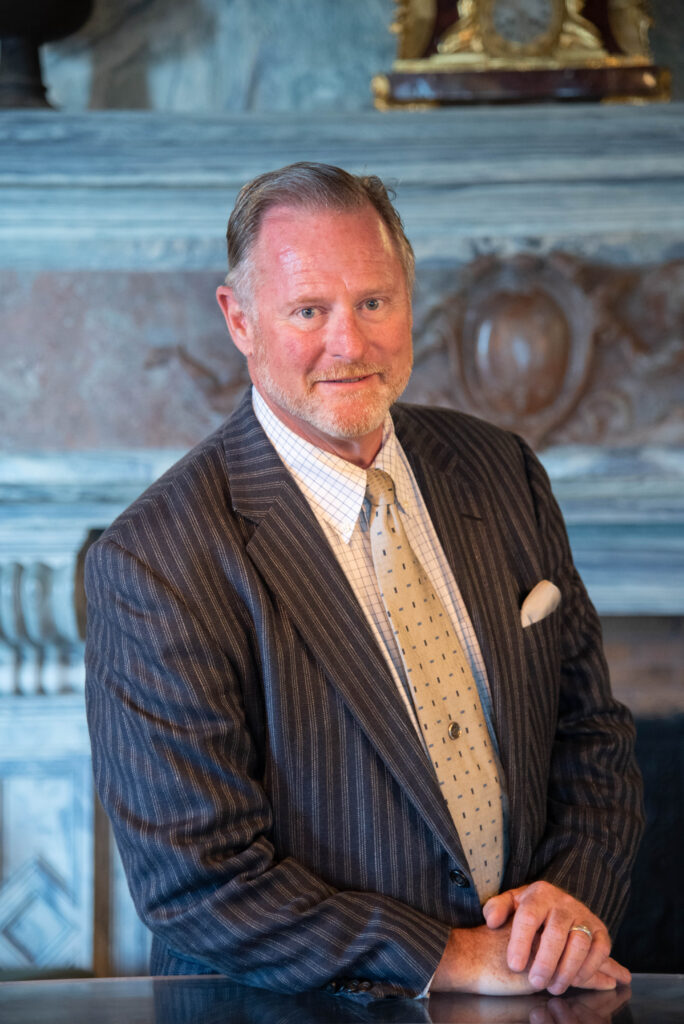 The Preservation Society and "The Gilded Age"

The day we met, blue skies stretched above The Breakers, where dozens of visitors milled about, taking in the history of the Gilded Age mansion. Lucey was dressed in a striped sport coat and slacks, and yes, he arrived on his Harley Davidson motorcycle.
His favorite of the Preservation Society's mansions? "Whichever one I'm at," he said with a grin. This afternoon, it was The Breakers.
"We made it through the pandemic pretty well," Lucey said of the Preservation Society. "What that pandemic taught most of us — all of us — is there are other ways to do things." In terms of tours, that means more room for technology, as well as mixing in more up-close experiences.
This July, the Preservation Society will host Julian Fellowes, the producer and creator of the acclaimed TV shows "Downton Abbey" and "The Gilded Age," which features Newport and several of the Preservation Society's properties, including The Breakers, Marble House, The Elms, Rosecliff, Chateau-sur-Mer and Hunter House.
Fellowes' visit comes on the heels of a June 23 Preservation Society event at Rosecliff with Lady Carnarvon, whose estate, Highclere Castle, is the setting for "Downton Abbey."
He recalled hearing Fellowes once describe Newport as the "City of Palaces," which he finds fitting.
Lucey said the filming and storytelling of "The Gilded Age," produced by HBO, has offered a new way to think about the houses and the people who lived — and worked — in them, as well as their contributions to this City-by-the-Sea. He also noted that the filming of "The Gilded Age" brought in a stream of revenue that helped many Newport businesses make up for a lack of tourism during the pandemic-related shutdowns.
New dorms for Salve Regina
Through his work with Salve Regina University, Lucey has become an advocate for new residential buildings on campus. "New dorms would be a terrific thing for the community," he said, calling them a
"no-brainer." From his perspective, new dorms would help ease some of the housing troubles in the city, potentially freeing up off-campus apartments to become year-round apartments for other residents.

"People who used to visit Newport are staying here, and that's changed the dynamic of the community here," Lucey said. "It'll be interesting to see where the community goes," and how it continues to evolve, he said.
Enjoying local life
For Lucey, a longtime Middletown resident, where he lives with his wife Kate, a local photographer, the draw has always been the area's music, art, film and culture — and the various events that draw attention to each. "I want people to go and enjoy all of the arts and the events," he said.
Among his favorite summer happenings are the Newport Folk Festival and the Preservation Society's Summer Soiree, which takes place on Aug. 20 and coincides with a Weekend of Coaching, an event that features historic horse-drawn carriages, known as coaches. This year's gala will be a Dinner Dance in Honor of the Whips at The Breakers.
His favorite waterfront restaurant: The Lobster Bar. Favorite rooftop deck: The Vanderbilt. For brunch, his go-to spot is Johnny's Restaurant at the Wyndham Newport Hotel — for the food and the views.
As for his next chapter, whenever it may come, Lucey would like to help create "more things for children to do on this island, like bowling and minigolf."
For the time being, keep an eye out for him moving around town on his motorcycle, sport coat paired with a backwards baseball cap, as he goes from one favorite spot to the next.