"Dream Come True": Joni Mitchell Returns to Newport Folk Festival
Joni Mitchell returns to Newport Folk Festival for first time since 1969, joins Brandi Carlile & friends for intimate surprise set
Joni Mitchell returns to Newport Folk Festival for first time since 1969, joins Brandi Carlile & friends for intimate surprise set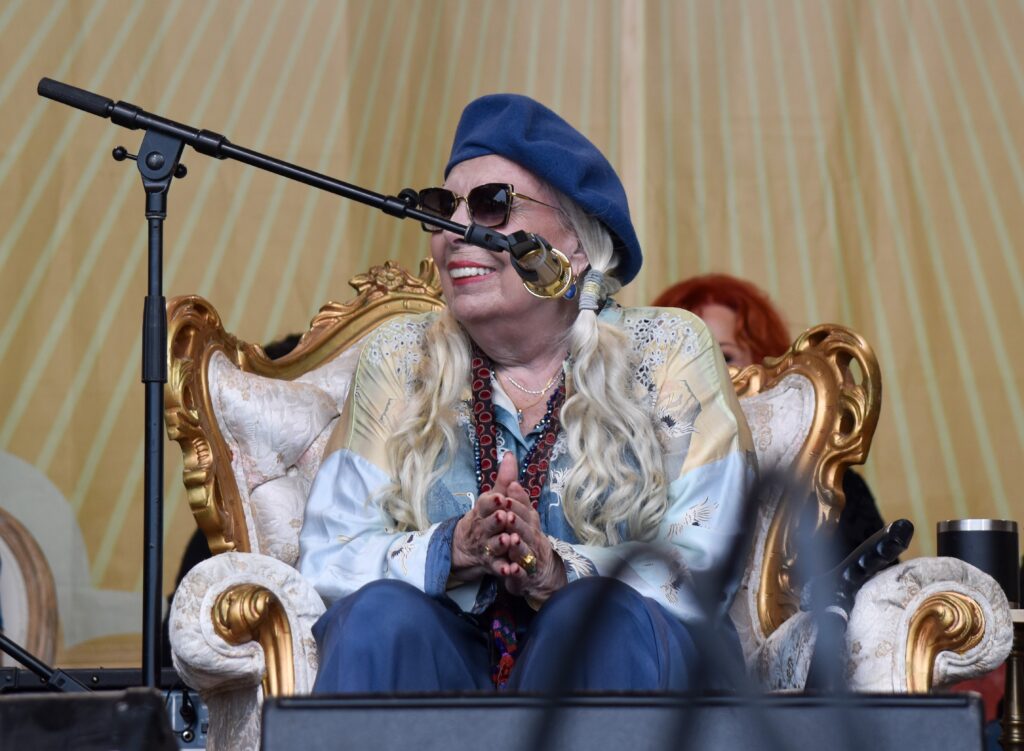 Newport Folk Festival returned to full capacity this year with a lineup of legends that will be hard to forget – or surpass – in summers to come. From Joni Mitchell to Paul Simon, Taj Mahal and Natalie Merchant, the festival paid tribute to music greats over the course of three days at Fort Adams State Park.
It was hot and sunny from Friday morning until the final set Sunday evening, when a layer of fog rolled in off the harbor, adding a bit of mystery to an atmosphere that was already full of suspense.
Brandi Carlile opened her set – billed as "Brandi Carlile & Friends" – with a few songs and a smattering of collaborations, ending with a moving rendition of "Over the Rainbow." Then, she told the audience of roughly 10,000 people, to wait. Yes, wait.
"If you think I'm acting weird right now… It's because I am acting weird," Carlile told the crowd before her, "I've got something up my sleeve. What we have in store is very, very, very f—ing special."
As she left the stage, a crew began assembling an arrangement of purple and green velvet couches and white gilded chairs, along with tables adorned with books, white orchids and flickering candles. The crowd watched, inching closer to the stage and each other, as the minutes passed and murmurs of what might happen next became louder and more speculative.
There had been rumors all day of who the guest of honor might be, that it was the Joni Mitchell, that she had been spotted at T.F. Green airport and could only be in Rhode Island for one reason: to play the famed Newport Folk Festival.
But would the rumors be true?
The crowd waited and watched while the fog turned to mist and finally Carlile returned to the stage. What happened next was one of those magical Folk Fest moments that doubles as music history unfolding in real time.
The closing crowd of the 2022 Newport Folk Festival was to witness the return of Joni Mitchell to the Newport stage for the first time since 1969 – which also marked a rare stage appearance for the 78-year-old artist who suffered a brain aneurism in 2015. Whatsmore, those gathered were privy to the intimacy and camaraderie of a gathering known as "Joni Jams," the unofficial name for what transpires when musicians meet at Joni's house to sing and play and be together.
"Thank you so much for trusting me, and for trusting the sweetest man at Newport Folk Festival: Mr. Jay Sweet," Carlile read from a teleprompter, as a loud round of applause rang out from the lawn. "We're here to keep something sacred alive: The power of the collective."
She paused, and the fort went quiet in the fog.
"The togetherness and this silence right here – 10,000 people being silent is more powerful than a tyrannical government. The most radical and the most dangerous thing we can most unanimously experience together – and this is going to sound wholesome but it's not – is love."
She went on to speak of the radical power of folk music, and the various pockets of activism that have shaped both music and the collective culture. "Some of these very scenes manifested themselves on this very stage," she said.
And on this evening, that same stage had been transformed into another sacred space – a version of the living room where Carlile and friends often meet to play music. "Joni is our ultimate hero," Carlile said, and "we are here to invite you into the living room."
And then there was Joni Mitchell, helped onstage and into a gilded chair, dressed in blue velvet pants and matching beret, silk blouse and necklace, adorned in rings and bracelets, fingernails and lips painted red, her silver hair in two pigtails, wearing cool shades and a warm smile.
As Joni sang "A Case of You," and repeated the lyrics "I would still be on my feet," nearly all the artists on stage could be seen wiping tears from their eyes – as could many folks in the crowd. People were visibly moved, in awe of what they were witnessing, and hearing.
"Thank you so much," Joni said afterwards. She spoke the most when promoted by Carlile, sharing a few stories here and there. She had the aura of a cool grandmother.
"Is this unbelievable, or is this unbelievable?" Carlile said, to herself, and to the thousands before her. "This is an absolute dream come true – for every single person out there, and every single person up here."
The previous day, during a set billed as "American Tune Review," and hosted by Nathaniel Rateliff & The Night Sweats, a rotation of artists took to the stage to pay tribute to another great: Paul Simon. As some in the crowd wondered why Paul Simon himself wasn't there to sing his own songs, Rateliff told those gathered, "This is a real tribute to our friend Paul Simon… and I'd really like to invite Paul Simon to the stage."
Cheers erupted.
"Thank you very much," Simon said later, "I'd like to thank all the artists here tonight – it was really a joy to be honored. I enjoyed it immensely."
The day before, on Friday afternoon, another legend – Taj Mahal – had taken to the same stage, telling those gathered, "I was 20 years old the first time I played here – and that was 60 years ago! Glad to see it's still moving."
One thing about Folk Fest, which is perhaps its most endearing quality, is that it's nearly impossible for two people to have the same experience all weekend. There always seems to be an infinite combination of sets to see, conversations to be had, interludes experienced, even ways to get to Fort Adams, whether by boat or bike or automobile – the final outcome is unique to each and every festivalgoer. Still, most can say they left having danced, laughed, swayed and maybe even cried.
As Brandi Carlile said after Joni Mitchell exited the stage Sunday evening: "Where will Jay (Sweet) go from here?"
We'll have to wait and see.
In the meantime, cue up the wish-list and tune-in to the rumor mills – after this summer, anything is possible.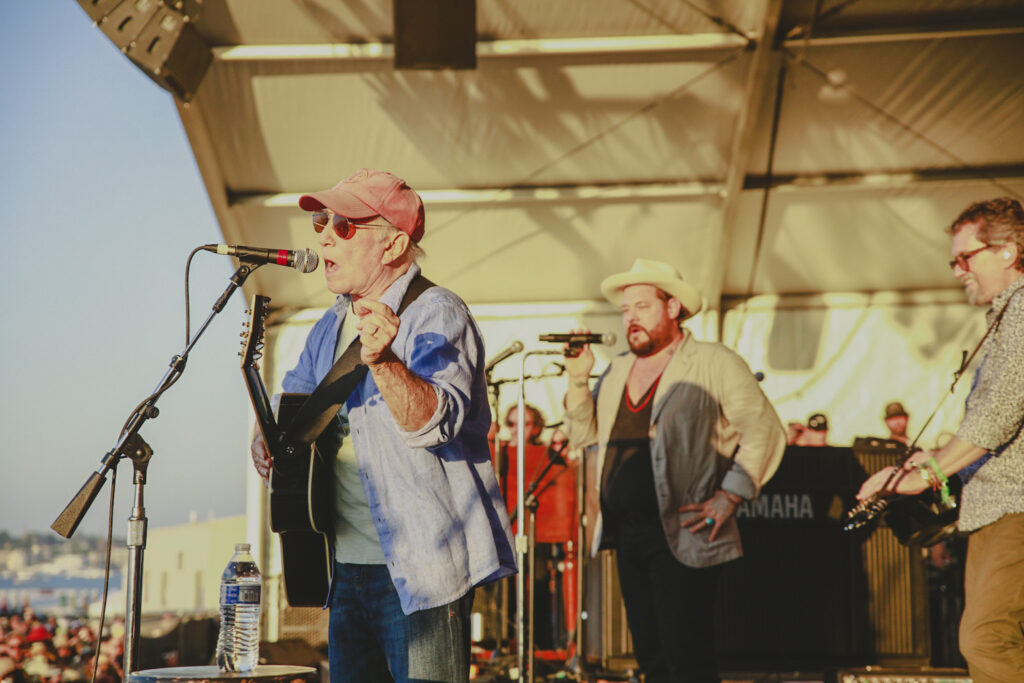 FROM THE NOTEBOOK
During a set dubbed "Clusterfolk" because of last-minute artist cancellations and adjustments, Jay Sweet, the Executive Producer/Director of the Festival, took to the Quad Stage inside the Fort and told the large crowd gathered, "I can't believe I get to say these words: Will you please welcome Natalie Merchant!" Merchant sang two songs, and people could be seen wiping tears from their eyes as thousands joined in to sing the familiar lyrics of "Carnival."
The day before, on the same stage, the band Goose had everyone jamming. "This next song was inspired by a Wes Anderson film that was shot right over there on Jamestown Island," said the singer, as he introduced the band's song "Moonrise."
The Del's Lemonade cart inside the Fort, near the Quad Stage, served 180 gallons of Del's on Friday. And by Sunday afternoon, the Ben & Jerry's vendors were averaging 70-75 packs of ice cream a day. For reference, their store's deep freezer fits 200 packs. A staffer said that's the equivalent of five days' worth of ice cream sales on a typical day – at both their Newport locations.
The two Beer Gardens saw crowds all weekend, and served a total of 36,000 beers. Festivalgoers enjoyed Radiant Pig California Love and special Newport Pilsner, both provided by Newport Craft.
Through a handful of water-filling stations located throughout the fort, festivalgoers were also able to refill their reusable bottles, and throughout out the course of the weekend filled – and diverted from the landfill – the equivalent of 79,717 plastic water bottles (imagine a regular Dasani or Poland Spring bottle).
Jay Sweet was spotted enjoying himself side stage for most of Courtney Barnett's set on Friday, singing along and snapping photos just like the thousands gathered on the lawn.
"This is a sacred space," Adia Victoria told the crowd Saturday morning, saying she was grateful to be back and everyone, "The music you're listening to today comes from Black folk." She later brought a few musical guests on stage to join her – including her mother. "Who's more special than your mother? She's A-list to me." The two then sang together, arms in arm.
Her final tune was "Heathen," which Adia introduced by way of saying "this song is a reminder that ain't none of us are free until all of us are free," and that everyone deserves "autonomy from the top of their head to the tips of their toes," sentiments which drew loud cheers from the audience.
Several local nonprofits were represented in the kids tent, including Clean Ocean Access, Aquidneck Community Table, The Norman Bird Sanctuary and Save The Bay, all of which had interactive displays for the littlest of festivalgoers to enjoy.
Bike Newport once again was hard at work organizing and hosting the bicycle parking, which this year was supported by festival sustainability sponsor 11th Hour Racing. A record 1300 people rode to the Fort on Friday, surpassing the previous Friday record of 1100. Saturday saw a total of 1400 bikes, and Sunday 1300.
Jake Brennan, host of Disgraceland, a podcast about "musicians getting away with murder and behaving very badly," was joined by Adam Weiner of Low Cut Connie on the intimate Foundation Stage Saturday, where they wove together story and song, regaling the crowd with tales of Skip James, who played Newport Folk Festival in 1964.
"This definitely feels like summer camp," Lucy Dacus told the crowd at the start of her set Saturday on the main stage, saying it was her fourth festival appearance in six years, "I think a lot of you can relate."
Around the corner, inside the fort on the Quad Stage, the Backseat Lovers were jamming and the audience was dancing. "Thank you so much," they said before their last song, "this has been a beautiful, healing experience." Afterwards, a throng of teenage girls rushed to the front, hoping for a better glimpse of the band.
Nearby, on the Bike Stage, the band Illiterate Light hosted a number of artists on their small, bike-powered stage which, yes, was powered by six people pedaling bicycles. "The idea here was starting to think about the future," the band told those gathered before each set, explaining they found themselves thinking about the future of music in five, ten, fifteen years.
"This is the weirdest sh-t I've ever been a part of," said S.G. Goodman during her set, laughing as people cheered and the cyclists smiled, "Let's give a round of applause to the power section over here – you know who I mean!"
Later, she was joined by two friends, Courtney Marie Andrews and Madi Diaz, who sang the harmonies of Goodman's tune "Heart Swell" in one of those too-good-to-be-true festival moments. "I'm going to enjoy this as much as you are," she told those gathered.
Lucius was joined onstage Saturday by the band Goose, and joked, "For the first time, here's Goocius!"
For their final song, a moving rendition of "Women," the always-matching and forever-harmonized duo was joined on stage by Celise, Natalie Merchant, Amelia Meath of Sylvan Esso, and S.G. Goodman.
The spirit of collaboration and artists-championing-artists was on full display – and in robust celebration – during the Psychic Hotline set Saturday. As the light turned golden, powerhouse female vocals and chilling harmonies filled the quad, closing out the Quad Stage with an energy that likely lingered until morning.
Hermanos Gutiérrez, the duo of Estevan and Alejandro, played two sets, both instrumental and equally dreamy, one Saturday on the small, seaside Foundation Stage, and the other Sunday on the Quad Stage. During their Sunday set, as a breeze drifted through the Quad, someone yelled from the audience, "¡Viva Latin America!" To which the brothers responded, "Muchas gracias. Thank you so much," and then told the audience how much they were enjoying the festival. "It's a peaceful environment. I think it's the best festival we've ever been," they said.
The set that induced the most chills and raw emotion – at least for this festivalgoer – took place on the Harbor Stage midday Sunday and featured DakhaBrakha, a Ukrainian group hailing from Kiev, which describes itself as an "ethnic chaos" band formed of a world-music quartet.
Dressed in traditional folk attire, and seated in a line, they paired searing vocals with deliberate instrumentals that were at once old-world and utterly hip. As DakhaBrakha did their sound check, and following their introduction, dozens of yellow and blue Ukrainian flags were waved through the air as folks cheered their support for a country that continues to be at war.
"It's really important for us now, and really hard for us," one of the members told the crowd about the band's being on tour, which elicited even more cheers of support. "Over six million people left our country, and people around the world accept them and help them. We always remember, but most Ukrainian people dream about home." He later thanked people for waving flags, and at the end of the set displayed a large Ukrainian flag of his own.
The band received a rousing standing ovation.